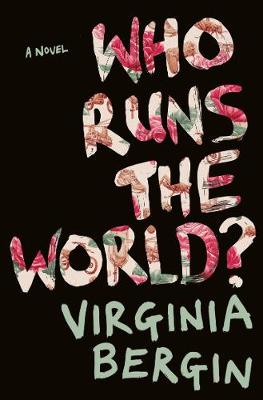 By Author / Illustrator
Virginia Bergin
Genre
Adventure
Age range(s)
11+
Publisher
Pan Macmillan
ISBN
9781509834037
Format
Paperback / softback
Published
01-06-2017
Synopsis
Welcome to the Matriarchy.

Sixty years after a virus has wiped out almost all the men on the planet, things are pretty much just as you would imagine a world run by women might be: war has ended; greed is not tolerated; the ecological needs of the planet are always put first. In two generations, the female population has grieved, pulled together and moved on, and life really is pretty good - if you're a girl. It's not so great if you're a boy, but fourteen-year-old River wouldn't know that. Until she met Mason, she thought they were extinct.
Reviews
Amy
I loved Virginia Bergin's Rain so was looking forward to reading this. Like Rain, Who Runs the World? is one of those books that takes an idea - a future world that is run by women, after a disease has killed most of its men - and really delves into what it would mean for those communities. It's a real exploration of gender, identity and confronting the unknown, as well as looking at power and abuse of power. There is so much that can be questioned and explored with older readers aged 12/13+, and many adult readers. 14-year-old River lives in a world dominated by feisty women, including the older generation that saw men virtually wiped out when a virus swept the world. River believes that all the men died - until she meets a sick teenaged boy on the road one day and begins a journey of discovery that what she has been told about men isn't the whole truth. But how do you understand gender if you have no idea what gender means, a question that applies both to River and to the boy, Mason, who she and her community try to rescue. There are so many astute insights, for example how Mason believes River to be a boy because she looks so unlike the highly feminised versions of women he has seen on video games. We also see a confrontation between River and one other older, violent man, so there are plenty of questions around being male and female, and what this means for the best and worst in each of us. Gradually the questions around why no other men are seen by the communities of women and girls start to build and we learn about the abuses of power that lie at the heart of this apparently well ordered and just world. Ultimately, River and Mason point to a future that offers hope and a more balanced world. This is a powerful and intriguing read that stayed with me long after I had read it and which can lead to many questions about our present world and how we define gender. A stand-out book. 352 pages / Ages 12/13+ / Reviewed by Amy Ward.
Suggested Reading Age 11+
Other titles