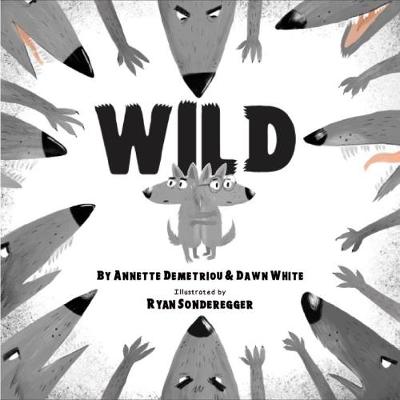 By Author / Illustrator
Annette Demetriou
Genre
Picture Books
Age range(s)
3+
Publisher
Owlet Press
ISBN
9781913339050
Format
Paperback / softback
Published
22-04-2021
Synopsis
This sensitive book aims to open up conversations and help children realise that they don't have to follow the pack, give them the confidence to do the right thing and stay true to who they really are. Second offering from illustrator Ryan Sonderegger, from the global smash 'What Wesley Wore'. Talks about peer pressure, toxic masculinity and gang mentality using the metaphor of mild and wild wolves.
Reviews
Kyle
Wild is the picture book debut from mum-blogger duo Annette Demetriou and Dawn White. Their blogs are centered on the challenges and pressure children face as they grow up and this book reminds young readers to always be themselves.
Wolfie and Wilfie are two brothers who go against the grain when it comes to being wolves. They aren't growly or scowly, scary or snarly, wicked or wild but instead are kind and caring. They would rather spend their time picking cherries for Granny whilst the rest of the pack are busy prowling around the woods.
Through this carefully crafted tale, younger readers are presented with the themes of unruly behaviour, peer pressure and toxic masculinity. The book aims to open up conversations around these themes and directs children to an understanding that they don't have to follow the 'pack' but ultimately just stay true to who they really are.
The tale is simple in its narrative structure and there are plenty of connections for young readers to make to traditional fairy tales, from the dark wooded setting to the introduction of granny in distress. I found the flow of the story quite stunted, with periods of time passing in a clunky way but the vocabulary choice made by the author duo allow the text to be accessible to younger readers as well as older ones. Ryan Sonderegger's illustrations are befitting of the text and give a true insight into the emotions felt by the characters as the story progresses. It is easy to see the difference in mentality between the wolves thanks to the illustrations shared by Ryan.
Despite this not necessarily being a modern day classic tale, I do believe that it has a valuable place within the primary curriculum due to its clear links to the subject of PHSE. It would make a great hook into circle times and particularly good for assemblies where a focus on friendships is needed.
Picture book / Ages 3+ / Reviewed by Kyle Matravers, teacher
Suggested Reading Age 3+
Other titles