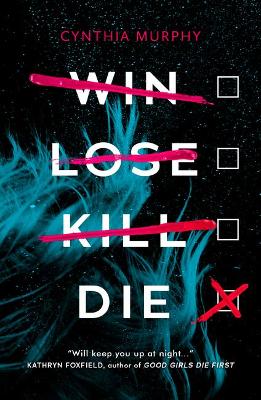 By Author / Illustrator
Cynthia Murphy
Genre
Suspense & Thrillers
Age range(s)
14+
Publisher
Scholastic
ISBN
9780702304941
Format
Paperback / softback
Published
06-01-2022
Synopsis
An explosive new YA thriller, from the author of Last One To Die. The students at Morton Academy are high-achievers, selected based on academic excellence. So when a series of murders target the school's brightest and best, the pressure is on. Someone is determined to stop at nothing to clear their path to the top. But who is it? And can they be stopped? A high-school slasher with a lethal twist Perfect for fans of Karen McManus, Holly Jackson and Gossip Girl. Have you read Cynthia Murphy's thrilling debut Last One to Die?
Reviews
Beverley
Morton Academy is a school for specially selected, high-achieving students. Being chosen as Head Girl is an incredible honour, and everyone wants to be the successful candidate. But when Head Girls start dying in unusual and violent ways, it becomes obvious that there is a serial killer loose in the school. Liv and her friends Kat, Taylor, Marcus and Cole are determined to discover what is going on, and begin to investigate. It soon becomes apparent that no one is safe from the killer, and that becoming Head Girl may not be such a prize after all. Add in a secret society, Jewel and Bone, and an enthralling story begins.
Win Lose Kill Die is a dark and twisty page turner! From the very first chapter we know that a murder has been committed, and the reader is instantly drawn into the book. The majority of the story is narrated by Liz, a girl from a troubled background, who is determined to make the most of the opportunities Morton Academy offers. However, in a very clever plot device, the author writes some chapters from the point of view of the anonymous murderer. This works brilliantly; the murderer tells us how the murders were planned and committed, making the reader very aware of how cold and calculating they are.
The narrative switches between Liz and the murderer, making for a fast-paced and exciting read. Setting the book in a remote school without internet access gives a real sense of menace as the body count rises! We learn that Morton Hall has a somewhat scandalous history, and this is revealed to the reader as the students' investigation proceeds. The characters are interesting, Liz's friends are from much more privileged backgrounds than her, but all of them are aiming for the same goal - a place at the university of their choice.
There are so many suspects - the enigmatic Headmistress, Dr Patel, and the odd groundskeeper, Creepy Billy, with his love of unusual, sometimes poisonous plants, and handsome new boy, Cole, who becomes Liz's boyfriend, that the reader is constantly kept guessing. The story concludes with a very clever twist, which I doubt few readers will see coming. All in all, a highly recommended thriller which will be a huge hit with teenage readers.
400 pages / Reviewed by Beverley Somerset, school librarian
Suggested Reading Age 14+
Other titles