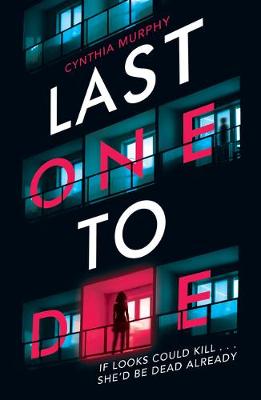 By Author / Illustrator
Cynthia Murphy
Genre
Supernatural
Age range(s)
14+
Publisher
Scholastic
ISBN
9780702304934
Format
Paperback / softback
Published
07-01-2021
Synopsis
One of Us is Lying meets This Lie Will Kill You but with a chilling supernatural twist that will keep you guessing until the very end . . .
Young, brunette women are being attacked in London. 16-year-old, Irish-born Niamh has just arrived for a summer of freedom, and quickly discovers that the girls being attacked look frighteningly similar to her. But Niamh is determined not to let her fear destroy her Summer. But can her new friends be trusted? Will she be able to stay ahead of the attacker? Or will she be next?
Packed with voice-driven whodunit storytelling, and a retro slasher-movie feel reminiscent of cult classics Scream and Urban Legend, this dark, pacy, and irresistibly-creepy debut really has something for everybody!
'Last One to Die is by turns chilling, funny and gripping. I rooted for Niamh all the way through, as she navigated her way through horror after horror. As well as a terrifying plot masterfully told, this book has nuanced, tender relationships between characters, and is particularly good on female friendship. I loved (and was totally fooled by) the red herrings along the way, and the final twist made me want to go back to the beginning and read it all over again.' Emily Barr, author of The Truth and Lies of Ella Black 'Point Horror for a new generation . . . best read under the covers in one sitting.' Kathryn Foxfield, author of Good Girls Die First 'A supernatural terror-fest! Murphy takes you on a terrifying murder spree across London, relentlessly building the tension to a blood-curdling climax. I absolutely devoured it!' Kat Ellis, author of Harrow Lake
Reviews
Maddie

- Age 13
Niamh has never left her home country of Ireland and so she has high hopes when she moves to London for a summer of drama school. But on her first night she finds the dead body of a murdered, fellow student and within no time, more girls start to be attacked as well. Soon she realises they all share a startling resemblance to her.  Throughout the book she attempts to unearth the identity of the mystery person behind these serial attacks with her new found best friend Jess, while juggling her college course, acting experience at the Victorian Street Museum and not to mention, getting Tommy, her gorgeous co-worker to ask her out.
I loved all of this book from the spooky mystery to the realistic characters and the plot is brilliantly told so you are wound up in the events all the way from the beginning to when the attacker is finally revealed at the end. I was kept guessing throughout and my theories were constantly challenged so I didn't know what to think and who to suspect!
I would recommend this to anybody who enjoys crime and thriller books and people who like horror and books with a creepy, supernatural twist. I would rate it 5 stars because it had a great plot and I really enjoyed reading it.
Suggested Reading Age 11+
Beverley
16-year- old Niamh Hughes has come to London from Ireland to attend a drama course. She is looking forward to a fun filled summer of freedom, but things take a terrifying turn when she discovers the murdered body of another student in her hall of residence. Niamh soon realises that other girls have also been attacked - and that they all bear a striking resemblance to her. As the attacks continue, Niamh realises that she has become unwittingly caught up in a series of frightening and spooky events, and soon begins to wonder who she can trust. Niamh has a work placement at the Victorian Street Museum, and the author blends modern day action with Victorian history. Niamh also has a budding romance with Tommy, her attractive co-worker at the museum.

This is a well-planned and, at times, truly scary thriller with a supernatural twist. The novel opens with a transcript of a police interview, which gives the reader an early insight into the attacker and the nature of his crimes. We learn that he has metal fingernails, and are told how he uses them! The author then skilfully moves the reader from one chilling scenario to another as Niamh's nightmare unfolds.

As the story progresses, there are some frightening incidents which are beautifully described. The author uses many devices to increase the tension; a seance at a party, shadowy figures hiding in the dark. The scene in which Niamh is in a deserted underground station and hears the sound of metal scraping on metal behind her is extremely atmospheric. In another incident, Niamh is trapped in the basement of a library, and the author brilliantly describes Niamh's panic and desperation as she tries to escape.

Niamh is a great character, brave and feisty and determined to solve the horrific mystery she has become embroiled in. The other characters in the book are all well written and the author makes the reader distrust each of them so that we do not know until the end of the book who is truly on Niamh's side. I especially liked Jess, who becomes a real ally to Niamh. The ending of the book is a tour-de force of horror, with open coffins, bundles of bones and Niamh in deadly danger from a vengeful ghost.

This is an excellent debut novel from an extremely talented writer. The book is fast paced, with short, exciting chapters, each ending on a cliff hanger so as to keep the reader turning the pages and I am sure that it will be extremely popular with young adult readers. It also contains the first two chapters of Ms Murphy's next novel, which sounds to be as exciting as Last One to Die!

I feel that this is an author who is taking the first steps on what promises to be a very successful career.

400 pages / Ages 13+ / Reviewed by Beverley Somerset, school librarian
Suggested Reading Age 14+
Other titles