Winnie and Wilbur: Winnie the Witch 35th Anniversary Edition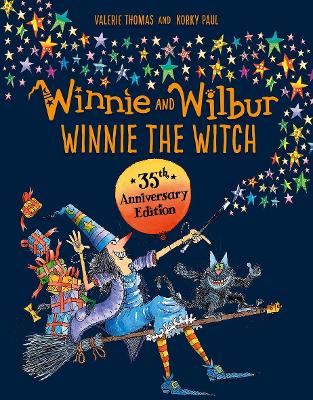 By Author / Illustrator
Valerie Thomas, Korky Paul
Genre
Friends and family
Age range(s)
3+
Publisher
Oxford University Press
ISBN
9780192784728
Format
Hardback
Published
20-10-2022
Synopsis
This anniversary edition celebrates 35 years of the original Winnie and Wilbur adventure.Winnie shares her big black house with Wilbur her big black cat. So sometimes she accidentally trips over him. Ouch! After some spells that make Wilbur look very silly, Winnie finds just the right magic to make sure she can always see him. It's a colourful Winnie and Wilbur adventure! Korky Paul's intricate artwork is full of madcap humour and crazy details to pore over.
Since Winnie and Wilbur first appeared in 1987, they have been delighting children and adults in homes and schools all over the world and more than 9 million books have been sold. Celebrating the wonderful relationship that exists between Winnie and Wilbur, this anniversary edition includes forewords by the author and illustrator, a gallery of Winnie and Wilbur's most magical memories, and sketches from Korky Paul's studio.
Reviews
Amanda
'The original is the best' is a phrase which is often said and here this could not be truer. Valerie Thomas and Korky Paul have created a story which has stood the test of time beautifully. The story of Winnie and Wilbur will be just as enticing for children today as when it was first written.
Winnie and Wilbur creates wonderful discussions about colour and contrast, relationships and compromise, even design. I have always loved seeing the houses that children would design for Winnie and clothes that they would design for Wilbur so that he was not black!
It is wonderful to see the additional sections of this book. Winnie and Wilbur have had so many wonderful adventures over the years and it is fascinating to see what they feel are their favourite parts. If you haven't read this story before don't waste any more time. This is an absolute classic and belongs in every child's repertoire, every classroom books case and to be regularly read at bedtime. If this is already a favourite, please check out the additional sections by Valerie and Korky, it is brilliant. World Book day would not be the same without Winnie the Witch. Thank you for 35 years of fun.
Picture book / Reviewed by Amanda Shipton, teacher
Suggested Reading Age 3+
Other titles