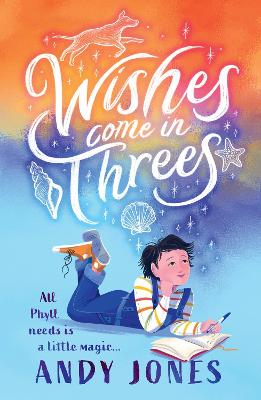 By Author / Illustrator
Andy Jones
Genre
Magical Realism
Age range(s)
9+
Publisher
Walker Books Ltd
ISBN
9781529500882
Format
Paperback / softback
Published
21-07-2022
Synopsis
A heartwarming, tenderly witty debut about belief - in friendship, in yourself and, maybe, in just a little magic.   

"I don't know exactly how wishes work. But I knew a man that did."  Phyll is having a difficult summer. Her family has moved to the seaside, but it's a long way from perfect. Her mum is sick, she has an enemy called Hilda, and someone is stealing dogs. Then Phyll meets Mr Djinn - a wise old man who insists he's a genie. It's a tough claim to believe, until Phyll starts wishing for change...
Reviews
Jacqueline
Phyllis (who prefers to be called Phyll) has moved to the countryside, away from all her friends. Her mother is ill with depression and on her first day at summer camp she makes an enemy of Hilda. Phyll is miserable and lonely. On a visit to an old people's home she meets Mr Djinn, who tells her that he is a genie. They become friends and talk about wishes and magic, but he cannot really be a genie can he?
Wishes Come in Threes is not the book I was expecting - I had in mind it would be a high fantasy sort of story, but instead it is the gentle sort, the really magic variety. And it is all the more lovely for being that type of story. Phyll is an awkward 11-year-old about to start secondary school; her life is not easy. She is facing things that are hard to understand and her mother's illness is top of that list.
This is a very sympathetic portrayal of depression, which could be very helpful to children experiencing it in those they love. It doesn't try to explain it in any sort of clinical way, and it also doesn't 'magic' her mother better, but instead talks in a realistic way about how some days will be ok and other days not.
I read the book in one go because I was enjoying it so much. I can see that it would be a very comforting book for year 6 children about to move on to secondary school and just starting to be aware of all the changes that are about to occur in their lives.
272 pages / Reviewed by Jacqueline Harris, teacher
Suggested Reading Age 9+
Other titles