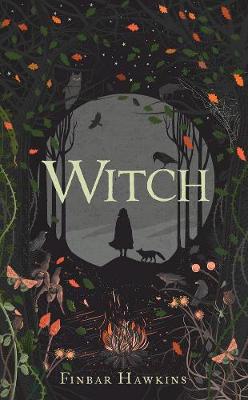 By Author / Illustrator
Finbar Hawkins
Genre
Historical Fiction
Age range(s)
11+
Publisher
Head of Zeus
ISBN
9781838935610
Format
Hardback
Published
01-10-2020
Synopsis
Set in the 17th century, a breathtaking debut, and a potential prize-winner, about the power of women, witchcraft, fury, revenge and the ties that bind us.   After witnessing the brutal murder of her mother by witch-hunters, Evey vows to avenge her and track down the killers. Fury burns in her bright and strong. But she has promised her mother that she will keep Dill, her little sister, safe.  As the lust for blood and retribution rises to fever pitch, will Evey keep true to the bonds of sisterhood and to the magick that is her destiny?    'A story that captures sibling rivalry so perfectly and tells its tale so beautifully I didn't want it to finish' JASBINDER BILAN.  'Raw, mystical and beautifully told. A striking debut' KIRSTY APPLEBAUM.      
Reviews
Lorraine
Evey and her little sister have just witnessed the horrific murder of their mother, a suspected witch, by a band of men. Fleeing for their lives and hunted, they take refuge in the forest and search for the coven, their mother's last instruction ringing in Evey's ears. Once safe, Evey strikes out on her own, set on revenge and justice for her mother. Aided by a young titled woman she starts to unravel the true events and cause of her mother's death and also realise the nature of her own magical talents.
From the start, Witch is captivating, frightening and haunting in equal measures. Evey's character is consumed by jealousy: she perceives her sister Dill to be the favourite and have magical talent far surpassing her own. Sibling rivalry is something that many will understand and it is handled well. I found the story took an unexpected turn and soon got used to the unusual language used, it suited the atmosphere of the book perfectly.
The tale is harsh at times and graphic, making me 'hide my eyes' like I might during a horror movie. Yet amongst this is beautiful description putting the reader within the forest and town. A scene near the end is so imaginative you can almost 'hear' the horror unfolding. Set in a time period when women were feared for their healing ways and expected to revere men, the story focuses on strong female leads and highlights the downfalls of a brutal patriarchal society.
It is an imaginative debut and cries out for a sequel. Highly recommended
384 pages / Ages 12+ / Reviewed by Lorraine Ansell, school librarian
Suggested Reading Age 11+
Other titles