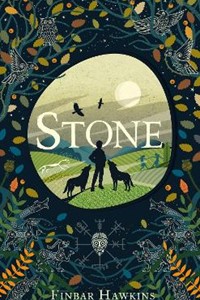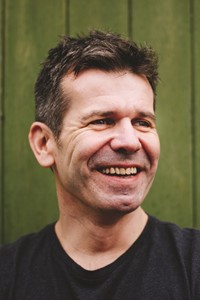 About Author
Finbar Hawkins's new novel Stone weaves ancient tales into a contemporary story. His debut novel, Witch, was shortlisted for the Branford Boase Award and nominated for the 2022 Carnegie medal (Zephyr).
Hawkins is a graduate of the Bath Spa MA in Writing for Young People. He grew up in Blackheath, London and now lives in Wiltshire with his family, in a landscape steeped in myth and legend. He is a creative director at Aardman Animations, where he makes fun interactive things for children of all ages. 
finbarhawkins.com Twitter/Instagram: @finbar_hawkins
Interview
Stone  (Zephyr)
September 2022
Finbar Hawkins' new novel, Stone, draws on ancient stories of witchcraft and magic, while delivering a contemporary story about fathers and sons, bereavement and first love. Stone carries echoes of his debut novel, Witch (Zephyr), which was nominated for the 2022 Carnegie medal. In this Q&A, Finbar tells us about the childhood reading that inspires him as a writer, drawing on ancient myths and exploring friends and family through his writing.
Q&A with Finbar Hawins
1. What was it like growing up in a household of children's books with parents Colin and Jacqui Hawkins? Any favourite reading or writing memories?
My parents illustrated and wrote their own children's books for many years, and I loved seeing them come to life from their early sketches and first ideas. My sister and I were always encouraged to explore all the books around the house. My favourite reading were always these big Reader's Digest tomes, Folklore, Myths and Legends of Great Britain, The Past All Around Us, and Strange Stories and Amazing Facts. I lived in those books, and I have my own prized copies in my study.
In terms of memories, I have a strong one of drawing my own versions of the illustrated spreads that my father was working on for their first published book, 'Father Christmas and his Friends'. I was just so very excited that they were doing a book. I would often go with them to author events, signings etc, and remember being so proud of them.

2. What do you do for a living when you're not writing?
I'm a creative director for interactive things, games, VR and mobile apps, and I work on a lot of projects for Aardman in Bristol. My director job often involves me writing the scripts for any dialogue or character animation needed. The past few years I've been working a few Wallace & Gromit projects. It's a bit of a childhood dream to be writing scripts involving a pair of national treasures!

3. How are you enjoying life as a published author? Any highlights since your debut, Witch, was published?
I'm very much enjoying life as an author! Highlights would be making new author friends at events, or on social media (Twitter is a very supportive, energetic place for children's writers.) And young people telling me how much Witch means to them. You write in a bubble and then your book goes out into the world to connect with an audience. For young people to tell me that something I've written has deeply affected them, or that they've re-read the book over, or have recommended to their friends… That's as good as it gets. It was my book, and now it's theirs.

4. What kinds of books do you like to write?
I will always be drawn to those things I was obsessed with as that boy reading those big books on myths and legends, the supernatural, the things we don't understand. In addition to this, relationships between family and friends are always something I return to.

5. Can you tell us about your new book, Stone?
It's about a teenage boy, Sam, whose father, a sergeant in the British Army, dies in a bomb attack in Afghanistan. Sam and his father were very close, and shared a common love of mythology and legend, as they walked the hills around the great chalk figure of the white horse. On the day of his father's funeral, Sam stumbles across a strange white stone, ice cold to the touch. The stone seems to give Sam visions, strength and speed. The book is about how Sam explores what the stone is, and how, with the help of old friends and new, he looks to deal with his grief.

6. What inspired the novel? Does the finished book look very different from your initial ideas?
Growing up I was fascinated by archaeology, dinosaurs and mummies, that kind of thing. I'm interested in this idea that the land we walk on has so much buried beneath it, ancient, strange things. I wanted to explore this idea of something very old in the hands of a young person now.
I started writing this book in 2013, before Witch, so it has been something of a journey to see it finally finished. It looks like what I envisioned in my mind's eye. Better in fact, since I've been able to illustrate it as well. For me it's been an important part of writing to imagine that book long before it exists in its final state. It keeps you going in those tricky moments of writing where you might be stuck. Looking to that visual in your mind helps keep the light flickering!

7. Why did you want to explore bereavement and how we grieve in this book?
Because death isn't really something we talk about, and I believe it should be, being such an important part of life. When you're young, you think you're indestructible, that you'll live forever. And if you're suddenly confronted with death, it's something completely unfathomable, something you think you're never going to understand, or get over. But you have to, in order to live your own life as best and as brightly as you can, and bring help and warmth to others.

8. Did you research bereavement before you started to write the novel?
When I was in my early twenties, I suddenly lost someone who was both a friend and mentor to me. It was completely shocking, and it led eventually to me realising that I needed bereavement counselling. I attended these sessions for the best part of a year. The impact of this, the important process of psychotherapy, has always remained with me, and I wanted to show how important it is for young people to nurture good mental health. I also had help from a counsellor when drafting the final book - she read and gave me invaluable feedback on the therapy session scenes.

9. Can you tell us about your main character, Sam, whose father died fighting in Afghanistan, and how his character develops through the book?
Sam is a ball of emotions at the beginning of the book. He's angry, self-absorbed and blinkered by his grief, resisting the efforts of his mum and younger sister, Beth, to help him. But it's human relationships and the power of the stone that start to have an effect on him, drawing him out of his shell. His development is really about the people around him getting him to wake up, to open his eyes to life, all its beauty and possibilities - something his father was always talking to him about.

10. You also draw on historical and mythical threads as Sam begins the process of grieving for his father - the White Horse, a witch's stone and Norse myths. Why did you want to bring these elements into this story?
Quite simply because there are things in nature and reality that we have only the smallest understanding about. The advances in quantum physics are showing just how little we know about this 'great and strange universe', as Sam's father says to him. I also feel that stories, myths, legends, folklore are important in sustaining us, feeding our imaginations, and aiding us in life. We are told stories and we pass them onto our children, who in turn pass them on. There is something incredible and magical about that, how story keeps the human race going.

11. How well do you know your setting of the White Horse of Uffington? 
I know the White Horse extremely well, and have walked there many times. I remember distinctly, the first time I visited it with a good friend, how I was struck by the silence in the middle of the iron fort. All you can see is the huge plain of grass and the sky. Then you walk towards the ramparts and there is this explosion of the land shooting away beneath you for miles and miles.
The horse is there, but quite hidden in its way, making you look to the distant hills and wonder about seeing it from faraway. It's a very charged place I would say. You can feel the latent energy as you walk and wonder at the place, how people have come there for centuries. Everyone should visit the White Horse at least once in their lives.

12. Other than a great read, what would you like your readers to take from Sam's story?
I'd like readers to think about how nothing is set in life, that when things take us off course, that there's always a way through, that by opening up and allowing others in can help us get through anything. And I'd like readers to take a moment and appreciate the utter magic of our world. If I have got any reader leaving my book to walk along a coastline, up the nearest hill, or into the woods, then my work is done ;-)

13. Where do you prefer to write and what are you writing currently?
When I'm not writing at home, in any snatched moment I can get, my special treat is to go to Cornwall and write there. Being close to the sea is instantly calming and it sets a tide-like rhythm to the day. Writing, walking, swimming, repeat!
I'm currently working on an idea for a ghost story. I'm a huge fan of MR James, and there's something decidedly British Isles about a good chiller for the dark winter nights. It all goes back to that little boy happily immersed in his Reader's Digest books of folklore, myth and strange stories.

14. And what do you enjoy reading?
Other than enjoying my contemporary children's authors' work. I'm always drawn to a dark tale as well as fantasy. Last year I discovered Peadar O'Guilin's amazing 'The Call' which has everything - brave teenagers in a dystopian setting battling Irish Faerie invaders. Wonderful. I also enjoy re-reading Ursula Le Guin's work, her 'Books of Earthsea' is never far from me. And I'm interested in science-fiction, I'm currently listening to Iain M. Banks' incredible Culture series on audio book. Next is Femi Fadugba's 'The Upper World.'
Author's Titles