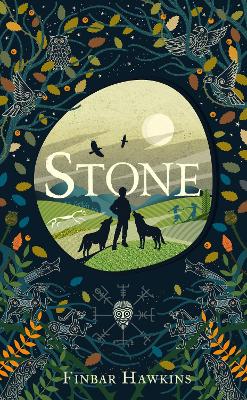 By Author / Illustrator
Finbar Hawkins
Genre
Bereavement
Age range(s)
11+
Publisher
Head of Zeus
ISBN
9781838935641
Format
Hardback
Published
01-09-2022
Synopsis
A second novel from the bestselling author of Branford Boase-shortlisted and Carnegie-nominated Witch. An engrossing story of fathers and sons, death and grief, and unexpected bonds, new and old, forged by dark and benign magic.
When Sam, grieving the death of his father, finds a silver-flecked stone, ice-cold to the touch, strange and eerie things begin to happen. Myth, legend, magic and witchcraft mingle on the ancient hillside where the chalk white horse has galloped for centuries. Ravens wheel. Wolves prowl. As Halloween draws close, witches dance. Odin gathers brave, fallen warriors to his side.  Only the mysterious new girl, Oona, can heal Sam's heart, revealing tarot secrets with her bewitching ways.
Reviews for Witch:  'A book filled with enchantment, in every sense. Dark, exciting and pacy, Witch brilliantly balances magic and realism' Anthony McGowan, author of Carnegie-winning Lark.  'There is real magic here... Perfect reading for a dark, stormy night' Irish Times Weekend.
Find out more from author Finbar Hawkins
Reviews
Eileen
17 year old Sam's father, a sergeant in the British Army, was killed in a bomb attack while serving in Afghanistan. Sam had been close to his dad and loved nothing better than walking the hills around the age-old chalk figure of the White Horse sharing ancient myths and legends. When, on the day of his dad's funeral, Sam finds a silver-flecked, ice-cold white stone, strange things start to happen; Sam hears mysterious voices, experiences visions he can't escape and gains superhuman strength and unexplained speed. As if all this isn't enough to deal with, the school bully steps up his efforts to make Sam's life a misery and the bewitching new girl, Oona, with her magic tarot-card secrets, constantly keeps crossing his path…
Stone is a breathtakingly ambitious, atmospheric, deeply affecting story which captures your heart from the get-go. It tackles the tricky, often taboo, topic of bereavement head-on and to superb effect. I was in tears within the first 30 pages. Sam is a superbly drawn teen character, a complex, pent-up ball of raw emotions; spiky, self-absorbed and angry on the outside but vulnerable, blinkered by grief and carrying his own personal guilt on the inside, intent on resisting the efforts of his mum and sister to help him through his grief.
That Stone has a convincing and vulnerable male protagonist is both refreshing and laudable. We need so many more YA stories like this one. Importantly, all the characters in Stone are given equal weight and credibility. Together they weave a tight and supportive web of realistic relationships around Sam - family, romantic and intergenerational - which give him hope and helps him to start living again. The relationship Sam forms with the old man, Bill, and the way they gradually support each other, is particularly poignant.
Hawkins skilfully strikes the perfect balance between traumatic real-life experience, the healing pull of the natural world, ancient myth and dark magic, making Stone so much more than just an 'issues book' centred on the seismic impact of the death of a parent. Instead, Hawkins demonstrates that the best written fantasy can tackle a huge range of important issues and help us make sense of our own experience and emotions. The interweaving of Greek and Norse legends from Hades to the Green Man, with Halloween, the Uffington White Horse and the Witch's Stone is fascinating, emphasising the power of story through the ages to help us to interpret this ''great and strange universe'.
Stone is also beautifully packaged and eminently pickupable; intriguingly illustrated throughout with perfectly-placed, story-appropriate tarot cards, Norse symbols and imagery from the natural world. It is rare for one book to have it all but this one really does: inspiring us to look for the magic all around, reminding us that, as Sam's father always told him, life is full of possibilities, and leaving us with the powerful message that nothing is insurmountable in life if we allow others to help us. Hawkins is absolutely an author to watch.
* School staff would do well to promote Stone to PHSE curriculum leaders and Mental Health teams. It will be an invaluable support to teenagers experiencing loss as well as promoting empathy in friends unsure of how to help. The portrayal of counselling and psychotherapy is overwhelmingly positive, showing how important it is for young people to nurture good mental health but without ever seeming patronising or preachy. Other equally important stories tackling bereavement and grief from a teenage perspective include A Monster Calls by Patrick Ness, Aftershocks by Anne Fine and, for a slightly younger teen audience, Season of Secrets by Sally Nicholls.
288 pages / Reviewed by Eileen Armstrong, school librarian
Suggested Reading Age 14+
Other titles