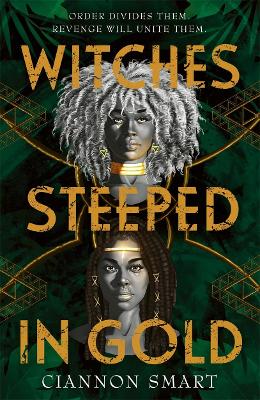 By Author / Illustrator
Ciannon Smart
Genre
Fantasy
Age range(s)
14+
Publisher
Hot Key Books
ISBN
9781471409585
Format
Paperback / softback
Published
20-04-2021
Synopsis
Trust no witch . . .Iraya Adair has spent her life in a cell. Heir of an overthrown and magically-gifted dynasty, she was exiled from her home on the island nation of Aiyca when she was just a child. But every day brings her closer to freedom - and vengeance. Jazmyne Cariot grew up dressed in gold, with stolen magic at her fingertips. Daughter of the self-crowned doyenne, her existence is a threat to her mother's rule. But unlike her sister, Jazmyne has no intention of dying to strengthen her mother's power. Sworn enemies, the two witches enter a deadly alliance to take down the woman who threatens both their worlds. But revenge is a bloody pursuit, and nothing is certain - except the lengths Iraya and Jazmyne will go to win this game.Two witches. One motive. And a very untrustworthy alliance.
Reviews
Linda
Witches Steeped in Gold is a debut novel, about two witches seeking revenge for completely different reasons. Two powerful girls from different sides join together to destroy a common enemy, what could possibly go wrong? The story is told in alternating chapters between these two leading ladies, Iraya Adair, the true Queen of Aiyca and Jazmyne Cariot, daughter of the current ruler of Aiyca. They both have a common goal, to take the current Queen from the throne, but how will they achieve this when Iraya is spontaneous and reckless in contrast to Jazmyne who likes to plan things out? Can these girls work together to achieve their aim? Can they not only trust each other but their motives and their emotions as revenge can easily turn you into the very thing you want to destroy!
The very first page opens with action and impact, giving the reader the impression that they are going to be in for a rollercoaster ride, but sadly the pace is not consistent throughout the book. Also at times things got a little confusing due to a huge cast of characters. A family tree at the beginning showing who's who throughout the story would have been a great help for the reader to keep track, as would a glossary of Jamaican slang, phrases and words at the back.
The 533 pages are suitable for the 14+ confident reader for the reasons I have mentioned above and I believe it would be good for book clubs, so that like minded readers can get together and discuss plot and themes etc.
The author has taken her inspiration for this story from her heritage, the legends, magic and myths from her Jamaican family and, of course, her love for Sabrina the Teenage Witch! You can easily tell her love for her Jamaican culture as it shines in her writing. Her descriptions in my opinion save this story as they make it come alive, however, I did miss the action and revenge promised in the blurb! Don't give up on it though ( it may not have worked for me but it might for you), read to the end, an ending which sets up the story nicely for the next book. It leaves the reader asking the questions, what just happened? What's going to happen next? Even though it left me a little disappointed, I'm still looking forward to reading how these characters will connect and continue their journey.
560 pages / Reviewed by Linda Brown, school librarian
Suggested Reading Age 14+
Other titles