Wonder: The Natural History Museum Poetry Book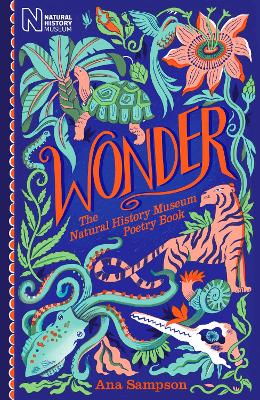 By Author / Illustrator
Ana Sampson
Genre
Poetry
Age range(s)
9+
Publisher
Pan Macmillan
ISBN
9781529058994
Format
Hardback
Published
02-09-2021
Synopsis
Wonder: The Natural History Museum Poetry Book is a beautiful gift hardback collection of poetry with poems inspired by The Natural History Museum. It covers everything from the depths of space to the very centre of the earth - there are poems about the solar system, planet earth, oceans and rivers, birds, dinosaurs, fossils, wildlife, flowers, fungi, insects, explorers and palaeontologists. Each section includes an introduction and some footnotes about particularly interesting species.

The museum has a collection of over eighty million objects and behind the scenes of its twenty-eight galleries crowd kilometres of preserved specimens, libraries of rare books and artworks, wonders gathered on some of the most famous voyages in history, rooms packed with pressed plants, warehouses teeming with stuffed animals and freezers full of DNA. As well as a museum, it is a state-of-the-art centre for discovery with over three hundred resident scientists and over ten thousand visiting researchers each year, investigating everything from dinosaurs to life on other planets.

The collection is made up of brand new and classic poems and is illustrated with botanical drawings and engravings from the museum's collections.

This fantastic collection speaks of the wonder of nature and shows us why we need to look after our incredible planet.
Reviews
Sue
I love the Natural History Museum and have so many happy memories of visiting as a child and in turn taking my child (and those of others on school trips) into the magnificent building that is such a treasure trove of 'wonder'.
Wonder is a stunning collection of poems, grouped into sections reflecting the different treasures the museum houses. The book feels as carefully curated as the museum itself as it is obvious that much thought has been given to the range of poems included and how they have been organised. A wide range of poets has been included, offering traditional and modern, humour and pathos, but all celebrating the wonders of our incredible planet.There are many familiar, much-loved names here, but even poetry fans are sure to find new gems in this collection. There are so many poems to enjoy here it is almost impossible to select a few to name, but I love 'Waterlily' by Sean Hewett, 'Solar System Candy' by Gita Ralleigh and '#Extinction Rebellion' by Pascale Petit.
This collection makes is so easy for a teacher to add a little poetry across the curriculum! Familiar primary science and geography topics like volcanoes and space are included and there are many animals represented. There are too many examples to comment on, but Jan Dean's poem, 'Remembering Mary' is perfect for celebrating the life and work of Mary Anning and 'Remember More for his Beard Now' by Philip Ardagh introduces Darwin, both accompanied by notes from the author. Notes from the author are peppered throughout, offering additional explanation and detail. There are also many black and white illustrations relating to the poems.
I can't recommend this collection highly enough and will be sharing with colleagues in school as well as suggesting it as a read for our teacher book groups. A WONDERful book!
272 pages / Reviewed by Sue Wilsher, teacher
Suggested Reading Age 7+
Other titles