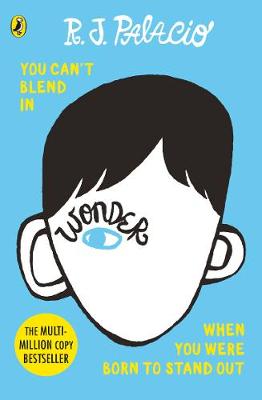 By Author / Illustrator
R J Palacio
Genre
Bullying
Age range(s)
9+
Publisher
Penguin Random House Children's UK
ISBN
9780552565974
Format
Paperback / softback
Published
03-01-2013
Synopsis
Now an Oscar nominated film starring Julia Roberts, Owen Wilson and Jacob Tremblay.

'My name is August. I won't describe what I look like. Whatever you're thinking, it's probably worse.'

Auggie wants to be an ordinary ten-year-old. He does ordinary things - eating ice cream, playing on his Xbox. He feels ordinary - inside. But ordinary kids don't make other ordinary kids run away screaming in playgrounds. Ordinary kids aren't stared at wherever they go.

Born with a terrible facial abnormality, Auggie has been home-schooled by his parents his whole life. Now, for the first time, he's being sent to a real school - and he's dreading it. All he wants is to be accepted - but can he convince his new classmates that he's just like them, underneath it all?

WONDER is a funny, frank, astonishingly moving debut to read in one sitting, pass on to others, and remember long after the final page.
Reviews
Megan

- Age 11
I knew from the very first page that I was going to really enjoy this book and I was absolutely right! It's a really touching book, I could really feel how the characters were feeling. I liked that the book was from different people's perspectives, I felt that was a great way to get a well rounded idea of everybody and the story as it unfolds from everyone involved. I also really loved the heart-warming quotes from songs and different people - I felt that they went really well with the story and the message that it carries - they're all about how it doesn't matter what you look like, or what you have, that what you should remember is to be yourself. I couldn't put it down, it was a very easy read, I loved how all the parts tied in with each other. I felt emotionally tied to the story and genuinely loved it so much I could cry. I found it really inspirational. My favourite character, gosh that's hard, is August- he's just lovely, sweet and understanding. I'd recommend Wonder to everyone.
Suggested Reading Age 9+
Scarlett

- Age 11
It is full of real life problems and twists and turns throughout the book. I liked the characters in this book. Wonder is very well written and gives lots of different points of view. August is written as a very likeable character and is just trying to survive Middle School, but it's not as easy as it sounds.
Suggested Reading Age 9+
Other titles