Yomi and the Fury of Ninki Nanka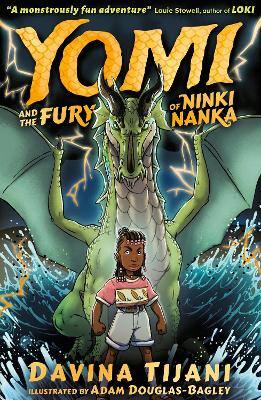 By Author / Illustrator
Davina Tijani, illus Adam Douglas-Bagley
Genre
Myths & Legends
Age range(s)
7+
Publisher
Little Tiger Press Group
ISBN
9781788956123
Format
Paperback / softback
Published
06-07-2023
Synopsis
A fun, fresh and fast-paced series based on African mythology, YOMI is an adventure full of heart and humour.

Yomi and her younger brother Kayode are supposed to be on the trip of a lifetime visiting The Gambia with their Uncle Olu. Instead, their uncle's work has made this the most boring holiday ever! But when Yomi witnesses the Dragon King, Ninki Nanka, being kidnapped from the sky, things get a lot more exciting. Determined to save him, Yomi and Kayode uncover secrets and meet many magnificent beasts - but will it be enough to save Ninki Nanka?

BEAST QUEST meets Pokemon, the series is perfect for fans of HOW TO TRAIN YOUR DRAGON, FUTURE HERO and DRAGON MOUNTAIN.
Find out more from author Davina Tijani & illustrator Adam Douglas-Bagley
Reviews
Emma
Yomi and the Fury of Ninki Nanka opens with Yumi and her brother Kayode preparing to go to bed. Outside a furious storm rages in the sky, just as their uncle appears in the room to read them a bedtime story. The two main characters are visiting The Gambia and they are fascinated by the weather outside and what may be causing it. Perhaps it is the legendary Ninki Nanka - The Dragon King?  As the story finishes and Yumi is closing her eyes, she hears an almighty roar and, looking out of the window, she sees a flash of a tail and a wing - could it be that the legend is true?
As the story unfolds, Yumi and Kayode visit the Beast Hunters Guild, and they then stay with Binta Ngom - or Aunty as she's referred to in the book, to uncover what is happening with the guild. It's at Aunty's party where Beast Hunters led by a young boy names Hadim show up. The story quickly picks up pace and Yumi and Kayode as taken on a wild adventure to help save the legendary dragon.
The book is well written, with lots of believable characters who are described in detail - which helps the reader imagine what they would look like in their imagination. It's a short read but does have challenging words - particularly related to African names - and is perfect for those who are confident readers, ages 8+.
176 pages / Reviewed by Emma Nelson, teacher
Suggested Reading Age 9+
Jennifer
Yomi and the Fury of Ninki Nanka is a fast-paced, fun and lively blend of modern mystery with traditional African mythology. This is an exciting, fresh new adventure with lashings of perilous and daring escapades by curious, investigative siblings, Yomi and her younger brother, Kayode.
The siblings are visiting The Gambia with their favourite, story–telling expert, Uncle Olu. They love his tales of the Sacred Nkana ( the beasts of Africa), handed down from their grandmother as "stories ran through our family like water", and they are expecting great entertainment to make this trip memorable forever…  In the most unexpected way, it certainly becomes the trip of a lifetime - even a trip of life and death!
In the midst of a powerful lightning storm, Yomi witnesses the great Dragon King Ninki Nanka being kidnapped from the sky by a white mist that seems to tie him up as he vanishes from above. Inquisitive adventurer Yomi determinedly sets upon solving the mystery.  When the siblings discover that Uncle Ola seems to be involved in some secretive meetings (that involves an emergency, unwanted stop at the cruelly named Beast Hunters Guild), they realise that Ola and his colleagues may hold the clues to what has happened to the great Dragon King himself.
Yomi and the Fury of Ninki Nanka is a greatly entertaining quest story, where the mystery adventure genre is elevated and made unique by the captivating landscape and culture that the story is set within. Yomi and Kayode's witnesses and sources of information include some of the Sacred Beast themselves, and their sleuthing involves being nearly drowned by giant beast crustaceans, questioning spirit hippos and a 'sky rope', alongside defying death, time and time again. The brother and sister are bold, determined characters - Yomi's headstrong impatience and Kayode's quieter, more thoughtful manner make a great mystery-solving duo.
The fantastic front cover and inside illustrations are placed perfectly to bring both characters and scenes to life - making the characters even more relatable and the adventure even more perilous and nerve wracking. A really enjoyable and energetic read for younger chapter book readers that is pure action and drama, from the first page to the very last. It was a delight to find out that there is more to come….
176 pages / Reviewed by Jennifer Caddick, teacher
Suggested Reading Age 7+
Other titles