You Can't Let an Elephant Drive a Digger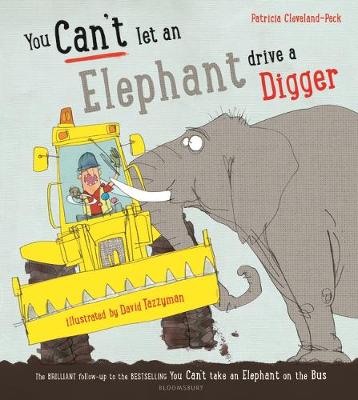 By Author / Illustrator
Patricia Cleveland-Peck, David Tazzyman, David Tazzyman
Genre
Picture Books
Age range(s)
3+
Publisher
Bloomsbury Publishing PLC
ISBN
9781408879146
Format
Paperback / softback
Synopsis
Elephants driving diggers? Gorillas on scooters?
A shark in the bath? A kangaroo ... on the loo?

Join in with the fun as an array of improbable creatures tries to be helpful (with hilarious consequences) in this laugh-out-loud picture book.

The brilliant follow-up to the bestselling You Can't Take an Elephant on the Bus
Reviews
Lauren
Have you ever wondered why Elephants can't drive diggers or why you shouldn't let polar bears cut your hair? Well this book will tell you all the reasons why! However much we would like some of these animals as pets they all come with a precaution and we shouldn't let them do certain things. You Can't Let an Elephant Drive a Digger is the follow-up to You can't take an Elephant on the Bus and it is just as funny. Everything about the book is funny and clever, allowing your imagination to run wild! The illustrations by David Tazzyman are fantastic and full of very funny details. The book provides a great starting point for sharing poetry with children, allowing them to be creative and think of their own, with completely over-the-top ideas and creations! Picture Book / Ages 3+ Reviewed by Lauren Maidman, teacher.
Suggested Reading Age 3+
Carol
What's not to love about a book that's first page features a pile of elephant dung? This is an author that knows how to keep her target audience happy! From polar bears cutting hair and kangaroos in the loo to a skunk in the bunk, kids will laugh out loud at the mischief these animals are getting up to. Adults will appreciate the complex rhymes that roll easily off the tongue and the varied cast of characters. The illustrations are full of life and manage to imbue each animal with its own character in just a few simple lines. My particular favourite is the wolf who reminds me very clearly of a rather grumpy old lady I used to know! A great read-aloud book for storytime with ages 3-6. Picture book / Ages 3+ / Reviewed by Carol Carter, school librarian.
Suggested Reading Age 3+
Other titles