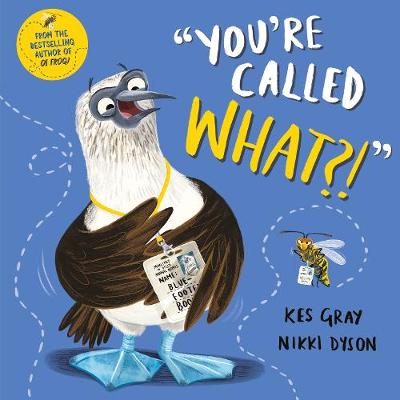 By Author / Illustrator
Kes Gray, Nikki Dyson
Genre
Adventure
Age range(s)
5+
Publisher
Pan Macmillan
ISBN
9781509821440
Format
Paperback / softback
Published
12-07-2018
Synopsis
Ice Cream Cone Worm. Monkeyface Prickleback. Pink Fairy Armadillo. You're called WHAT?!

Welcome to the Ministry of Silly Animal Names where all the creatures have one thing in common: they want to change their names.

A unique and rip-roaringly funny, tongue-twisting story full of weird and wonderful real creatures and facts at the end that will amaze. Written by Kes Gray, the bestselling, award-winning author of Oi Frog! and illustrated with charm and wit by dazzling new talent, Nikki Dyson.
Reviews
Emily
Hands up if you have ever wanted to change your name to something else. In this gloriously funny picture book by author Kes Gray and illustrator Nikki Dyson, we meet a collection of strange animals from around the globe who are sick and tired of being known by their odd and sometimes embarrassing names which they share with us as they queue at the Ministry of Silly Animal Names in the hope of being known by something more ordinary instead. There was much laughter and hilarity as my class of Year 2s met animals like the Tasselled Wobbegong, the Bone-Eating Snot Flower Worm, the Fried Egg Jellyfish, the Blue-Footed Booby and the Pink Fairy Armadillo. There were cries of disbelief at the animals' outlandish names and we were all fascinated to read more details about these creatures (who are all real) in the Facts and Snaps section at the back of the book. As one child in my class commented, 'It is a book that lets you learn as well.' There is no doubt that we found this a wonderfully funny and original story. One of my pupils made the very perceptive comment that this book also encourages us to think about what it feels like when someone makes fun of us. What better way to promote empathy and kindness than with a liberal dose of humour, some charmingly vibrant illustrations and some hugely lovable characters. A definite 5 out of 5 stars from our Year 2s! Picture book / Ages 5+ / Reviewed by Emily Marcuccilli, school librarian.
Suggested Reading Age 5+
Other titles