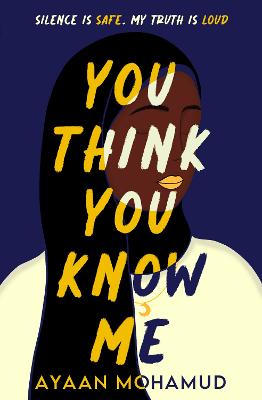 By Author / Illustrator
Ayaan Mohamud
Genre
Representation & Inclusion
Age range(s)
14+
Publisher
Usborne Publishing Ltd
ISBN
9781803704500
Format
Paperback / softback
Published
02-02-2023
Synopsis
A stunning debut about finding the strength to speak up against hate and fear, for fans of The Hate U Give and I Am Thunder.  "Fiercely brilliant from beginning to end." Beth Reekles, author of The Kissing Booth.
People like me are devils before we are angels. Hanan has always been good and quiet. She accepts her role as her school's perfect Muslim poster girl. She ignores the racist bullies. A closed mouth is gold - it helps you get home in one piece. Then her friend is murdered and every Muslim is to blame. The world is angry at us again. How can she stay silent while her family is ripped apart? It's time for Hanan to stop being the quiet, good girl. It's time for her to stand up and shout.
Reviews
Clair
This book is a real page turner and I thoroughly enjoyed reading it; You Think You know Me is a stunning debut novel.
Hanan, the main character, is from Somalia. She is a practicing Muslim and has been raised to work hard at her studies and not to draw any attention to herself by speaking out. I loved the strong family bond that Hanan has, especially with her twin brother. She and her twin have chosen to take different paths. Hanan, being more academically inclined, attends the local grammar school where, sadly, she experiences relentless bullying with constant jibes and her teachers appear to turn a blind eye. The friendly school caretaker provided a safe space for her to pray at lunchtime. When he is found murdered, this rocks the whole school community. Suddenly every Muslim is to blame rather than the one that committed the crime and the bullying and hatred intensify. Hanan speaks up so eloquently when she eventually decides to speak her truth, as does her mother in the meeting with the headmaster (this was possibly my favourite section of the book!). There's a real dilemma for Hanan and her mother between keeping quiet and staying safe and speaking up to stand up for what is right.
This was such a thought-provoking read. The author has woven the history of Hanan's family fleeing Somalia as refugees, the loss of their father who was murdered during their escape, their faith as Muslims and prejudice that they face, the financial struggle for Hanan's mother and pressure felt by the eldest son to provide for the family. I'd recommend this book to fans of The Hate U Give and I Am Thunder. I hope it brings change.
368 pages / Reviewed by Clair, school librarian
Suggested Reading Age 14+
Other titles