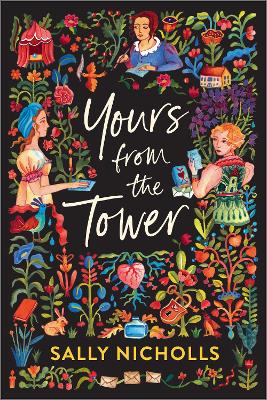 By Author / Illustrator
Sally Nicholls
Genre
Historical Fiction
Age range(s)
11+
Publisher
Andersen Press Ltd
ISBN
9781839133190
Format
Hardback
Published
07-09-2023
Synopsis
1896. Tirzah, Sophia and Polly are best friends who've left boarding school and gone back to very different lives. Polly is teaching in an orphanage. Sophia is looking for a rich husband at the London Season. And Tirzah is stuck acting as an unpaid companion to her grandmother. In a series of letters, they share their hopes, their frustrations, their dramas ... and their romances. Can these three very different young women find happiness?
Q&A with author Sally Nicholls
Reviews
Eileen
Yours from the Tower is set in 1896: a time of great hope, social change and scientific excitement. An exciting year too for three best friends leaving boarding school, full of hopes, dreams and big ambitions. But despite their newfound freedom, the trio must head home to very different, frequently frustrating and often very messy, lives. Sophia is doing the London season, obliged to marry for money so her younger sisters can be educated, despite being in love with a man not rich enough to be acceptable. Sensible, optimistic Polly is teaching in an orphanage in Liverpool. Hard-working, passionate about the children in her care and earning very little, she is fascinated and frustrated by its mysterious, if taciturn, owner and becomes embroiled in a dangerous drama with the wicked stepmother of one of the children. Tirzah, headstrong and impulsive, is stuck working in Scotland as unpaid companion to her very strict, overprotective and seemingly ungrateful grandmother after a traumatic childhood with a poverty-stricken, alcoholic mother who still exerts a hold over her.
These characters spring to life off the page, revealed solely through the letters they write to each other from opposite ends of the country. This epistolary structure is technically brilliant and masterfully handled and the reader is quickly drawn in to piecing together the story which is layered through, from the various letters, telegrams and newspaper snippets. Together they become a real celebration of the power of female friendship and resilience. Letters from supporting characters are interspersed too, showing how the main characters are seen by others, allowing the various love interests to tell their own stories, and giving a real sense of what life was like in the late Victorian era, whether you were born in the slums or high society or somewhere in between. Though our middle-class protagonists find their life options are still frustratingly limited without a husband, all three make their own happy endings.
Today's socially savvy teenagers will no doubt appreciate the characters' realisation that, no matter how far things have come in terms of gender equality, there's still some way to go. Historical fiction for this age group is very difficult to get right and Nicholls has discovered a winning formula here. The letters are just long enough to engage and allow readers to get to know the characters, experiencing all of their anger, despair, frustration and happiness. They're also short enough to become addictive; even reluctant readers will be keen to read just one more letter.
Nicholls cleverly captures the wit and humour characteristic of Jane Austen and avid readers will find plenty here to amuse. This is also the perfect book to pitch to fans of TV period dramas such as Bridgerton, with plenty of captivating love interest, gossipy scandal and romantic drama. Well-researched, with a list of sources included, it will also be a brilliant addition to curriculum reading lists.
Yours from the Tower is, without a doubt, Nicholls's best book yet. An immersive historical drama and a feminist, feel-good romance which is compulsively readable. It also demands a sequel. I'd love it to be the first of a series following these characters and their families through future decades.
368 pages / Reviewed by Eileen Armstrong, school librarian
Suggested Reading Age 11+
Other titles