Zed and the Cormorants: 2021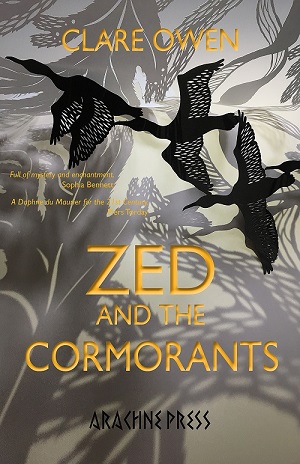 By Author / Illustrator
Clare Owen
Genre
Supernatural
Age range(s)
14+
Publisher
Arachne Press
ISBN
9781909208872
Format
Paperback / softback
Published
29-04-2021
Synopsis
Zed's family have moved from London to a village in Cornwall. Dad says they need a fresh start, but no one s asked Zed what she thinks.  She knows she ll never fit into her new school, or make any friends, let alone find someone special. At this rate she'll be lucky to find a phone signal.

Maybe their new home will help with Mum's depression, and keep Zed's sister Amy away from her dropout boyfriend, but why does it have to be so remote? Why has the boathouse been locked up for seventy years? Why do the birds living by the estuary fill her with such dread?  And what do they WANT?

A contemporary coming of age story that touches on Cornish history, mythology, the paranormal and mental health and LGBT romance. Perfect for readers of Liz Kessler, Emily Barr and and Marcus Sedgewick.
Reviews
Catherine
A Cornish mystery; cormorants, curses, warm bread rolls and ghosts. Zed's family have moved from London to rural Cornwall to begin a new, idyllic life. In London, Zed's dad was finding himself ever absent due to work commitments, Zed's mum's depression was threatening to overwhelm her, Zed's sister was in a relationship not approved of by her parents. Zed on the other hand was fine, yet here she was, hundreds of miles from her friends, with a new term looming at a school where she knew no-one, in what feels like a desperate bid to stop the family from crumbling.
She determines to make the best of it but when the memories of a 70 year old tragedy are stirred, old scores need settling before the entire community is endangered. Can Zed figure out a way to heal the hurt and save her family? The sinister element of Zed and the Cormorants is shouldered beautifully by the cormorants, the way they ambush Zed and their presence shadowing her movements. Balancing the devilry though we're also given insight into their habits by Denzil, a boy Zed meets by the river who mirrors the cormorants in his mannerisms.
Clare Owen has given us some really good characters (Cordelia being my favourite) to lead us through this tale of love, loss and revenge, a tale of the complexities of families. It's a good read with all the feels of Cornish folklore and gothic haunting!
184 pages / Reviewed by Catherine Purcell, school librarian
Suggested Reading Age 11+
Other titles