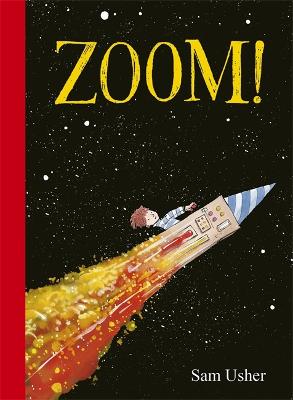 By Author / Illustrator
Sam Usher
Genre
Adventure
Age range(s)
5+
Publisher
Templar Publishing
ISBN
9781800786097
Format
Paperback / softback
Published
14-09-2023
Synopsis
The first title in a new quartet from Sam Usher, featuring the much-loved Boy and Grandad. This time they use their resourcefulness to mend, recycle and re-use to create a variety of favourite vehicles which take them on exciting adventures around the world - and beyond!

ZOOM! sees them blasting off into space in their homemade rocket to mend a broken module and rescue two stranded astronauts. A delightful family read, exploring creativity, celebrating recycling and deftly introducing subtle science and engineering facts - all the while following the enduring and heart-warming Boy-Grandad relationship.
Reviews
Kyle
Zoom is the first title in a new quartet from Sam Usher featuring the much-loved and relatable duo of Boy and Grandad. In this release, the pair need to use their resourcefulness to mend, recycle and reuse to fix an array of problems - some of which are a little further from home than you would expect.
Zoom is a delightful family read that also brought joy to my class of Year 1 children. The relationship between Grandad and Boy was very relatable and brought comfort to many listeners. The use of imagination also inspired many of my children to want to play with space toys and create model rockets just like Grandad and Boy. 
The story begins on a hot and sweltering night. Neither Boy or Grandad are having much like in sleeping so the only solution is to venture to the roof to gaze upon the stars. Unfortunately, the telescope needs adjusting – what are they to do? "I can fix that", claims Grandad and he thus sets the tone for the rest of the story. Using his creative mind and out-the-box thinking, Grandad is able to tinker and tweak to ensure all problems can be fixed. As we move through the book, we find the pair heading away from the solid ground of the roof and flying through the night sky to bring aid to some intrepid astronauts stuck on the moon. In time, Boy and Grandad soon forget about the heat that is keeping them awake and instead embrace the adventure that they are part of. 
This book would make a lovely addition to a home library.
Picture book / Reviewed by Kyle Matravers, teacher
Suggested Reading Age 5+
Maria
On a sweltering evening, when no-one can sleep, Grandad and his grandson head to the roof to cool down. Gazing up at the stars through the telescope, they spot a planet. On closer look, there's astronauts and a space module in trouble! Together they create a spaceship and ZOOM off to help!
Zoom is a lovely story about a little boy and his Grandad. Through collaboration, resilience and creativity, Grandad and the boy solve problem after problem with the positive attitude of 'It's ok, we can fix it!' It is an ideal resource to use with young children to instill the idea that if something goes wrong, it's ok. The detailed, clear illustrations support the story well and add further enquiry into the characters' actions and feelings.
A great picture book with social learning opportunities through a topic that all children love, and a family set-up that many will relate to.
Picture book / Reviewed by Maria Faithorn, teacher
Suggested Reading Age 5+
Other titles