Classroom resources to shadow the CLiPPA poetry award
Posted on Tuesday, October 12, 2021
Category: News
Free classroom resources to help you shadow this year's CLiPPA poetry award.
Michael Rosen has won the CLiPPA 2021 poetry award for his collection, On the Move: Poems about Migration, illustrated by Quentin Blake.
You can now watch the announcement of the CLiPPA award and performances by each of the shortlisted poets from this year's Cheltenham Literature Festival. Then choose which of the books you would like to shadow with your classroom. The books include EYFS, KS1 and KS2 poetry collections and CLPE has created free teaching resources including literacy sequences and videos for each shortlisted title: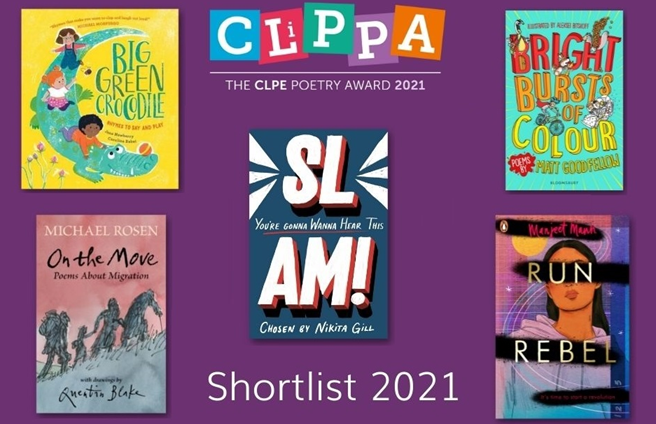 2021 Shortlist teaching resources 
Jane Newberry, whose collection of new nursery rhymes, Big Green Crocodile Rhymes to Say and Play, will start a lifelong love of poetry: Teaching resources for Nursery & EYFS
Matt Goodfellow with Bright Bursts of Colour, a collection of vivid, often touching poems that connect directly with their young audience:  Teaching resources for Yrs 3 & 4
Michael Rosen's powerful collection, One the Move: Poems about Migration, which has won the 2021 CLiPPA poetry award:  Teaching resources for Yrs 5 & 6
SLAM! You're Gonna Wanna Hear This is a joyful celebration of the young poets making their voices heard in the spoken word scene: Teaching Resources for Yr 7 & 8
Manjeet Mann for her powerful verse novel Run, Rebel:  Teaching resources for Yr 7 & 8
Entry details
Step by step guide to entering the CLiPPA Shadowing Scheme 2021
Ends: 5pm, Friday 19th November
You can shadow the CLiPPA as a single class or group or as a whole school.
- Take one of the shortlisted collections and share with the children using the dedicated teaching sequences and video resources.
- Allow individuals or groups of children to choose a favourite poem from a shortlisted collection and work this up as a performance. The teaching notes will give you the opportunity to do this.
- Video the performances, reflect on these together and pick the best ones to send to the judging panel at CLPE.
- Find out how to send your video by 5pm on 19th November, together with the consent form, by signing up to the CLiPPA Shadowing Scheme 2021.
The judging panel will watch all the video entries and select a winner to represent each shortlisted book.