Information Book Awards 2021 shortlist
Posted on Wednesday, June 9, 2021
Category: Book Awards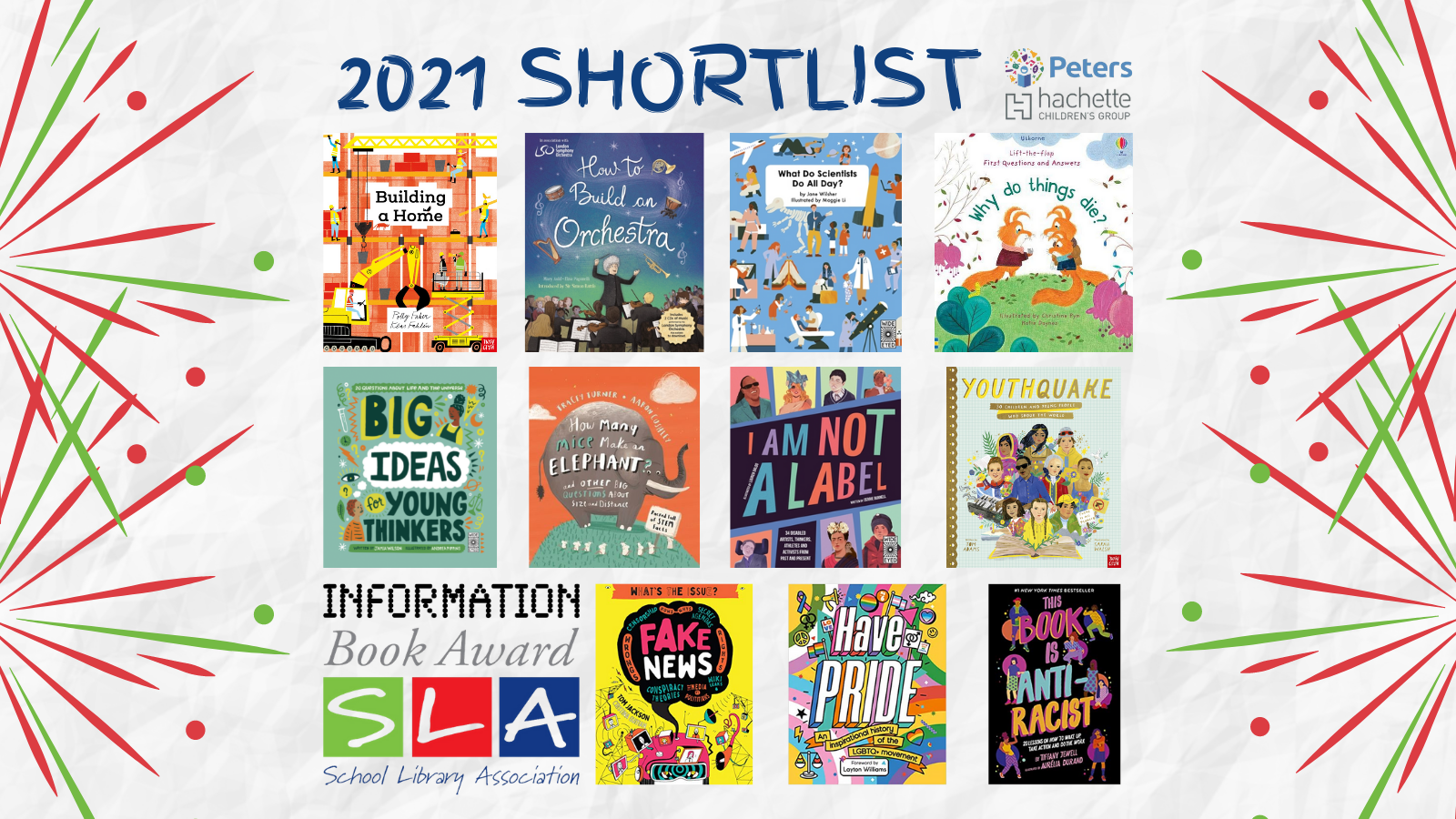 If you're looking for some great information books for your classroom or library, check out the shortlist for the SLA's (School Library Association) 2021 Information Book Award (IBA).
The IBA helps to reminds us of the importance of non-fiction by highlighting and celebrating the high standard of children's information books.
The awards are divided into three age categories, judged by a panel of educators. Children will also have the opportunity to vote for their favourites in each group, as well as their favourite overall, to determine four additional Children's Choice winners.
The shortlist for each age category is as follows:
Ages 0 -7
Building a Home by Polly Faber and Klas Fahlén (Nosy Crow Books)
How to Build an Orchestra by Mary Auld and Elisa Paganelli (Hachette Children's Books)
What Do Scientists Do All Day? by Jane Wilsher and Maggie Li (Wide Eyed Editions)
Lift-the-Flap First Questions and Answers: Why Do Things Die? by Katie Daynes and Christine Pym (Usborne)
Ages 8 – 12
Big Ideas for Young Thinkers by Jamia Wilson and Andrea Pippins (Wide Eyed Editions)
How Many Mice Make an Elephant? by Tracey Turner and Aaron Cushley (Pan Macmillan)
I Am Not a Label by Cerrie Burnell and Lauren 'Emel' Baldo (Wide Eyed Editions)
Youthquake by Tom Adams and Sarah Walsh (Nosy Crow Books)
Ages 13-16
Fake News by Tom Jackson and Cristina Guitian (QED Publishing)
Have Pride by Stella Caldwell and Sue Sanders (Welbeck Publishing)
This Book is Anti-Racist by Tiffany Jewell and Aurélia Durand (Frances Lincoln Children's Books)
Accompanying activities that can be easily implemented in a school library or classroom setting have also been released to help schools unlock the full potential of the shortlisted titles, which can be accessed from the SLA website.
The shortlist books will be available at a discounted price from Peters.
The winners will be announced in a virtual ceremony to take place in November
Judges' Comments
Ages 0 -7
Building a Home  Polly Faber, illustrated by Klas Fahlén
In a modern world, where we are constantly seeing buildings being knocked down and rebuilt, this is an extremely accessible and clearly illustrated look at the people and processes involved in the construction industry. The text is short and understandable for the young audience that the book is aimed at. The strong and detailed images show the wide range of roles required and the diversity of the people who undertake them. From architects and bricklayers, to crane drivers and construction crews, there are a huge range
of skills and they are undertaken by workers of all genders.
This is a fascinating book that will encourage children to believe that they can take on any job, if they are willing to get the training. It also highlights the complexity of the building industry and the planning involved in creating new homes and work places.
How to Build an Orchestra  Mary Auld, illustrated by Elisa Paganelli
Produced in association with the London Symphony Orchestra, How to Build an Orchestra provides a fantastic introduction to the musical instruments that make up an orchestra, plus a range of classical music.
With a foreword by LSO Music Director, Sir Simon Rattle (the conductor auditioning for an orchestra featured throughout) the book is equally good for reading aloud to younger children or as a point of reference for independent readers or researchers. The engaging illustrations include accurate images of the instruments and a pictogram of a full-sized symphony orchestra, and use colours and shapes to suggest the pieces of music being played. There is also the added bonus of an accompanying CD and music download.
The main text is expanded by additional bites of information on each page and complemented by all the traditional navigational features including contents, index, glossary and an annotated discography. The visual, verbal and aural elements combine to make this a book that can be enjoyed at different levels in a variety of ways, which will make a welcome addition to any primary school library and help young children to 'discover the true magic that music brings to all our lives'.
What Do Scientists Do All Day?  Jane Wilsher, illustrated by Maggie Li
What Do Scientists Do All Day? is an entertaining introduction to the multitude of various jobs and roles which feature a scientific aspect; this could be a highly specialised field of knowledge or an attitude of curiosity. Exploring 14 different settings, from an Arctic research station to a botanical garden via a space station, each occupation is explained by Wilsher through a simple sentence or two describing what that person does, whilst the large index helps readers to navigate the technical names of all 104 roles included, ranging from engineer to school child to geologist, and many more.
The use of appropriate and accessible language to accompany Li's unfussy and inclusive illustrations creates a lovely text to share together and spark discussions with children from a very young age about where a bit of science could take you!
Lift-the-Flap First Questions and Answers: Why Do Things Die?  Katie Daynes, illustrated by Christine Pym
It's rare to see this topic directly addressed for such young readers, as it can be so controversial and confusing. However, the simple, conversational style expresses clearly the facts of death, as well as addressing the complex feelings that can arise around it, in terms that any young child would be able to understand.
While lift-the-flap may, at first glance, seem a strangely whimsical choice for such a serious subject, the format is brilliantly used, giving additional depth and relatability to the examples and discussion points within. The animal characters give a touch of familiarity and approachability to the difficult topic, while allowing a universal feel. Throughout the book, the tone is gentle, non-judgemental, and well-pitched to be clear and easily acceptable to young children. An ideal resource for sharing and discussing a challenging topic.


Ages 8-12 
Big Ideas for Young Thinkers  Jamia Wilson, illustrated by Andrea Pippins
The abstract idea of philosophy is something we are all aware of and this fascinating book gives a thought-provoking look at what ideas are involved. It shows a wide range of thinkers who have tried to answer abstract concepts and asks how successful they were in their endeavours.
The book is divided into broad themes such as identity, truth and culture and then each section is divided into more focused questions. The author takes a very personal view of these ideas and often gives examples from her own experience; something that makes the ideas more accessible to the reader.
It is a totally brilliant and fascinating introduction to a subject that has become prominent n schools over the last few years.The book can be used as a starting point for enquiry, both at home and definitely in the primary school.
How Many Mice Make an Elephant?  Tracey Turner, illustrated by Aaron Cushley
Full of so many fascinating facts as it is, How Many Mice Make an Elephant? is almost certainly guaranteed to engage even the most reluctant of young mathematicians. With each double-page spread focusing on a different area of knowledge, ranging from skyscrapers to space stations and oceans to football stadiums, this is ideal for browsing and dipping into. However, a detailed index allows for quick access to topics of particular interest.
The book also includes a page about numbers by Kjarton 'Murderous Maths' Poskitt, plus his guide to different measurements and how to measure. There are practical suggestions about using a calculator & 'guesstimating', with tips on how to work things out on each page. The chunked text is accessible and engaging and the illustrations colourful and full of fun. As well as exploring the world of big numbers, the reader is bound to discover "some unexpected facts about things like blue whales' earwax, the moons of Jupiter and kangaroos the size of grapes." A perfect choice for classroom or school libraries.
I Am Not a Label  Cerrie Burnell, illustrated by Lauren Mark Baldo
As recognition of the need for diverse representation in media and literature grows stronger, this book makes a brilliant presentation of people who have refused to let disability limit themselves. The selection of subjects covered is well chosen, with a good mix of familiar and well-known media stars, and people who are sure to fire the curiosity of young readers. The tone throughout is bold and forthright, expressing facts clearly while deftly throwing out the notion that a person with a disability is merely an object of pathos or source of inspiration.

The range of disabilities looked at is very broad and challenges a great many common misconceptions about what a disability actually is, and the problems that a disabled person might have to deal with. The presentation style lifts the potentially daunting subject matter into something engaging and immediately appealing. An ideal tool for broadening horizons and supporting the development of empathy.
Youthquake  Tom Adams, illustrated by Sarah Walsh
The brightly coloured and gold foiled cover instantly invites you to discover more about 50 amazing children and young people who have made an outstanding contribution to our world.  Spanning centuries and sweeping the globe, this inclusive book focuses on individuals who have had an impact on the world we know today through their inventions, political or social equality campaigns, and creative or sporting achievements, often overcoming obstacles themselves.
Walsh's illustrations mix fluidly with photographs, securing the factual elements of their stories whilst the written text by Adams conveys masses of information in a non-patronising, digestible way. The comprehensive index helps readers to navigate the vast range of individuals included, although as the introduction says, there are many others who could have been included.
Informative and inspiring, Youthquake is a great example of how real-life events and noteworthy accomplishments can be presented in a colourful, accessible and engaging way.

Ages 13-16
Fake News  Tom Jackson, illustrated by Cristina Guitian
Fake News is a brilliant, eye-popping guide to journalism in the social media era. It covers key hot topics such as Echo Chambers and Deep Fakes but also introduces lesser-known ideas such as Socbots and Astroturfing.
The reader is encouraged throughout to keep their critical radar engaged with thought-provoking questions at the end of most sections. As one would hope given the topic this book is thorough to the end with a Glossary, Index and 'Find Out More' section. It is pleasing to see less conventional options such as the BBC's iReporter game featured as a way of exploring the issues further.
Fake News could be read cover to cover or used as a quick reference although the striking artwork is likely to lure the reader in beyond their original query. This is a vital manual to help teenagers effectively steer their way through the plethora of online material posing as information to get closer to the truth.

Have Pride  Stella Caldwell and Sue Sanders
Social history, legal history, psychology, biography, human rights and personal wellbeing topics coincide in this title to fantastic effect. A thorough and even-handed coverage of the history of the modern LGBTQ+ movement and of LGBTQ+ people and experiences from the ancient world up to the 20th century, this title aims high and tries to do a great deal. Unlike many books that try to cover so much, it accomplishes its goals without ever seeming hurried or abridged, and maintains an upbeat, earnest energy that grabs right away.
The text is broken into short sections, cleverly worded and formatted so as to avoid feeling choppy or overly brief, yet still feels light and accessible. A valuable resource for research, an uplifting leisure read, and an affirming and informative guide for young people examining their own identities.
This Book is Anti-Racist  Tiffany Jewell and Aurélia Durand
This Book is Anti-Racist is a striking and heart-felt practical guide for teenagers to actively work against racism. It will strike a chord with many who have felt compelled by recent events to take action but are unsure where to start.
Divided into 20 'lessons', this book not only offers a starting point but guides the 'wannabe' activist through step-by-step from understanding their own identity and exploring the context of racism to courses of action like 'spending their privilege' and allyship.
From the author's emotive letter at the start to the personal anecdotes used to illustrate key ideas and experiences, the book has an intimate voice like that of a mentor, supporting the reader with encouragement and compassion. The colour-popping artwork featuring inspirational figures like Maya Angelou and Brittany Packnett and diverse representations of anti-racist youth combines with the instructive text to create a compelling read that is ultimately hopeful and empowering.