Struan Murray wins Branford Boase prize for debuts
Posted on Thursday, July 15, 2021
Category: Book Awards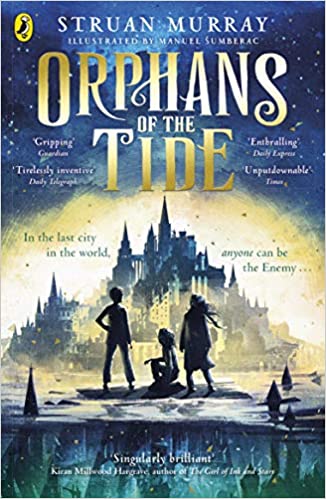 Struan Murray and his editor Ben Horslen of Puffin have won the 2021 Branford Boase Award, given to the author and editor of the outstanding debut novel for children.
The award celebrates Murray's ambitious, beautifully written fantasy adventure Orphans of the Tide. Set in the last city of a drowned world, the book opens with a dead whale washing in with the tide, only for a living boy to climb out. The City's religious authorities believe his body to house The Enemy, the god they hold responsible for putting the world in its watery grave but Ellie, a young inventor, is convinced he's innocent. The award is shared with Murray's editor, Ben Horslen, of Puffin.
"A showcase for all that children's literature can be"
The 2021 shortlist was particularly strong. Described as 'a showcase for all that children's literature can be', it featured powerful contemporary stories, a wildly energetic comedy adventure, an 'own voices' novel starring a young girl with autism, a dark story of witches and witchcraft in the 17th century, and the first verse novel to feature in the award's history. Orphans of the Tide was the only fantasy adventure on the list and won the judges' hearts with its originality, Murray's control of the story and the beauty of his writing. Reading it, they felt, was like reading Philip Pullman's His Dark Materials.
"This book utterly stole my heart"
Judge Liz Hyder, author of Bearmouth and winner of the 2020 Branford Boase Award, said, "This book utterly stole my heart. Exquisitely written, it's a phenomenal page-turner with characters that leap off the page and straight into your imagination. Orphans of the Tide explores lots of big themes - environmental issues, friendship and xenophobia to name but a few - all wrapped up in an utterly compelling tale told by a master storyteller. Struan is an exceptional talent and I can't wait to read everything else he ever writes."
Struan Murray said he was "honoured and thrilled" to have won the Branford Boase Award. "This award is extremely special as it celebrates not only the author but the editor too, and understands and recognises that writing is a collaborative process that wouldn't be possible without the commitment, imagination and skill of the editor. Working with Ben has stretched me as a writer and his insight contributed so much to the world of Orphans of the Tide that I couldn't imagine it without him."
Editor Ben Horslen said, "Every year I look forward to the announcement of the Branford Boase Award shortlist with particular excitement. The author-editor relationship lies at the very heart of our industry, and to have an award that celebrates and showcases that relationship is a very special thing indeed. To be nominated is a career highlight that every editor hopes for. To win is simply a dream come true."
The full shortlist included the following debut authors:
When Life Gives You Mangoes by Kereen Getten, edited by Sarah Odedina (Pushkin Children's Books)
Witch by Finbar Hawkins, edited by Fiona Kennedy (Zephyr)
And the Stars Were Burning Brightly by Danielle Jawando, edited by Jane Griffiths (Simon and Schuster)
A Kind of Spark by Elle McNicoll, edited by Eishar Brar (Knights Of)
Run, Rebel by Manjeet Mann, edited by Carmen McCullough (Penguin)
Orphans of the Tide by Struan Murray, edited by Ben Horslen, illustrated by Manuel Sumberac (Puffin)
The Super Miraculous Journey of Freddie Yates by Jenny Pearson, edited by Rebecca Hill and Becky Walker, illustrated by Rob Biddulph (Usborne)
This year the judges were Zoey Dixon, YLG Librarian of the Year 2020; Natasha Radford of Chicken and Frog bookshop, Brentwood; Scott Evans, teacher and consultant; and Liz Hyder, author of Bearmouth and winner of the 2020 Branford Boase Award. The panel is chaired by Julia Eccleshare, children's director of the Hay Festival.
The Branford Boase Award is supported by Walker Books.