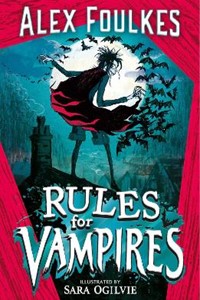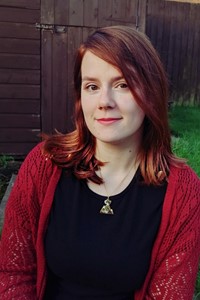 About Author
Rules for Vampires is Alex's debut novel. Alex was born in smoky Stoke-on-Trent and grew up in the Staffordshire Moorlands. She has a BA in English Literature and Creative Writing. As a kid, she spent much of her time reading in her school library; as a grown-up, she has spent a lot of her time running a school library, as well as being a teacher's assistant.  She still lives in the Moorlands, in a town that seems to be foggy for three-quarters of the year.
When she's not reading and reading and reading, she's writing her very own stories with chills, thrills, and maybe even a talking spider. Apart from reading and writing stories, Alex's favourite hobbies include lurking in the shadows, hanging upside-down from ceilings, and hissing at the sun.  
Download a chapter from Rules for Vampires
Interview
Rules for Vampires (Simon & Schuster Children's Books)
September 2021
As the nights draw in and with Halloween just around the corner, Rules for Vampires is the perfect book to get your teeth into... Being a vampire comes with amazing gifts but there are also things that you just don't want to get mixed up with, like angry ghosts. Unfortunately for young vampire Leo, that's exactly what she has just created...
We asked author Alex Foulkes to tell us more about her debut novel, Rules for Vampires! 
Q&A with Alex Foulkes
1. How did you start writing for children?
Although I've written for a long time, I started writing for children after becoming a school librarian. I was writing all the time with the students and reading predominantly middle grade; it made sense to give it a go seeing as I loved these stories so very much.
It has been a wild time for me, especially being published during the Covid-19 pandemic. I've been so fortunate to meet the best, loveliest people so far on this journey - which makes me excited for the future!

2. Can you tell us about Rules for Vampires?
Rules for Vampires is a gothic, spooky, funny adventure with themes of family, friendship and what it means to be brave and follow your own path.  I can't wait for everyone to read it.
The story follows the story of Leo von Motteberg, who sets out on her 111th birthnight to hunt her very first human. Unfortunately, everything goes wrong and she accidentally creates two ghosts who are deadly enemies and at war with each other. She has to team up with ghost girl, Minna, to put everything right - before her evil vampire mum finds out!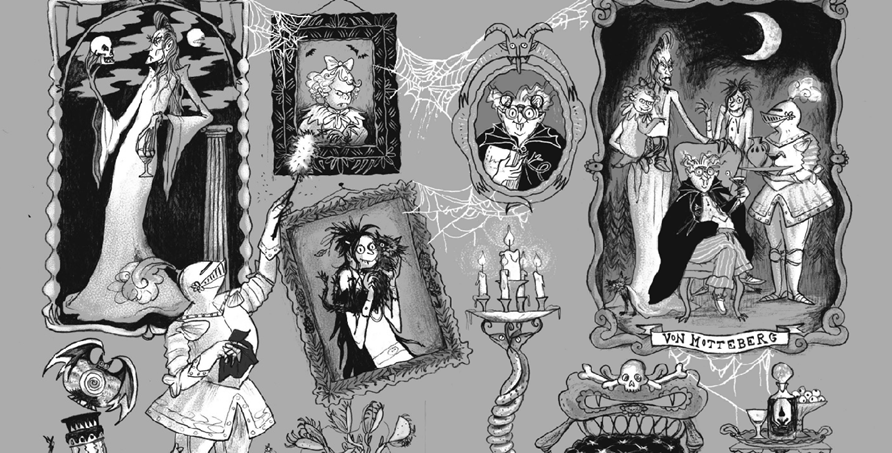 3. What inspired the story?
I was inspired to take the plunge after one of my students suggested I should write him a vampire story. I agreed at the time, not wanting to be rude, but of course I never thought I'd actually write a whole book! When I went home that evening, I had an image in my head of a strange vampire girl, running through a deep, dark forest. The story spun out from there.
I feel that the story has gotten progressively weirder and weirder, the more I've worked on it. I really let myself be as strange as possible. The final result, I think, is a real rollercoaster!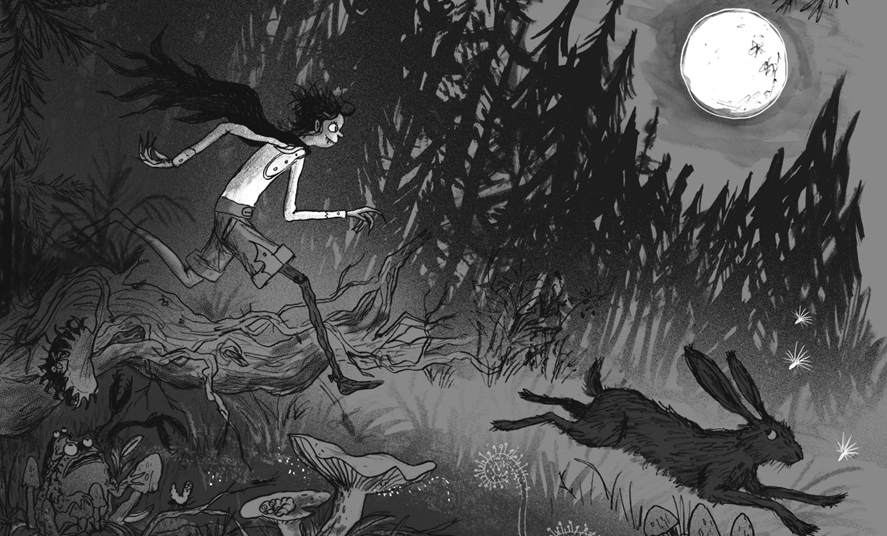 4. How did you decide your vampire rules?
There is such a rich history of vampire lore out there - especially for the typical vampire as we know it, beginning with the likes of Nosferatu, Dracula and so on. I chose the rules that appealed to me the most - for example, being unable to enter uninvited, which I felt was a really cool, traditional setback for vampires to overcome. Once I had my list, I added new rules of my own too.

5. Can you tell us about your main characters, Leo and Minna? What do you think of Sara Ogilvie's illustrations of them?
I had such a strong image of Leo in my head at the beginning; this was my starting point for the whole book, it really does start with Leo. Leo is cheeky, curious and quite lonely. I wanted for her to find a friend in an unlikely place, and she absolutely does so in Minna.
Minna is sparky, fiery, stubborn and a bit bad-tempered. She's also a fiercely loyal friend. I love writing Minna and her dialogue with Leo has been so fun to create.
It was extremely important to me that these two characters reflected their images in my head, since their friendship is absolutely the heart of Rules for Vampires. As soon as I saw Sara Ogilvie's illustrations, I cried. I was swept away on a wave of pure joy. Sara has a way of really understanding characters and I think she might actually be secretly psychic.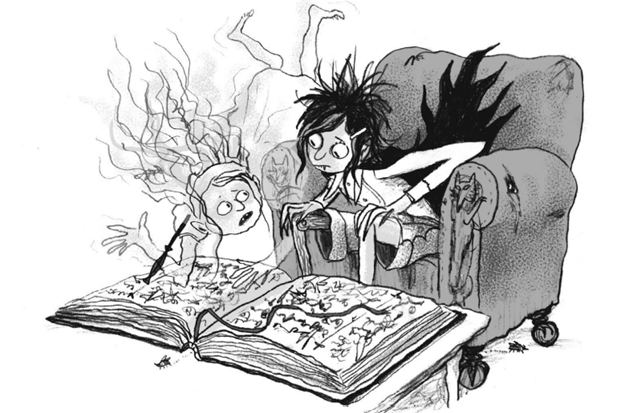 6. You've got some fabulous supporting characters - who stands out for you?
My favourites are Marged - the family butler - and Rodrigo, who is the spider who lives in Leo's sock drawer. I love funny, bumbling characters. It's so much fun writing them as the potential for slapstick is huge. Ultimately, both Rodrigo and Marged are always there for Leo and they do all they can to help her.

7. Is there a moment in the book that you really enjoyed writing?
My favourite scene is when Leo and Minna are confronted by Leo's sister, Emmeline, in the castle kitchens. It also has my favourite line of dialogue: "I'LL SHOW YOU SOFT AND HEALTHY!" Every time I see Sara Ogilvie's illustration, it makes me laugh.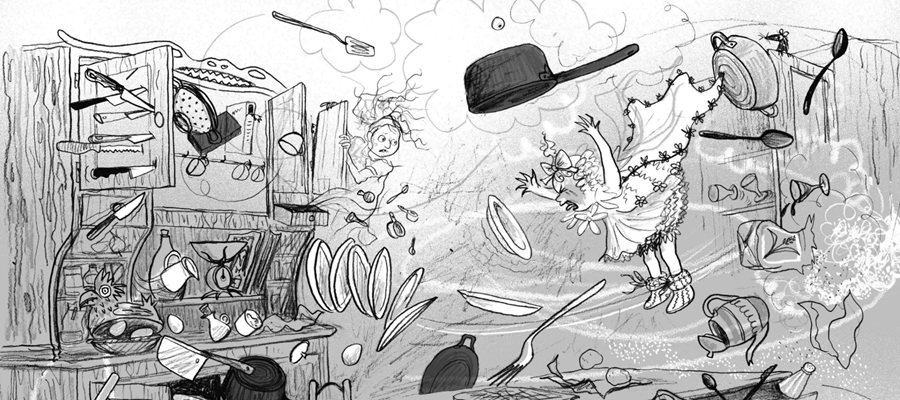 9. What's next for Leo and Minna?
I am so excited to share with you Rules for Ghosts, coming very soon! Leo and Minna are embroiled in a brand new adventure - and one filled with even MORE peril, if you can believe it!

10. Did you enjoy reading creepy stories as a child? And vampires?
I've always enjoyed scary stories - which is interesting, because haunted houses and horror films really frighten me! There is something about a book, where you can fill in the images in your mind, that really sends a shiver up and down my back in the best way.
I went through a phase as a teenager where I was reading everything vampiric. It happened again when I was in university. And now, as a grown-up, we're back to vampires again. There's something really timeless about vampires, for sure.

11. Can you recommend any recent children's books that you would want to share for Halloween?
I've really enjoyed The Peculiar Tale of the Tentacle Boy by Richard Pickard (a sea-faring adventure with tentacles galore) and How to Survive Without Grown-ups by Larry Hayes... which, now that I think about it, also has quite a lot of tentacles in it, but in a spacey way. Both of these stories are perfect for autumn. I'm going to be filling my to-be-read pile with loads of monsters this Halloween!

12. The castle where these vampires live is pretty creepy - what's the spookiest place you've ever visited?
I once got lost in the woods near the village I lived in when I was young; I'd wandered off the path when we were making secret bases. There's something mysterious about (what feels like) miles and miles of trees as far as the eye can see... especially if it's also a misty day! I also lost my shoe after it was sucked down into the bog. That was quite spooky.

13. How would your ideal Halloween eve go?
Addams Family (one of the 90s film versions) on the TV. Loads of snacks. Curled up in a comfy jumper with my dog, Mac.
Author's Titles