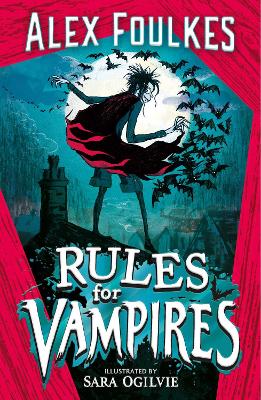 By Author / Illustrator
Alex Foulkes, Sara Ogilvie
Genre
Horror
Age range(s)
9+
Publisher
Simon & Schuster Ltd
ISBN
9781471199554
Format
Paperback / softback
Published
16-09-2021
Synopsis
Straighten your cape and sharpen your claws . . . being a vampire is harder than it looks! The deliciously funny debut from Alex Foulkes, illustrated by Sara Ogilvie.  'A wickedly fun debut, with a wonderfully strong girl hero' Cressida Cowell, Children's Laureate

There are highs and lows to being a vampire. On one claw, you get cool powers like beastly strength and hypnotism and the ability to GRIMWALK. On the other claw, however, vampires are bound by the Vampiric Laws: rules to protect the balance between the worlds of the Living and the Undead. And unfortunately, 11-year-old Leo has just forgotten rule number one . . . The Rules for Vampires don't tell you what to do when you make a ghostly enemy, or accidentally restart an ancient war. But Leo and her very unusual family are more than up to the job.

A monstrously funny and devilishly dark new adventure from debut talent Alex Foulkes, illustrated throughout by the award-winning Sara Ogilvie, Rules for Vampires is the series that fans of Lemony Snickett and Skulduggery Pleasant will devour for breakfast.
Q&A and Video from author Alex Foulkes
Reviews
Linda
Vampires meet ghosts in this epic tale of life after death. After an ill-fated encounter involving an orphanage, a dastardly villain, a wooden leg and a towering inferno, junior vampire Leo thinks she may not have what it takes to pass her Hunt of the Waxing Moon. Leaving a trail of destruction behind her, she returns legless and battle-scarred to her dark and eerie home to regroup. A surprise visit from her intended victim Minna leaves Leo with a new challenge; can she face her mortal enemy and live to tell the tale? Or will the sun set on her life after life?
Rules for Vampires is an enjoyable and imaginative story, perfect for fans of the horror-comedy genre. It doesn't take itself too seriously but still maintains a dark and creepy tone throughout. I found it a little overly detailed at times and would have preferred it to move a little quicker, in terms of plot and action. It is suitable for a Year 5 or 6 audience and its ghostly subject matter would be enjoyed by many.
368 pages / Reviewed by Linda Canning, teacher
Suggested Reading Age 9+
Other titles