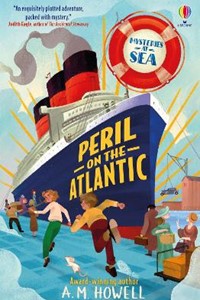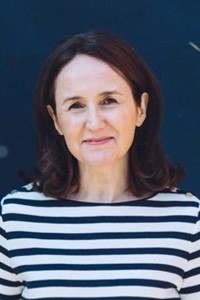 About Author
A.M. Howell has always been inspired by the stories around her, and how imagination can unlock the secrets of the past. Her new series, Mysteries at Sea, is inspired by her own childhood travels on ships.
Her thrilling historical mysteries have garnered great critical acclaim, winning both the Mal Peet Children's Book Award, and the East Anglian Book of the Year Award, as well as being shortlisted for lots of other prizes and consistently being reviewed in the national press.
When she is not writing books, A.M. Howell writes policy documents for local government. She lives in Suffolk with her husband and two sons.
Interview
Mysteries at Sea:  Peril on the Atlantic  (Usborne Books)
August 2023
Peril on the Atlantic is a fast-paced mystery adventure, set in 1936 aboard the famous ship the Queen Mary, as she travels between Southampton and New York.  When the ship's cabin boy is attacked, four friends are determined to discover who did this, and why.  In doing so, they learn a terrible secret that threatens the ship itself.   Expect twists and turns aboard this majestic ocean liner!
Read a Chapter from Perils on the Atlantic (Mysteries At Sea)
Review:   "I started reading this story and could not put it down, finishing it in one (long) reading session! The imaginative plot, which has links with history and WWII, keeps you guessing throughout the whole story."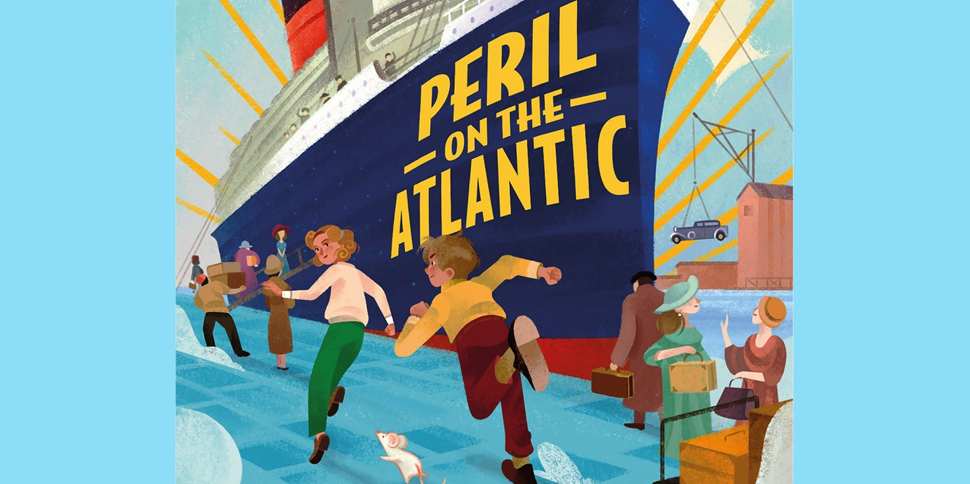 Q&A with AM Howell
AM Howell talks to ReadingZone about why she writes historical fiction, how her childhood travels helped inspire her new Mysteries at Sea adventures, and what other adventures at sea she has planned!

1.   Can you tell us a little about yourself, your loves and hates, and what brought you into writing for children?
I live in Suffolk with my husband, and we have one son at university and one doing A Levels so the house is much quieter than it used to be! I love travelling and visiting new places and have been lucky enough to visit both Croatia and Malta in the past year, both of which are settings for future Mysteries at Sea books. What I really don't like is rudeness - a bit of kindness goes a very long way.
In 2015 I did a creative writing course with Curtis Brown Creative tutored by the children's author Catherine Johnson. This really opened my eyes to the world of publishing, getting an agent and how to write a better book. I was lucky to sign with my agent, Clare Wallace at The Darley Anderson Children's Book Agency, soon after the course finished, but I faced a lot of rejection, and it was my fourth book, The Garden of Lost Secrets, that eventually got me a publishing deal.
I currently work three days a week as a town planner for a local council and then the remaining two days a week I write. I feel very lucky that I can now combine my two careers and feel the balance is working well.

2.   What draws you to writing historical fiction? How can stories set in the past help us understand our present?
I've always been an avid reader of historical fiction and love adult writers such as Jessie Burton, Elizabeth Macneal and Laura Purcell. For a long time I was worried about writing historical fiction myself because of all the research and the risk of getting facts wrong, but after three attempts at writing contemporary children's fiction which went out on submission to publishers but didn't get me a book deal, I decided to give historical fiction a go. I enjoyed doing the research and had to do a lot of fact checking, but I wondered what I'd ever been worried about and have never looked back!
I think that setting stories in the past can give us the opportunity to explore events from different perspectives. In The Garden of Lost Secrets I wanted to explore the impact of the Great War on the homefront in a small Suffolk town, something not often written about. I decided to set The Secret of the Treasure Keepers a few years after the Second World War as again this time period, and facts such as rationing still being underway, is not often found in children's literature.

3.   How do you decide which of your ideas you want to pursue and to write a novel about? What inspired your new Mysteries at Sea series, which begins with Peril on the Atlantic?
I'm not one of these writers who has a huge notebook of ideas. I get so absorbed in a writing project I don't start thinking about the next book idea until I have an almost finished product, but then I do find the ideas often come quickly.
My dad's job as a university scientist meant that every few years he was able to take sabbaticals abroad. He indulged his love of the sea by finding a way to ensure we all travelled at least part of the way by ship, and it was these childhood experiences which were the inspiration for my Mysteries at Sea series.

4.   What happens in Peril on the Atlantic?
Peril on the Atlantic is set on the Queen Mary in 1936 as she travels between Southampton and New York. 12-year-old Alice is on board with her father, who is second in command, and she has never left England before so is very overwhelmed to be amongst such luxurious surroundings.
As she begins to explore the ship she comes across a shocking attack in the first class swimming pool. She and her new friend Sonny decide to investigate the crime and they soon discover a sinister plot involving gold bars, secret notes and lost silk gloves. Alice realises her father is also keeping secrets too. Why does he visit the ship's luggage hold each time it docks in New York? What she discovers will change the course of her own life forever.

5.   Why did you decide to set your mystery aboard a real ship, the Queen Mary?  What are the advantages and challenges in setting a mystery on board a boat?
I always had a vague idea that I'd like to write a story set at sea because travelling on ships was such a huge part of my early life. All my books so far have been based on real places and I decided that featuring a real ship in Peril on the Atlantic would be a good basis for my research and give me the opportunity to pop some fun ship facts into the story too.
The Queen Mary made transatlantic crossings from the 1930s to the 1960s and since then she's been moored up in Long Beach, California where she's used as a museum and a hotel. My parents even stayed on her back in the 1990s, which I'm very envious of!
One advantage of setting a mystery aboard a ship is that the action takes place within an enclosed setting over a short period - in the case of Peril on the Atlantic, the voyage takes four days. This can naturally increase the tension as the protagonists only have a limited amount of time to solve the mystery. However, I found the downside of this was that because there is only a limited amount of time in which to convey what is happening, it can take a little while to get the pacing right so there is breathing space in-between the action-packed moments.

6.   There is so much information and details about the ship in this book - how did you find it all out? Did you visit the Queen Mary?
My dad was a huge ship fanatic, and my parents' house was full of books on ocean liners, so when I decided to write a book set at sea, I had a ready-made library which I used for most of my research. Shortly before he died, my dad managed to source me a DVD of real footage of the Queen Mary which was a huge help and I'll be forever grateful to him for that. I haven't visited the Queen Mary myself but I'd very much like to go one day and see for myself all the places that I've written about in the story.

7.   Who are the children at the heart of this mystery, and why do they work so well together?
Alice is the main protagonist, and the story is told from her point of view. However, she soon meets a boy called Sonny on board the Queen Mary and becomes good friends with him as they attempt to work out who is responsible for the shocking attack on a cabin steward.
Along the way Alice and Sonny also befriend Charlie, a bellboy who works in the passenger lifts, and Miriam, a Jewish girl whose family have spent their life savings on the voyage to escape the atrocities happening in Germany due to the rise of the Nazi party.
All four children have very different characters. Alice has been longing for an adventure her whole life and takes solving the crime very seriously, while Sonny is much more cautious, so he and Alice balance each other out perfectly. Charlie is the eyes and ears of the Queen Mary and knows the ship inside out, which is great for helping to solve the crime, while Miriam is keen to right any wrongdoing because of the troubles her family have faced in Germany. All in all, they are the perfect team to solve this first mystery at sea!

8.   What is your favourite moment in the mystery?
One of my favourite moments is when Alice meets a character called the Baroness on a foggy day out on deck. The Baroness reveals something to Alice that makes her question her own past and propels her personal story forwards. It was a very atmospheric scene to write and a bit of a turning point for Alice which is why it's my favourite moment.

9.   Would you have loved to have sailed on this ship - or any other - in its heyday?
Absolutely! One of my earliest memories is being on a ship called the Edinburgh Castle in 1970s as we travelled from Southampton to Cape Town in South Africa for my dad's work. I know this was well past the heyday of the golden era of transatlantic travel, but all the same this was a Royal Mail service carrying cargo and passengers between two points and I've quite strong memories of the voyage there and back

10.   What other Mysteries at Sea do you have planned?  And what does a non-writing day look like for you?
There are two more Mysteries at Sea books to come and you can read a snippet from the second in the series, The Royal Jewel Plot, at the end of Peril on the Atlantic. I don't want to spoil it too much, but I can tell you that it does involve a beautiful yacht, a deadly octopus and a missing Opal - oh, and the king of England and his friend Mrs Wallis Simpson are on board too!
My favourite non-writing day would involve getting out of bed late, having a leisurely breakfast and then going back to bed to read for a while. After a late lunch I'd go for a swim and then come home for a bit more reading or to watch a mystery/drama series on TV (my current favourite is Yellowjackets), followed by a Thai Curry. To me that sounds like the perfect day!
Author's Titles