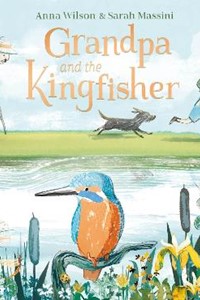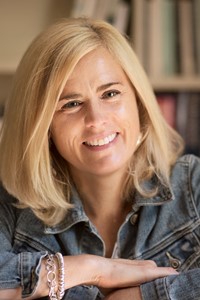 About Author
Anna Wilson lives in Cornwall in the UK with her husband and dog, cat, ducks and a tortoise called Hercules. A keen wild swimmer and advocate for protecting animals and nature, Anna's passion for the natural world shines through in all her work. Twitter @acwilsonwriter 
Sarah Massini has had a varied creative career as a corporate graphic designer, a children's book art editor, and now as the acclaimed illustrator of many picture books including The Velveteen Rabbit and The Little Prince. She lives in Sussex in the United Kingdom with her ecologist husband and her Scottie-dog Coco. Instagram @sarah_massini / Twitter @SarahMassini
Interview
Grandpa and the Kingfisher  (Nosy Crow)
April 2023
Grandpa and the Kingfisher is a sensitive and reflective picture book that explores bereavement and the natural cycle of life and death. Through the story, Anna Wilson explores the close relationship between a boy and his grandfather and explains how human lives mirror the natural flow of life, like the kingfisher family the pair observe. The text is gently brought to life by Sarah Massini's illustrations, with motifs and imagery that support the themes of the story.  
We asked Anna Wilson and Sarah Massini to tell us more about how Grandpa and the Kingfisher was created, and how to share the book and its detailed illustrations with children:
Q&A with Anna Wilson
1.    How did you start writing picture books? What kinds of stories do you enjoy writing?
I started writing picture books in 1998 when I was a picture book editor for Macmillan Children's books. My first was called "Over in the Grasslands" and was illustrated by Alison Bartlett. It was chosen as a World Book Day book which was very exciting as the idea for a day of celebrating books had only just begun back then! I gave up my job as an in-house editor and went freelance when I had my children.
My writing developed alongside my freelance editing career but I couldn't seem to settle on a particular age-range for my writing! I wrote chapter books, middle grade and young teen novels and non-fiction books, and ended up writing a memoir for adult readers called "A Place for Everything" about my mother's late diagnosis for autism. It is only recently that I have gone back to writing picture books!  So, as you can see, I enjoy writing any and every kind of story. But a couple of things are the same in all of them - animals and the natural world always feature strongly, even in the memoir.

2.   What is your new picture book, Grandpa and the Kingfisher, about?
It's about the special bond between a grandpa and his grandchild and the love they share of the natural world. It's also about grief and how nature can help us deal with bereavement and sadness by showing us that the natural world is in a constant state of renewal. As the child watches the kingfishers go through their life cycle, they understand that for humans there is also 'a time to be born and a time to die' (to borrow from the Torah and the Old Testament).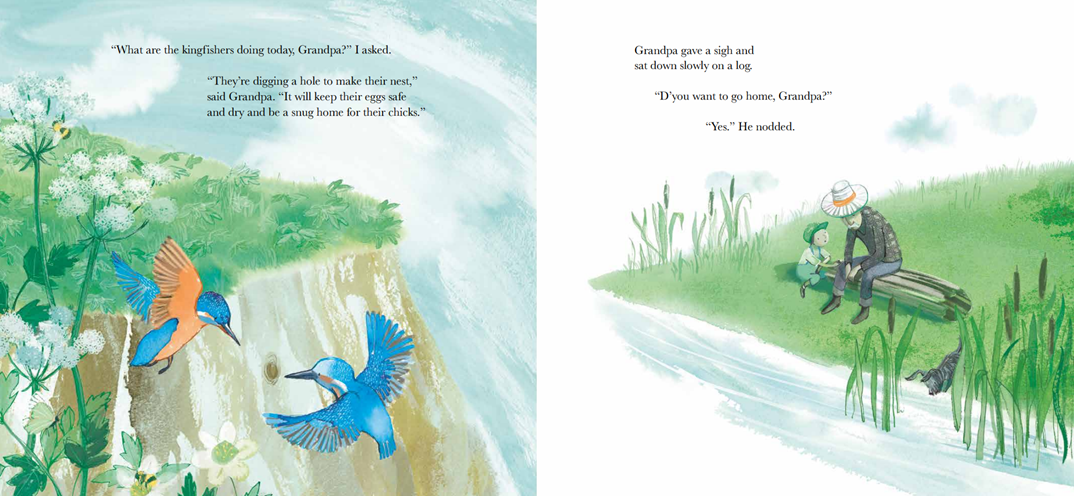 3.   Is it difficult to explore a subject like bereavement in a book for young children?
It was difficult to get the wording right, but then it always is with picture books. I firmly believe that you can talk to children about anything if you get the language right, but that doesn't mean it's easy! The context and vocabulary have to be carefully considered so that you don't give them too much confusing information.
I have always answered my children's questions as truthfully as I can, so when they were small and asked me "Will you die one day?" I said, "Yes, but I hope it won't be for a very long time yet." We talked about death when pets died or when we found dead creatures out in the wild, for example. I don't see the point in hiding it from them. It's part of life.

4.   Why did you decide to explore bereavement and life cycles together in this story?
My family went through a very hard time about eight years ago. My lovely dad developed cancer, and it progressed rapidly and viciously. At the same time my poor mum was suffering with mental illness and was in and out of mental health institutions and very distressed. My children were teenagers by then and able to understand things to a certain extent, but my niece and nephew were small and so didn't have the same understanding. My sister found it hard to talk to them about what was happening to their grandparents, so I thought, "I have to write about this."
I chose the life cycle analogy simply because my dad loved the river and his favourite bird was the kingfisher. It was always a joke with us that as a child I never spotted one when he pointed it out as they move so fast! As an adult I became good at listening out for them and seeing them on my runs along the canal towpath near where I lived. I would always tell Dad when I had seen one. Then when Dad was dying I found an old book of his that his mother had given him when he was a lad. It was called "Martin: the Kingfisher", written and illustrated by Père Castor. We used the book in our eulogy for Dad and at that point the shape for my story started to form in my mind.

5.    What will children learn about kingfishers and life cycles in the book, or do you hope to inspire them to find out more themselves?
They will learn how to spot the difference between a male and female kingfisher, what they eat, how they hunt, how and where they build their nest and about the mating and breeding cycle.
I do hope children will go and find out more, but mostly I hope they will go for walks along riverbanks and listen out for the high "keek-keek" and then look, very carefully, and spot the beautiful bird for themselves. Much more exciting than only seeing it in books!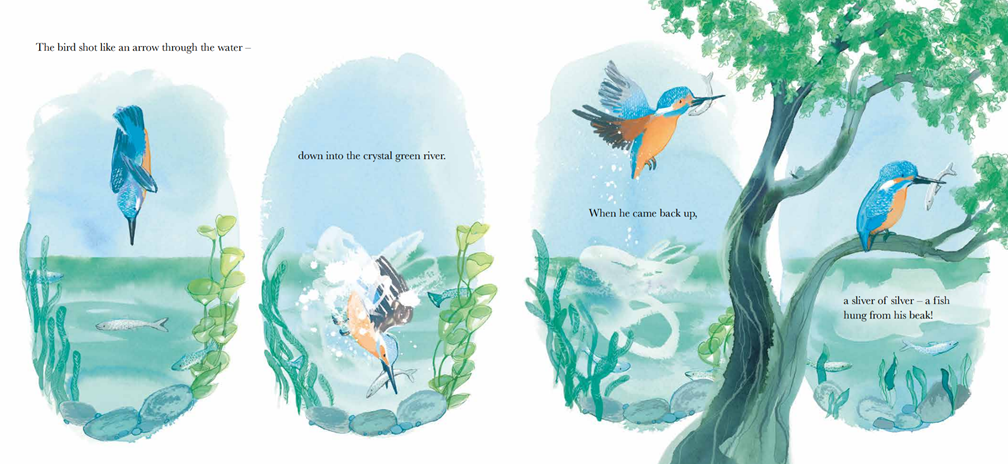 6.   How would you like to see Grandpa and the Kingfisher used in classrooms?
I would love it if it served a dual purpose of acting as a nature book and a book about bereavement. That is what "Martin: the Kingfisher" does, but it is a very wordy and old-fashioned book for today's readers. I hope that mine will be a conversation starter and will help children deal with the concept of death.

7.   Did you enjoy seeing the illustrations by Sarah Massini? What stands out for you in the finished book?
I ADORE Sarah's illustrations! I was completely over the moon when she agreed to do this book. She has worked so unbelievably hard to get every single detail right. We had a lot of back and forth about Grandpa and what he should look like. I sent her photos of my dad and she showed me photos of her dad (who was very poorly when she was working on the book) and we agreed on a grandpa who has shades of both wonderful men in him.
Also, Sarah's husband is a naturalist so she had someone to talk to about the details of the birds and their habitat. She paid enormous respect to my text while also sensitively pointing out when things needed changing. I continued to work on the text while she was illustrating so that the marriage between words and imagines was as perfect as we could make it.
It is hard to say what stands out in the finished book as I love it all! I think the cover is gorgeous. I also love the image of Grandpa and the child on the balcony overlooking the river. And I love the image of the hot, green, soupy river as it reminds me of swimming in the river in the summer with kingfishers buzzing by my head!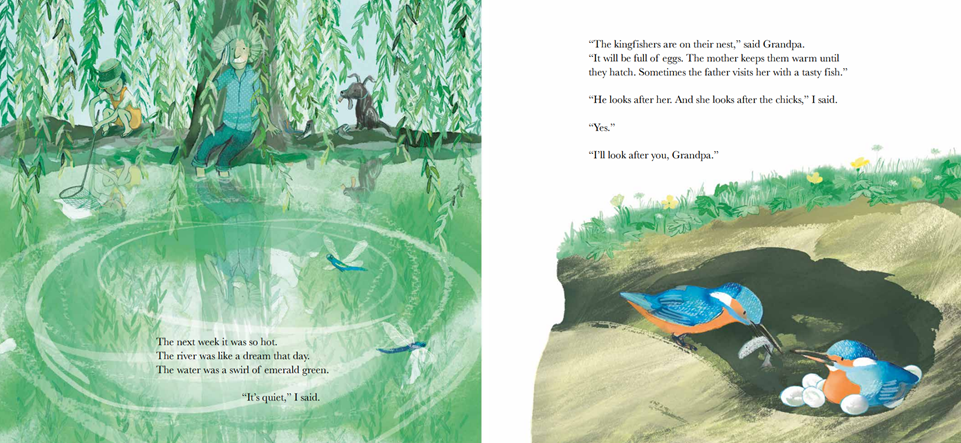 8.   Is it important to you, personally, that children are introduced to nature and the environment through your picture books?
It's important in that I hope it will inspire children to go outside as much as possible. I think we all feel better once we have had some fresh air and looked up and out at what is around us. I don't want people to think that this is only possible in the countryside, though. Going into parks in cities, or walking along canals can also be an exciting way to spot wildlife and interesting plants and trees.
Nature is everywhere - we are part of it. It's not something you have to go out and "find". If we all became a little more aware of this, perhaps we would feel more connected to our natural environment. My biggest wish is that people would stop littering as the effects on animals and birds in cities and the countryside are just devastating.
Q&A with illustrator Sarah Massini
1.   What drew you to illustrating Grandpa and the Kingfisher?
I've been walking through nature reserves and along riverbanks all my adult life with my husband Peter, and, at different times, with our son and/or a dog in tow too. Peter is an ecologist and some of his knowledge and passion for the natural world has rubbed off on me, so the subject matter is familiar and dear to me.

2.   How did you decide to approach the illustrations?
I have a set process with every book I work on. First, I panic! Then I start roughing out character studies. Somehow, once I've 'met' my characters, I relax into the process a little.  My other tactic is to amass as much reference and visual inspiration as possible. Pinterest is my go-to place for this.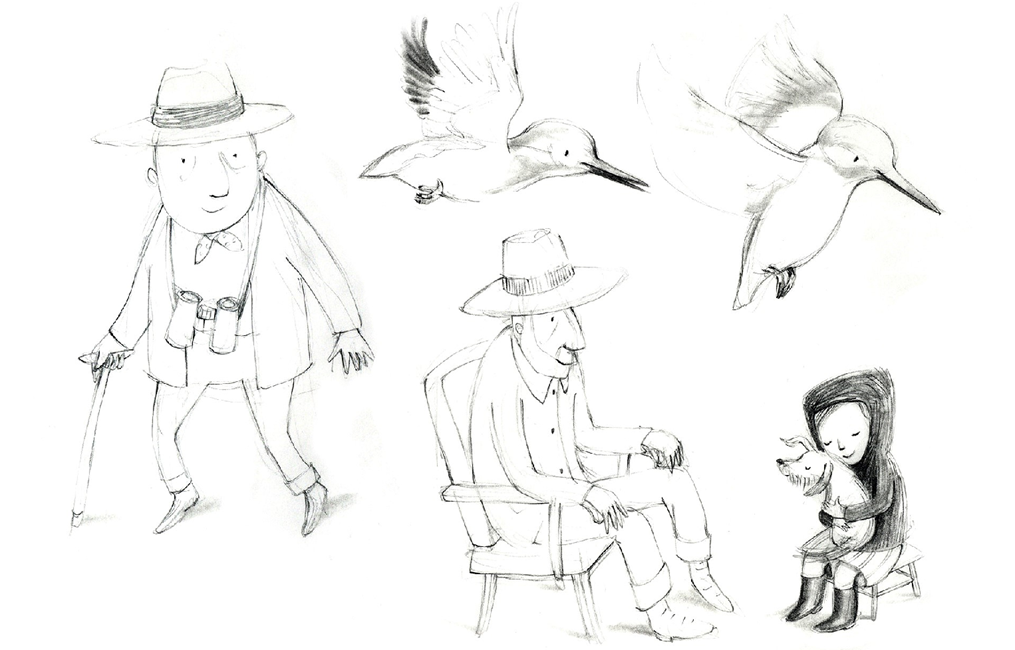 3.   What motifs and links have you used to highlight the link in the text between life cycles and bereavement?
There are various visual motifs and themes at work here, though I wonder if they'll be spotted by a casual observer.
The river represents time passing. The river always flows. Time always passes.  Walking along the bank represents our journey through life; we walk alongside time passing. The walk will stop at some point. We see a couple of times that Grandpa is nearing the end of his walk…
Firstly, in this scene. It's autumn, which implies an ending. We see Grandpa's and Grandchild's reflections rippling in the water, fragile and inconstant. Both are holding sticks - a plaything for youth and a support for old age: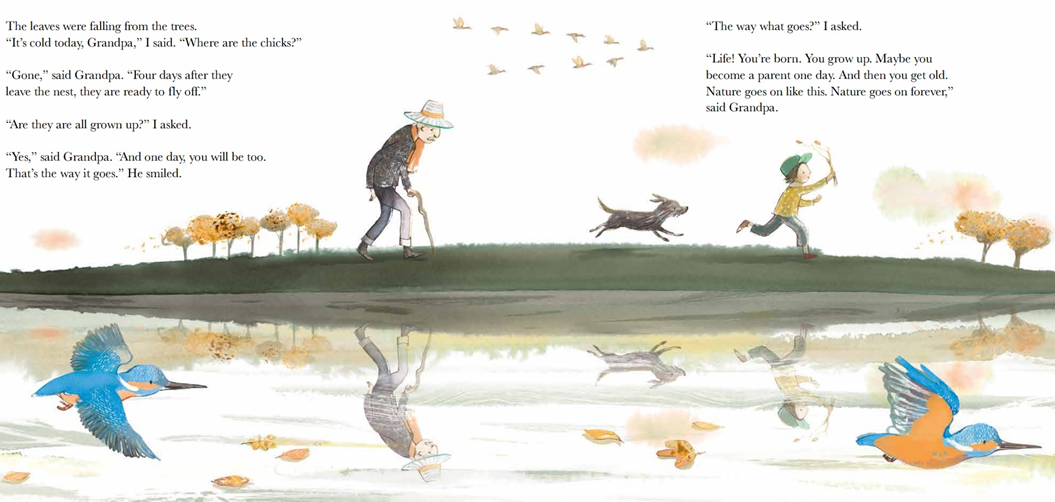 And then here, during Grandpa's final scene, we're at the edge or end of the riverbank, ie., the end of his journey. Dog is sniffing the air, sensing something is amiss: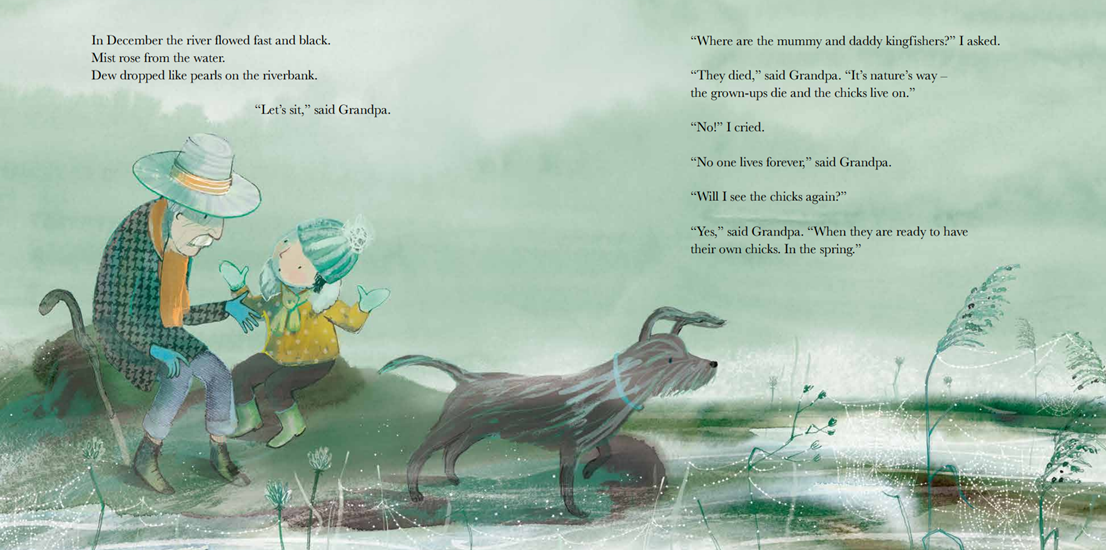 So these motifs foretell Grandpa's passing, and also suggest the transitory aspect of our own lives.
But Anna writes: "Nature goes on forever."   We've conveyed this through three semi-repeated scenes. The most obvious are the vignettes of the kingfisher fishing. The second sequence shows the grown-up chick of the first kingfisher - but the scene is essentially the same.  And the other two scenes show the boat being rowed along the river, either with or without Grandpa. So we see human and kingfisher activities, or patterns of behaviour, being repeated in different times by different generations.
The sense of bereavement is expressed very clearly in the narrative: "I wish Grandpa was still here. I miss him." In the illustrations, we see Grandpa's hat, binoculars and boat, and the birds and environment that he loved. So his presence is felt by our memory of him and the things that were important to him, but we miss him too because, of course, he's not there himself.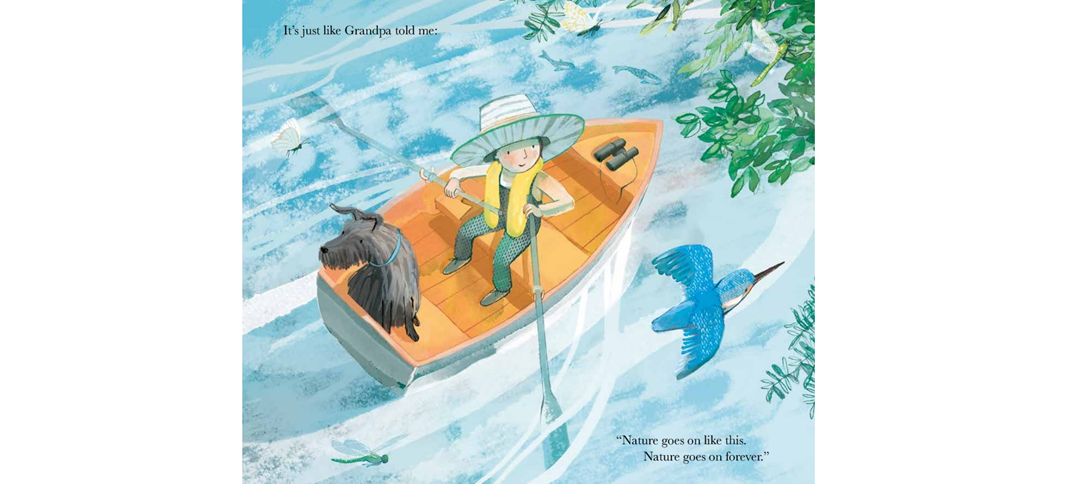 4.   How do you reflect the close relationship between the child and their grandfather in the illustrations?
Anna's words imply quiet contentment in each others' company. And there are specific prompts too, like the child's concern when Grandpa is tired, or when they hold hands. Basically, I simply followed Anna's lead. There are no hugs, no overt displays of affection, which is rather refreshing I think!

5.   Did you use any real life settings as the basis for your landscape in the picture book?
Rye Harbour Nature Reserve (on the Southeast coast) is a regular walking place for us - in fact my dedication to the staff and volunteers there honours our connection to that place. So the location is partly based on Rye Harbour, and also further along the coast at Dungeness, where old boats and fishing shacks on the shingle rattle in the wind. Grandpa's cabin on stilts is reminiscent of bird hides we've visited. In my mind, in Grandpa and the Kingfisher, the sea is always just out of view, behind the background hills.

6.   What were the most challenging aspects to illustrate?
The kingfishers were really quite hard to illustrate. Their markings are intricate. I used a mountain of photo reference, showing them engaged in their different activities, and from every angle. Some of the compositions in the book have been dictated by the kingfisher reference I was able to find.
There are 30 separate kingfishers in total. And then I had to do them all over again for the US edition; this time the Belted Kingfisher, which, though less colourful than its Eurasian cousin, was no less challenging.


7.   Are there any spreads or illustrations that you are particularly happy with?
Yes, I'm happy with very first image on the half title page, of Grandpa, Grandchild and Dog in the boat. I'm happy with the simplicity of it, and the composition and white space. The characters are big, so I was able to enjoy their detail and the texture of their clothing. And I think it's successful at setting up the close, calm relationship that the three characters enjoy.
It was the very first illustration I completed. It's often the case that I'm most pleased with the first piece of art I finish for a book, but then I think that's because I always tackle the composition that I feel most confident about first. But I'm not keen to suggest that it all goes downhill from there!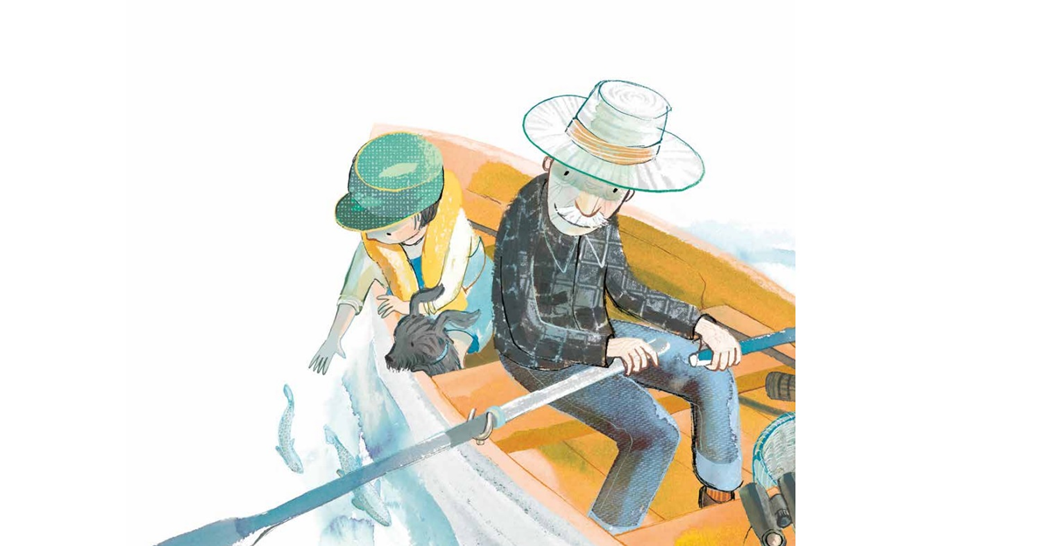 - ENDS -
National Trust: The Wide, Wide Sea by Anna Wilson and Jenny Løvlie  (Nosy Crow Books)
One of Anna Wilson's earlier picture books, The Wide, Wide Sea, illustrated by Jenny Løvlie, reminds us that we all have part to play in helping keep our beaches clean and supporting our wildlife.  In this video, Anna Wilson introduces us to the beach that helped inspire her picture book, and she shares a few pages with us:
Find out more about The Wide, Wide Sea, from Anna Wilson and Jenny Lovlie
Author's Titles