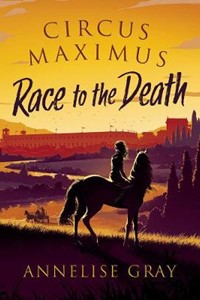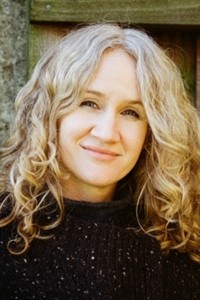 Biography
Debut children's author Annelise Gray was born in Bermuda and moved to the UK as a child. She grew up riding horses and dreaming of becoming a writer.

After gaining a PhD in Classics from Cambridge, she worked as a researcher for authors and TV companies on topics as varied as Helen of Troy, Russian princesses and the history of Labradors.

She's previously published a history of the women of the Roman Empire, and a crime novel set in the Roman Republic.

Annelise lives with her husband in Dorset, where she teaches Latin.
Interview
Circus Maximus: Race To The Death, Published by Zephyr
March 2021

In this rip-roaring adventure we travel back to life in the Roman Empire, when Caligula rules and chariots race at the famous Coliseum in Rome - and 12-year-old Dido dreams of becoming a famous charioteer.

This is a riveting and evocative story for readers aged nine years plus that brings Ancient Rome to life, and it would make an enticing class read.
Author Annelise Gray tells us more about Circus Maximus: Race To The Death:
Q&A with Annelise Gray

1. What's your day job, and what brought you into writing for children?

I'm a teacher - I've taught Latin for about 15 years on and off, currently to children aged 10 to 13. I used to work as a research assistant to authors and television companies. Ten years ago, I wrote an adult non-fiction book about the women of the Roman imperial family. I followed it up with a crime novel set in the Roman Republic but I had a sudden premonition, while writing that book, that I might really be a children's author at heart.

I can't believe it took me so long to figure it out because the books that I have always loved and re-read the most were the ones I first encountered when I was very young. As soon as I had the idea for Circus Maximus: Race to the Death, and started writing it, I knew that I had found my true voice.


2. Can you tell us about your new children's book, Circus Maximus - Race to the Death?

It's the story of 12 year old Dido who dreams of becoming a charioteer at the Circus Maximus, the greatest sporting stadium in the ancient world. As a girl though, she's not allowed to compete, so she has to be content with helping her father Antonius, the head trainer of one of Rome's top racing teams.

One night, Dido's world is turned upside down when she sees something she shouldn't at the team's headquarters. She's forced to go on the run, leaving behind the horse she loves, and to seek refuge with someone she's not sure she can trust. But she's determined to follow her dream of racing, no matter what the risks, while staying one step ahead of the men trying to hunt her down.


3. What sparked the idea for this book?

I loved horse and pony stories when I was a child. My favourite was National Velvet by Enid Bagnold which is about a girl who wins a horse in a village raffle and secretly trains him for the Grand National. That book was definitely one of the key inspirations for Circus Maximus: Race to the Death.

The other was my love of watching sport of all kinds. I had a Formula One race on the TV one day and was wishing there was a female equivalent of Lewis Hamilton, when the character of Dido suddenly popped into my head. I could see her so clearly and I knew I had to write her story.



4. Horses and History - are those your two passions? How did they develop?

Definitely two of them! I started riding horses when I was a kid growing up in Bermuda. There was a stable near our house and sometimes we were allowed to take the horses out on the beach, which was a magical experience.

I was very lucky that when we moved to England, we were able to have horses of our own and riding became the focus of my life outside school until I was about 14. I've only been on a horse a few times since then but I can't walk past a field containing one without stopping to say hello. They're the most beautiful, vital creatures.

My love of history developed at school. I was taught by a couple of brilliant teachers who made the subject fascinating. When I was 13, I started learning Latin and that was what introduced me to the Romans, via our textbook which was all about a family living in Pompeii in the months leading up to the eruption of Mount Vesuvius.

I decided to study Classics at university because I wanted to combine my three academic passions - literature, history and language. I was very lucky to be taught by Mary Beard who became my Director of Studies and who helped me to get my first job working as a research assistant to Bettany Hughes when I finished my doctorate.


5. How much did you already know about Ancient Rome from your work in research or did you need to do more research before starting this book?

My doctorate and my previous books gave me some localised knowledge of the period but I knew next to nothing about chariot racing. So that was where my research was focused.

I found out as much as I could about the Circus Maximus stadium itself, the way the racing teams were run, how the horses and charioteers were trained and what it was like to be in the crowd watching a race which we can get a sense of from first-hand eyewitness accounts by Roman writers.

I also went hunting for the kind of detail in ancient sources that would help me paint as vivid a picture as possible of the sights, sounds, colours, taste and smells of Dido's world. That was something I learned the importance of from working for Bettany - there's such a sensual feel to her writing because she's passionate about researching the physical setting for whatever subject she's writing about.


6. Where did you go to find out about chariots and horse racing in Ancient times?

I have visited the site of the Circus Maximus in Rome a couple of times. But otherwise I headed for the library! It's not very Indiana Jones but it's where the treasure is buried. The Hellenic and Roman Library at the Senate House in London is my favourite hunting ground. There are some really good secondary accounts of the sport of chariot racing by modern scholars which in turn pull together a lot of the snapshots we get from ancient literary sources and artistic representations.

Among my favourite revelations was the fact that a token for a day at the chariot races was once found in a young Roman girl's grave - suggesting that she was a fan - and references in ancient literature to race fixing and cheating, just like in modern sport.

I also enjoyed finding out that some ancient Romans were so enamoured of their favourite charioteers they would style their hair to look like them and buy their children tunics in the colours of their favourite team. Some things never change...



7. Why did you decide to bring real people into the story?

Most of the story is the product of my imagination. There's no historical precedent for a female charioteer like Dido, for example. But there are two or three historical characters who have a part to play in the book.

When I was deciding where to situate Dido's story, I was drawn to the reign of Caligula, one of the most notorious of all Roman emperors, who ruled for four years from 37-41 CE. He is known to have been an obsessive fan of chariot racing and a follower of the Green faction - one of the four big teams who dominated at the Circus Maximus.

The other thing everyone remembers about him is that he's said to have talked about promoting his favourite, highly pampered racehorse to the political rank of consul. Details like this gave me some of the ideas for my plot, in which Caligula has a sinister supporting role.


8. How would you have coped in Ancient Rome? What for you would have been the worst and best things about living in that time?

I think if you took me in a time machine and dropped me back there now, I'd be hammering on the door to be allowed back into 2021. Life for a woman in ancient Rome really wasn't much fun. The worst part would be the lack of freedom, the lack of education, the expectation that your role in life was basically to be a wife and baby machine, with absolutely no political rights and not a very long life expectancy.

I think the only way you'd cope is if you found really good friends who made you laugh. But if you want me to find a silver lining, I suppose it might have been fun to actually get to watch a chariot race. Unlike for the gladiator fights at the Colosseum, women and men were allowed to sit together at the Circus Maximus, at least until the first Roman emperor, Augustus, ruled that women had to move to the back.


9. Apart from a great story, what would you like your readers to take from Race to the Death?

If the book has a message, it's to try and be true to yourself. That's what Dido has to keep sight of - she's got all these people telling her she can never be a charioteer and she should go and do all the traditional things expected of a young Roman girl. But she knows where her passion lies and sticks to her guns in trying to make her dream come true, despite the risks.


10. If you could step back in time to any age, where and when would you go?

I don't think there's any historical period I wouldn't get a kick out of visiting, as long as I get to be a fly on the wall. But it might be really interesting to go back to the age of the earliest humans and watch our ancestors trying to make sense of the world. Failing that, I'd love to go back to the 1960s, which I just missed, to experience the revolutionary spirit of that decade in music, fashion, politics etc.



11. What gets you writing, and what keeps you at your desk?

I write because once a story has got into my head, it won't leave me alone and I know I'll always have a sense of 'what if', if I don't try and put it on paper. I don't find writing easy but it helps to think of it as a job where you've just go to pay your daily rent. For me, that's 1000 words on days when I'm not teaching, and 500 words when I've only got a couple of hours in the afternoon.

I like the maxim - which I think was coined by Billy Wilder and which I heard via Philip Pullman - that as a writer you must go to your desk, otherwise the muse won't know where to find you. For me, the desk is a moveable object though. Sometimes I work in my study. But in a pre/post pandemic world, you'll often find me at a cafe. It stops me procrastinating at home by tidying up or making myself snacks.

During lockdown, I have discovered an online playlist called Rainy Night Coffee Shop Ambience with Relaxing Jazz Music and Rain Sounds which helps me replicate the feel of cafe life.


12. What are your favourite escapes from your desk / work?

My main passion in life (other than horses and history of course) is food. I collect cookery books and I read them like novels. If you were to ask me the name of my favourite writer, I'd tell you it's Nigella Lawson. Otherwise, I love long walks, particularly if they're on a beach, and I am a TV addict.



13. Can you recommend three other historical fiction books for our members?

The Eagle of the Ninth by Rosemary Sutcliff. The story of a Roman officer called Marcus who learns that his father's legion has mysterious disappeared north of Hadrian's Wall and he goes on a dangerous journey to find out what has happened. Riveting and beautifully told, this sets the gold standard for all ancient historical fiction.

The Secret Countess by Eva Ibbotson. I've only recently discovered Eva Ibbotson's novels and learned what I've been missing all my life. A young Russian countess called Anna flees Russian during the Revolution and ends up as a housemaid in an English country house. This is a deliciously light and witty tale, perfect for young romantics.

The Skylarks' War by Hilary McKay. One of my favourite books of the last few years. Brother and sister Peter and Clarry and their charismatic cousin Rupert enjoy the last halcyon days of summer before the First World War breaks out, casting a terrible shadow over their young lives. A sequel is in the offing and I cannot wait to read it.


Thank you for joining us on ReadingZone!
Author's Titles