Circus Maximus: Rivals on the Track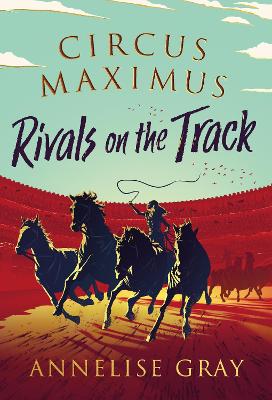 By Author / Illustrator
Annelise Gray
Genre
Historical Fiction
Age range(s)
9+
Publisher
Head of Zeus
ISBN
9781800240605
Format
Hardback
Published
03-02-2022
Synopsis
Dido is the only girl ever to have raced to victory at the Circus Maximus, Rome's greatest sporting arena. Now she and her beloved horse, Porcellus, are in hiding, and the Emperor Caligula has put a price on their heads.  Can she outwit the emperor and his bounty hunters? And will a shocking family secret stop her in her tracks, or spur her on to make a daring return, helped by a one-eyed mare with a heart as brave as her own?
Horses, history, mystery, thrilling entertainment and sensational storytelling race neck and neck through the second pulse-pounding adventure in Annelise Gray's 9+ series set in Ancient Rome.
Find out more in this Video and Q&A with Annelise Gray
Teaching Resource:  Rivals on the Track
Reviews
Jacqueline
Dido is back in Circus Maximus: Rivals on the Track, the second book of her adventures as a charioteer in Roman times. Whilst the title is all about the Circus Maximus, in this book it casts a long shadow, rather than appearing as the main setting. Dido and her family are now in danger because of her actions, riding as a woman in the chariot race. They travel from their home to stay with family in Thugga; which has its own problems as the family are estranged. In Thugga, a new circus is being built and Dido needs to go back to chariot racing in order to save the family stables.
This book is meticulously researched and whilst a novel, contains much that is true. A few of the characters were real people which makes it all the more interesting. I found myself looking up the places in the story (all set in modern-day Tunisia) and it was easy to imagine life in Roman times from the descriptions. I do not consider myself particularly interested in horses, but the chariot racing scenes are so exciting it is impossible not to be drawn into the tension and the excitement of race days.
Dido is an intriguing character, fighting against the norms of the time which dictated the role for women. In this book she is also on the run from Caligula himself and the target of bounty hunters, which adds still further to the tensions.  I think this makes the book even more exciting than the first one, as Dido fights for survival for herself and her family and to hold on to her dreams of chariot racing.
344 pages / Reviewed by Jacqueline Harris
Suggested Reading Age 9+
Hayley
Circus Maximus: Rivals on the Track is the sequel to Race to the Death. This book is a thrilling adventure rooted in history and ancient chariot racing.
Dido is the main character in the book; she is brave, intelligent and passionate about horses. Although she is young and a girl, she defies her cultural traditions. She has no interest in marrying, instead she immerses herself in a world of racing and horses. In the last book, Dido makes a glorious achievement - she is triumphant at the Circus Maximus, the greatest chariot racing arena in the ancient world. However, this has led to consequences, because in the sequel, the Roman emperor has bounty hunters out looking for the true identify of the girl that defeated his best chariot racer. Because of this, Dido has been forced into laying low at her uncle's stables with her horse, Porcellus. She is desperate to ride her horse freely but is scared that the emperor will discover her and her horse and take him from her once again.
On a trip into Utica, Dido comes across a rogue horse and feels that there is a connection - something special about her. The horse, now named Jewel, returns to the stables with Dido and her cousins and proves to be an important part of Dido's transformation when she finally begins to race again in disguise as 'Leon'. This story takes us on an adventure into the racing world that brings the past to life for Dido and reveals family secrets along the way. She is plagued by difficult decisions, old enemies and self-doubt but with spirited horses, strong friendships and bravery, she is able to steer through life like it's a chariot race.
This book is a fantastic read that merges history and the love of horse and chariot racing together. It would accompany the curriculum coverage of the Roman Empire brilliantly as a class read because it entwines fictional adventure with historical facts. I would highly recommend this book as a whole class read for reading corners and libraries in Upper Key Stage 2 / ages 9+.
344 pages / Reviewed by Hayley Summerfield, teacher
Suggested Reading Age 9+
Other titles