Circus Maximus: Race to the Death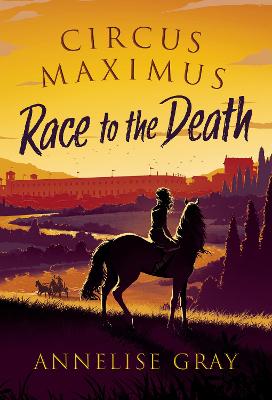 By Author / Illustrator
Annelise Gray
Genre
Historical Fiction
Age range(s)
9+
Publisher
Head of Zeus
ISBN
9781800240582
Format
Paperback / softback
Published
02-09-2021
Synopsis
Circus Maximus, the greatest sporting stage of the ancient Roman world, where the best horses and charioteers compete in a race to the death, and one girl dreams of glory. Ben Hur meets National Velvet in the ultimate 9-12 adventure story by debut children's author, Annelise Gray.
Twelve-year-old Dido dreams of becoming the first female charioteer at the great Circus Maximus. She's lost her heart to Porcellus, a wild, tempestuous horse she longs to train and race. But such ambitions are forbidden to girls and she must be content with helping her father Antonius - the trainer of Rome's most popular racing team, The Greens - and teaching the rules of racing to Justus, the handsome young nephew of the Greens' wealthy owner. When her father is brutally murdered, she is forced to seek refuge with an unlikely ally. But what of her dream of Circus triumphs and being reunited with the beloved horse she left behind in Rome? And the threat to her life isn't over as she faces a powerful and terrifying new enemy... the emperor Caligula.
Author Annelise Gray introduces Circus Maximus: Race to the Death
Reviews
Hayley
Circus Maximus: Race to the Death is a thrilling new historical adventure story by debut children's author Annelise Gray. This powerful story is immersed with revenge, redemption, survival, and hope. It is set in the Ancient sporting world of Rome, which is a world dominated by men, however a very brave young girl is trying to get a foothold into it.
Dido - a 12-year-old girl - is the main character. Her dream is to become the first girl to race chariots in the stadium of Circus Maximus. Having lost her mother at a young age, she is raised by her father who works in the stables. This is where Dido learns her love of horses and releases that she has a natural talent for riding - she is the ultimate Roman horse whisperer. Then one day her life changes when she witnesses her father's brutal death and has to run for her life leaving her beloved horse (Porcellus) behind. However, she is determined to prove her self in the brutal world of chariot racing and is even willing to risk life and upset Emperor Caligula who has taken her horse.
This richly detailed story is seeped with history from colourful markets, boisterous crowds in the stadiums to the everyday life of the working stables. They all have the to power to transport you back to an Ancient civilisation retelling cultural events from a different historical perspective. Anyone teaching Rome in Key Stage 2 would be able to use this book to aid the teaching of the curriculum. It is so meticulously researched and offers a wonderful insight into Roman culture and traditions.
Furthermore, this story would appeal to horse-loving readers because the bond between animal and human has been one that has always remained constant throughout history and this book is full of dreams rooted in a love for horse-riding.
I would also recommend this thrilling adventure story as an excellent class read because it is full of bravery, revenge, survival, and hope, which are ingredients to bring any good story to life.
348 pages / Reviewed by Hayley Summerfield, teacher
Suggested Reading Age 9+
Other titles