Caryl Hart & Emily Hamilton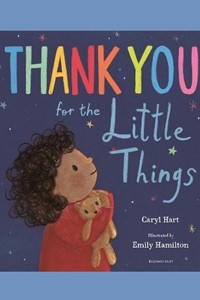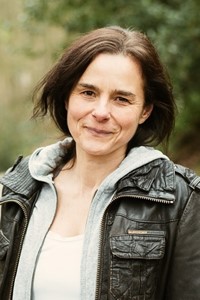 About Author
Thank you for the Little Things, the new picture book by Caryl Hart and Emily Hamilton, reminds us of life's small joys, and encourages us to remember what makes us happy.
Caryl Hart writes picture books and young fiction and loves walking her dog and sitting in cafes and libraries. She runs creative literacy workshops for schools and libraries. She has written Whiffy Wilson, How to Catch a Dragon, The Princess and the Peas, The Princess and the Presents, Big Box Little Box, Meet the Planets and Meet the Oceans. She lives in Sheffield with her husband and two daughters.

Emily Hamilton is an up-and-coming picture book talent, based in North Devon, UK. A self-taught illustrator, she loves to transport herself into the world of children's books so she can do things like fly with unicorns, hang out in a magic garden and decide how many jellyfish you could fit inside a handbag. She is the much-loved illustrator of the bestselling picture book The World Made a Rainbow.
Interview
Thank You for the Little Things  (Bloomsbury Children's Books)
March 2022
Thank you for the Little Things, the new picture book by Caryl Hart and illustrator Emily Hamilton, reminds us of life's small joys, and encourages us to remember what makes us happy.  Author Caryl Hart tells us how her own experiences of lockdown and depression helped inspire this inspiring picture book.
Q&A with Caryl Hart
1. Can you tell us a little about you and your work?
I work full time as an author, and write mostly picture books and young fiction. I also run creative literacy workshops for schools, libraries, festivals and community groups.
I'm a keen advocate of diversity in children's books and believe that every child needs and deserves to find characters like them within the pages of the books they read. Of course, its not possible to include every type of person in every book, but I do work with my publishers and illustrators to ensure my stories include characters with a range of skin tones, hair types, clothing and physical features where possible.
As well as writing, I built and run my own website and social media, and create a wide range of free downloadable activities to accompany my books. I've published over 55 books to date and have a further 15 or so in production, so I'm pretty busy!

2. What inspired your new picture book, Thank you for the Little Things?
Like many others, the early lockdowns of 2020 had a huge effect on my life and work. Suddenly I had no school visits or other events, all my editors went very quiet as they were busy trying to shift their systems to home working, deal with the closure of bookshops and libraries, and manage massive delays in printing due to supply-chain issues. It was an incredibly stressful time, as, like many other self-employed people, I had no safety net - no furlough to fall back on - and I felt really out of control in terms of my business and income.
Luckily, the sun was shining, so I decided to focus in on the things I could control and tried to be mindful of all the good things that I still had in my life. Running and cycling along deserted roads out to the hills, the flowers in my garden, time to chat with my daughter, the roof over my head.
Thank You for the Little Things was born a few months later in an attempt to articulate how lucky I felt and how focussing on the small, amazing things in our world can really help keep anxiety at bay.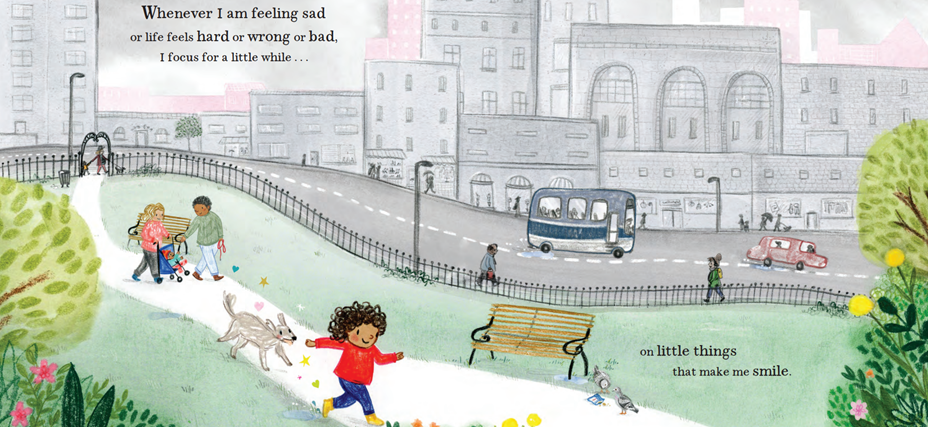 3. Why did you decide to frame it around a child's day?
Every story needs a shape - I think some call it the narrative arc - so framing it in a child's day seemed the most straightforward path to take. It gave me the opportunity to look at different environments and activities that many children might encounter.
I was very mindful that I wanted the book to be relevant to everyone, regardless of socio-economic or cultural background. So I tried to pick events that are available to the majority of children - going to the park, eating noodles, picking daisies.
I actually wrote nothing in the forest six months of lockdown, so you could say the book took six months to conceive, although once I'd actually formulated the concept, the actual writing took just a couple of weeks.

4. It's a lovely picture book to use as we emerge from Covid - do we all need reminding of the little things that bring pleasure?
These days we are under a huge amount of pressure to buy more stuff, to do more expensive activities, to get more "likes", to be more popular, thinner, prettier, more athletic, more academic, to own better cars, more toys and the latest tech - the pressure is immense. But I sincerely believe that these things really just make us more miserable! We can never feel like what we have and what we do is enough. That we are enough.
But the truth is, none of these things really matter. If we just take the time to reflect, we all know the we what we really value the most - family, friends, nature, the feeling of wind in our hair and sun on our skin and the pleasure of being kind to ourselves and each other.
I hope that Thank You for the Little Things will remind readers to pause and take time to reconsider and maybe reset a little.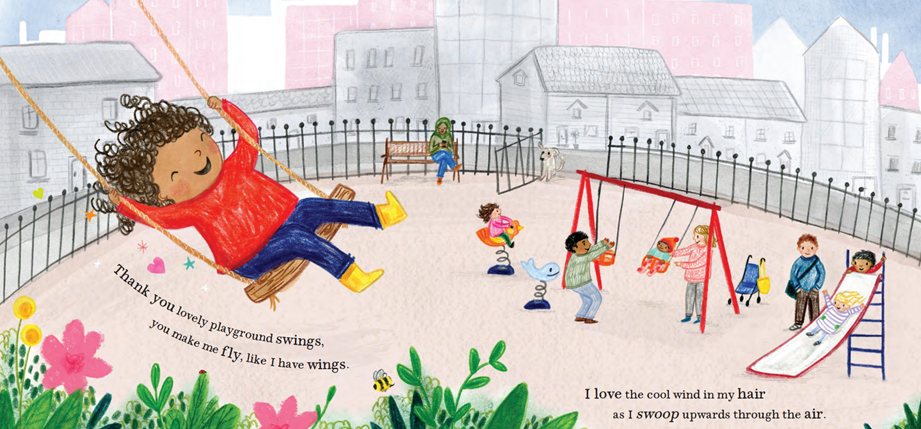 5. What little things make you smile?
For me, exercise and being outside is vital to my wellbeing. I love to see the dappled sunlight shining through the leaves of a beech tree, I love being buffeted by the wind on a hill top, and the delight of chancing upon a new view. I love the crunch of an icy puddle beneath my feet and the rhythm of my breathing and strength of my legs as I stomp up a hill. I love cooking and eating with my family, and snuggling with my husband at the end of the day with a box set on the laptop.
I'm not really a materialistic person and having lived with depression for most of my life, I'm good at finding simple things to lift my mood when I'm feeling glum or overwhelmed.
Writing the book has definitely reminded me to regularly take a step back from life and re-focus on what's really important and I really hope it will help others do the same.

6. How would you use this book with young children?
A friend of mine introduced me to a brilliant gratitude exercise that works with people of any age including young children. Each person takes turns to answer the following questions about their day:
One thing that you DID for YOURSELF that made you happy.
One thing that you DID for SOMEONE ELSE that you are thankful for.
One thing that SOMEONE ELSE did for YOU that you are thankful for.
One thing you SAW that you're thankful for.
One thing you FELT that you're thankful for, or that made you happy.
It's very simple but I think it's an incredibly powerful exercise that really makes you think about the important things in life.
I also think our lives have become increasingly hectic, so timetabling in some flop-about time is also really important. Time to just "be" without an agenda is a rarity these days and something I think we all need a bit more of.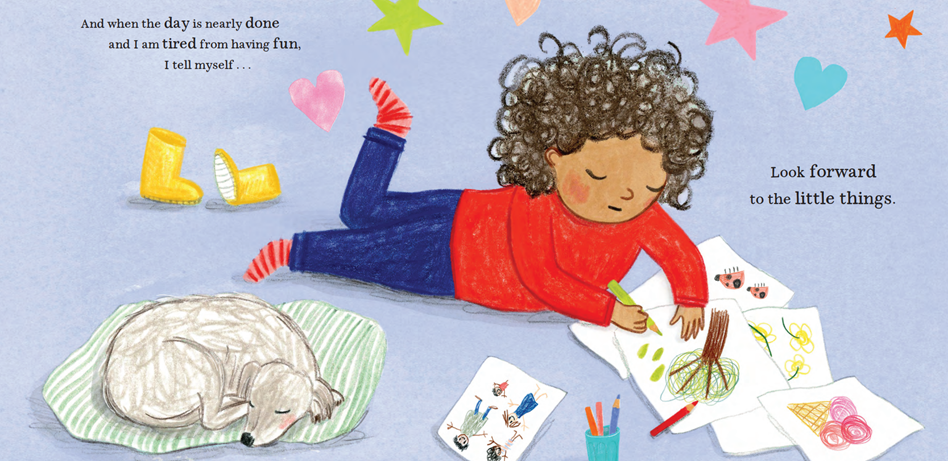 7. Can you suggest any activities to use alongside it?
I used to work in environmental education and we ran a fabulous activity called Magic Spots.
You'll need a pad of paper or piece of card and something to write with, and something waterproof to sit on such as a plastic bag, or carpet square - and warm outdoor clothing if it's a cold day.
Then, find a space in your garden, or in a park or the countryside where you can't see any other people. If you're doing this activity with children, ensure YOU can see each child, but that they can't see anyone else.
Then, spend 10 minutes in complete silence in your natural space. You could just sit, or you could draw or write about the things you can see, hear and smell around you. You could draw a little map of sounds, or write down words or feelings that come to you.
Most children, and many adults, rarely spend time completely alone in nature and this is a hugely powerful activity which helps us reconnect with our wild environment. You might sit and watch a woodlouse going about its day, or listen to the sound of a chaffinch singing on a branch above. You could notice the sound of a rushing stream, or the ring of children's laughter. You might see a tiny ant busying around, or be treated to a close encounter with a robin or bee.
You'll be amazed at what you notice and will come away feeling so much more grounded and in touch with your inner self.
Afterwards, you could use your experience to create some artwork or write a poem, story or piece of descriptive writing. Or you could just store the memory away and bring it out whenever you're feeling stressed or anxious.

8. What do you think of Emily Hamilton's illustrations - any favourite spreads or moments on the pages?
Oh gosh, Emily's illustrations are so perfect for this book. They are so child-like and naive which is just the right tone. One of my favourite moments is the scene where the child is awake at night, looking towards the chink of light coming from the open door. It reminds me so much of that feeling of isolation and worry we have all felt in the small hours. I love the relief we get on turning the page - as we discover the comfort of the stars shining in the night sky and familiarity of a teddy bear in your arms. Emily captures the emotion and warmth of these moments so cleverly!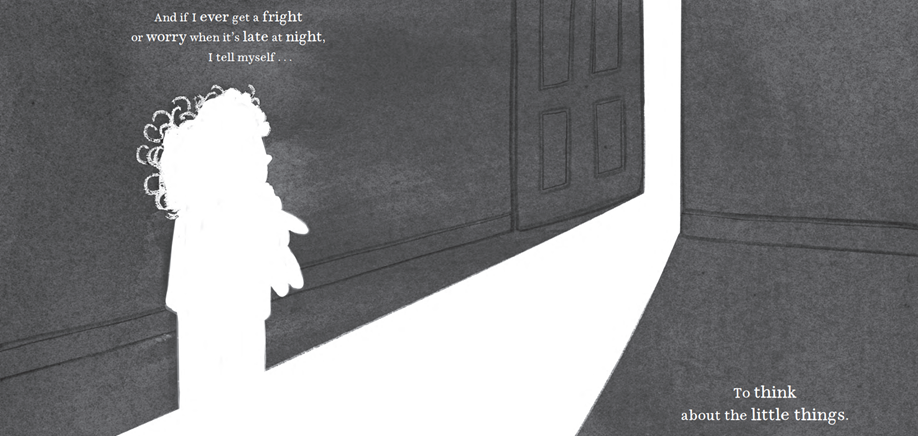 9. Where and when do you prefer to write?
I do most of my actual writing in my tiny study which overlooks the road outside, although many of my ideas come to me when I'm out walking, when I'm driving, or when I'm in that drifting state between sleep and wakefulness.
My ideas seem to come best when I'm doing some other kind of activity, I think because my brain is relaxed and not jumping around all over the place thinking of all the things I have to do! When I'm actually writing, I can sit for hours and often lose track of time. Then I'll suddenly discover I'm bursting for the loo, or freezing cold, or that it's 3.00 pm and I haven't had any lunch. But when I'm in a thinking-phase, I'll do pretty much anything to avoid sitting down at the computer. Over the years, I've learned that books get written when they are ready and that the majority of the creative process happens in the back of my head when I'm thinking about other things.

10.  And what are the 'little things' that keep you writing?
Well I'll always have a cup of tea on the go, and I have lots of things to fidget with while I write. At the moment, I have a chunky bead necklace that I wrap around the fingers of my left hand while I read bits of my writing back to myself. But I also have tangle toys, a little Sylvanian animal, and some miniature bulldog clips that I like to fiddle with while I work. Is that weird?

11. What do you enjoy doing when you're away from your desk?
When I'm not doing the washing, or cooking dinner, or hoovering the house, you'll probably find me at the gym, or walking out in the Peak District, which is a few minutes drive from where I live. I love walking with friends, but often go alone, plugged in to an audio book. I also love wild swimming, mountain biking and drinking tea in cafes. So life is pretty simple really! I guess the child in Thank You for the Little Things is just a little version of myself!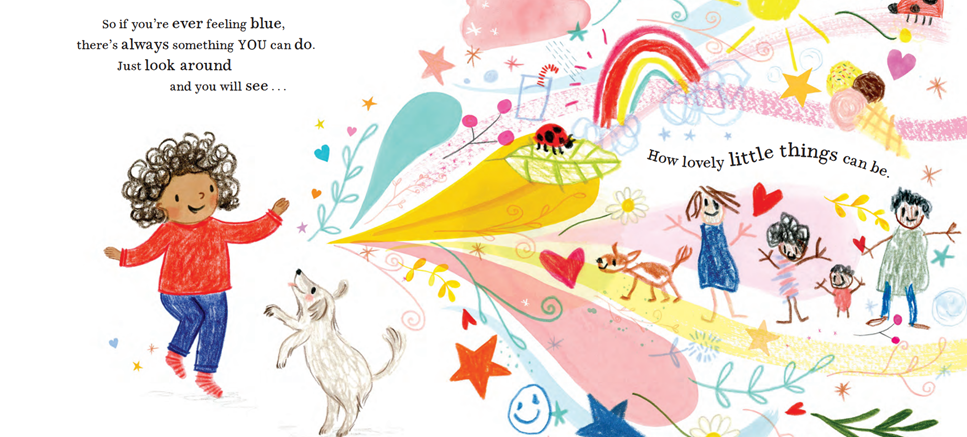 Author's Titles