Thank You for the Little Things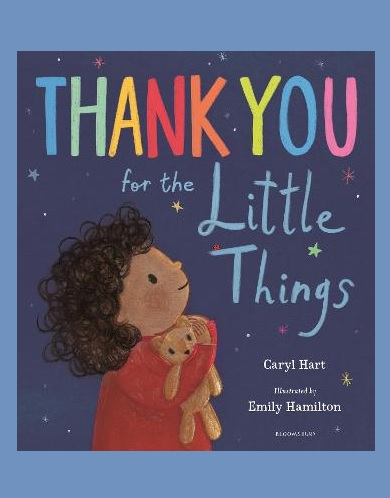 By Author / Illustrator
Mrs Caryl Hart, illus Emily Hamilton
Genre
Mental Health & Wellbeing
Age range(s)
3+
Publisher
Bloomsbury Publishing PLC
ISBN
9781526638908
Format
Paperback / softback
Published
03-03-2022
Synopsis
Whenever I am feeling sad or life feels hard or wrong or bad, I focus for a little while on little things that make me smile...  What are the things that make YOU feel happy? From swinging high on playground swings to licking melty ice cream, there are lots of small things that can cheer up a grey day. This reassuring, uplifting picture book celebrates the little things that bring us joy and happiness. We all have bad days and sad days, but sometimes it's the smallest things that make us smile!
Caryl Hart reads from Thank You for the Little Things
Reviews
Jemma
Wow! Thank You for the Little Things is beautiful in many ways. We follow the main character through their day, finding small wonders that make them smile and feel joy. We learn it is the little things that turn our frowns upside down; from the wind in our hair, to the happiness that seeing a colourful ladybird can bring.
The images towards the end of the story that highlight the importance of a safe, nurturing space that a parent provides their child really resonated with me and actually brought a tear to my eye! The illustrations are soft and gentle and the text feels like a poetic lullaby as you read it. Both my daughter and I felt a sense of warmth and calmness as we snuggled up to read it.
This book holds a lot of wisdom that both children and adults can benefit from. It is a wonderful way to begin teaching children how to practice gratitude and mindfulness every day, how to ease their worries and explore how they can regulate their emotions. This delightful read is reassuring and uplifting. A truly beautiful book.
Picture book / Reviewed by Jemma Jeffrey, teacher
Suggested Reading Age 3+
Lizi
Thank You for the Little Things is a lovely picture book for children about gratitude and looking for things that make you happy, even when you feel sad or angry. It's written with a simple rhyme scheme and the accompanying illustrations, by Emily Hamilton, are charming and really bring the words to life.
The book reminds you about the importance of slowing down and is a lovely starting point with children to talk about the small things, particularly in nature, that make them feel happy. I'd use this as part of PSHE or wellbeing sessions in the classroom - it'd be good for Early Years all the way up to year 6, who could perhaps write their own versions and talk about how each person's 'little things' are different.
Picture book / Reviewed by Lizi Backhouse, teacher
Suggested Reading Age 3+
Other titles