Catherine Barr; Steve Williams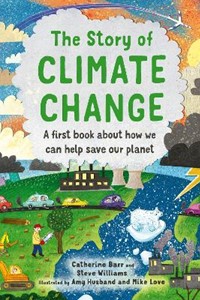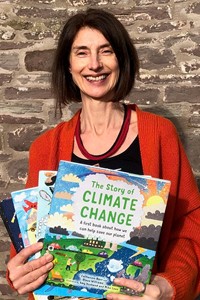 About Author
Catherine Barr worked at Greenpeace International for seven years as a wildlife and forestry campaigner and has a long-running interest in environmental issues. While working as an editor at the Natural History Museum, she researched and wrote two major summer exhibitions: Dinosaurs of the Gobi Desert and Myths and Monsters. Her previous books for Frances Lincoln are The Story of Inventions and The Story of Life. She lives on a hill near Hay-on-Wye in Herefordshire with her partner and two daughters.


Steve Williams is a biologist with a degree in Marine Biology and Applied Zoology. His lifelong love of wildlife was further inspired by eight years at sea, and he now teaches science in a school in Wales. He is a beekeeper and lives near Hay-on-Wye with his wife and two daughters.
Interview
March 2021
The Story Of Climate Change, Frances Lincoln Children's Books



The Story Of Climate Change tackles a big subject in a way that makes it easy to understand for younger children aged six to eight years, supported with lively illustrations by Amy Husband. We asked authors Catherine Barr and Steve Williams to tell us more about how the book developed, and the earlier books in the series.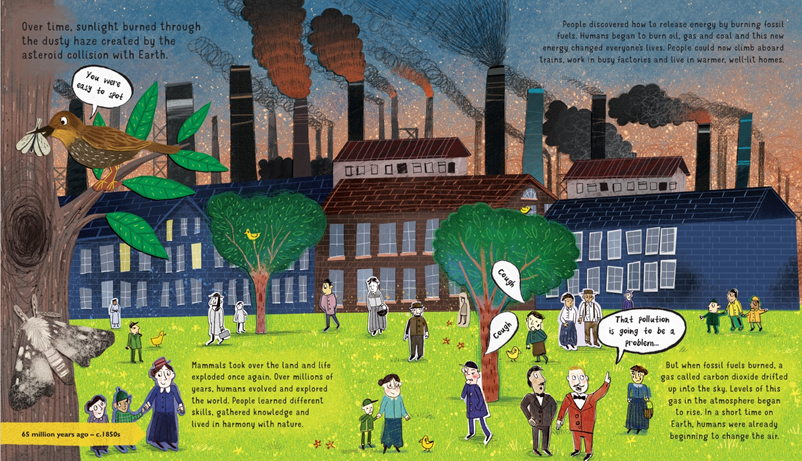 1. How did you start working together on this series of books about our world?

Well my two then primary aged children came home from school one day talking about what they'd learnt at school about how the world began. Tragically at that time the science of evolution was not on the curriculum, and I was unable to find a book which told this as a narrative (rather than a text heavy textbook).

Steve is a science teacher, and we met through friends and realised we shared an interest and growing frustration in the lack of simple books on evolution for children. Neither of us had ever written a book before. The rest is history - as well as a quite a bit of science and a lot of coffee.


2. Can you tell us a little about the books you have collaborated on - and how you choose your subjects?

We have worked together on The Story of... series beginning with The Story of Life. The Series now includes space, humankind, inventions and the latest to be published is The Story of Climate Change.

We are both interested in exploring 'big issues' through a simple narrative that children can read, so it's very different from a text book on the topic. We hope that narrative nonfiction for this primary age group will spark curiosity and encourage children to engage with a nonfiction book. And that this experience will inspire questions and a love of reading, as well as a greater understanding of important big issues, from evolution to space and climate change.

Amy Husband's illustrations pull even younger children into these 'complex' topics, which we strongly believe it is important and possible to engage with at a primary age.


3. How do you work together on the books? How long does each book take to create?

We work closely to develop the 'big picture' of a topic, to define its scope and ensure a truly global approach. We seek and work with experts (or a specific expert) in the field as part of this process, which continues through to the editing stage.

Defined by the set format of a picture book, we divide research across the spreads and both spend time researching key areas. I write the copy and review with Steve as the story develops. We are meticulous in ensuring that the science is accurate and referenced.

It varies, but it takes up to six months for us to write a book and pass it to the publishers for a first edit and then on to Amy to begin developing rough artwork. Seeing the illustrations develop is one of the most exciting parts of the process. Alongside our editor, we are involved in both developing the briefs for the illustrations and commenting throughout this collaborative process. So it takes up to two years from commission to its print run.


4. Do you have a favourite from the books you have created together?

Catherine - my favourite is The Story of Life because it was my first book and it kickstarted my new career as a children's writer, which I enjoy so much!

Steve - It's like asking who is your favourite child! I love them all equally. As The Story of Life was our first book, I have a fondness for it. It was the first time I had anything published other than scientific papers about insect guts! It was (and still is) so exciting working with Catherine and also the enormously talented Amy and the great team in Harper Collins/Quarto. Having said that, I am passionate about tackling climate change so our latest book is also very close to my heart.


5. Your latest collaboration is The Story of Climate Change - why did you want to tackle this subject for children?

Catherine - We were both very keen to tackle this issue as it is the most pressing environmental issue of our time. We felt that our narrative nonfiction approach could engage younger children in this important topic at a critical age, inspiring their curiosity to find out more.

Our experience and feedback from the series is that children enjoy reading the books alone as well as sharing with grownups. We were not aware of a similar narrative story of climate change being available. As well as addressing the environmental issues central to the topic, we were keen to include the story of people's migration and girls' education, which is so central to the global story of climate change.

Steve - We both think that climate change and the loss of biodiversity are the two greatest challenges that we face as a species and the implications will have a profound effect on all our lives. Helping children understand the concepts behind climate change and what we can do to tackle it will hopefully empower them to make the right choices.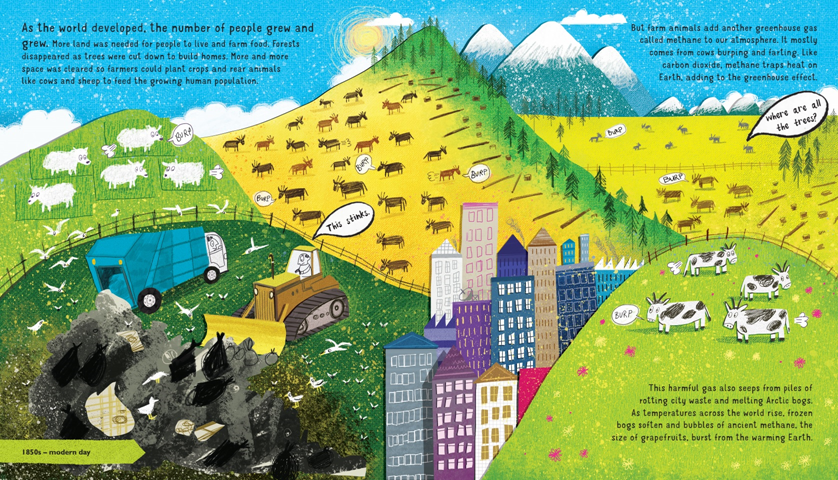 6. How did you research it, and was it difficult to condense so much information into the text?

Catherine - We use so many different ways to research material, from talking to experts to books, blogs, TED talks, exhibitions, films and science journals. It is always a challenge to condense the subject matter; but that is the central challenge of this series that we both really enjoy. It is about working out the essence of what we want to convey in words, but also exploring ways of telling the stories with the illustrations as well.

Steve - As a science teacher, I make sure I keep up to date with the latest research on climate change and I have become increasing alarmed over the last 10 years to see the predictions from the climate models. So it was our own personal concern about the climate crisis that inspires us to write the book.

Condensing the story is challenging. We usually try and avoid naming individuals, but we have included the Keeling curve in this book. It is a tribute to the dogged persistence and perseverance of Prof Keeling and a lesson on the nature of science.



7. How do you tackle difficult subjects like climate change without scaring young readers?

Catherine - For it be read, enjoyed, passed around and spark positive energy and conversation, the tone and style are really important. So it is our challenge to present the information clearly and honestly in an engaging way. This is through the illustrative style which is very accessible for younger children; but also our choice of language and words.

We are acutely aware of the importance of the way the book concludes, with a focus on the future and they ways in which readers can positively be part of that. Hope is critical!

Steve - Yes climate change is scary, but I find a mixture of knowledge, action and optimism can go a long way. Children will naturally pick up parts of the story from their everyday lives and I think it is less scary if they understand about climate change.

We always finish our books looking ahead with suggestions of what we can all do begin to tackle the issues, hopefully children will feel they are part of the solution by making choices in their families.


8. We love the illustrations and that 'cut out' look. Do you have a favourite spread from the book?

Catherine - Yes The Story of Climate Change is different from the rest in the series as Mike Love brought the colour to Amy's illustrations. I love it! It's so difficult to pick a favourite... but I like the fossil fuel spread, the Industrial Revolution and the world spread with the orangutan, turtle, fishermen and burning forest. In terms of content, I like the girls' education, the migration and the climate strike spreads... sorry, long answers!


Steve - I have a love of marine biology so I think my favourite spread is the one on the Antarctic food-chain and sadly how the reduction in ice may affect it. There are so many lessons for children in this, understanding how ecosystems work and also about the interdependence of living things.



9. How would you like this book to be used, and what would you like to inspire children to do?

We would like this book to be in every primary school classroom and every child's bedroom :)

Catherine - We would love it if the book inspired their curiosity and it ignited conversations and an interest if finding out more. It's the tip of the iceberg... We hope it will inspire children to be brave enough to question their own and other people's actions - to fight climate change in their everyday lives. We hope they will share the book and spread the word that they are big enough to be involved.

Steve - I loved reading stories to my kids when they were little and can think of no happier time than cuddled up chatting about the books we read together. I think the book could also be of value to primary teacher colleagues with the spreads being a stimulus for further research and activities.

There is a spread on how young people are making a difference by asking questions and protesting against climate change. Hopefully young readers can find something they can do themselves to make a difference and feel part of the solution.


10. If you could encourage adults to change one thing to support the environment, what would you like it to be?

Catherine - To pick one thing is difficult. The most important thing is to think twice and be bold enough to take action to make a change and share that proactive, positive attitude to inspire others.

It is important to think about everything you do everyday and be aware of how it affects the world around you - from brushing your teeth in the morning (does the toothpaste contain palm oil?) to travelling (walk/bike or car?) to the notepaper you use (recycled?) and the electricity that powers the lights (renewable?) etc. Switching to 100% renewable energy is a good start.

Steve - I think it would be to engage in the research behind climate change. Certainly once I realised the true extent and predictions from the latest climate change models, it made me make substantial changes to my lifestyle.


11. Are you working on another book together?

Right now we are exploring new ideas. We have just launched a competition in a primary school to design the next book cover in the series so I look forward to seeing what they come up with!


12. What one thing on your desk (apart from your computer) couldn't you do without?

Catherine - A notepad made out of scraps of A4 paper held together with a big clip - by the end of everyday it is covered in a scribble of ideas, thoughts and things I mustn't forget!
Steve - I have my weather station, ships clock (including tide times), two barometers and a barograph. I think it's an interest in weather I developed from when I was at sea.



13. What are your favourite escapes from your desk?

Catherine - Walking my cocker spaniel Boo who sits patiently under my desk until she's had enough of waiting, then she peeps out with pleading eyes - and we set off!
Steve - Living in the country we have dark skies so I love astronomy. I also love walking the dog in the Welsh hills, cycling and swimming in the river Wye in the summer!
Author's Titles