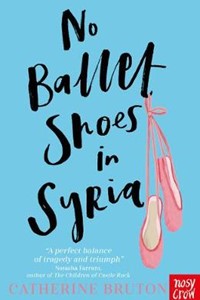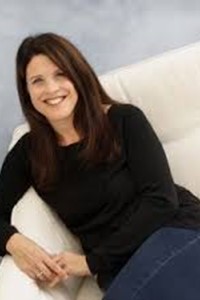 Biography
Catherine Bruton studied English at Oxford University and has been juggling life as a teacher, children's author and mum for the past 15 years.
As an English teacher she sees first hand the impact stories can have on young readers - opening their eyes, expanding their horizons, making them ask questions and see the world differently. Her books tackle some of the big issues faced by young people today - terrorism, immigration, the cult of celebrity, the refugee crisis - in ways that are heart-breaking, often hilarious, but invariably hopeful.
As her alter-ego Cate Shearwater, she is also the author of the much-loved Somersaults and Dreams series.
Interview
Another Twist in the Tale (Nosy Crow Books)
November 2020

Another Twist in the Tale is a fabulous adventure story that takes us back to Dickensian London, and a surprising new voice in Oliver Twist's story of mistaken identity, friendship and betrayal....
Catherine Bruton, author of No Ballet Shoes in Syria, tells us more about Another Twist in the Tale.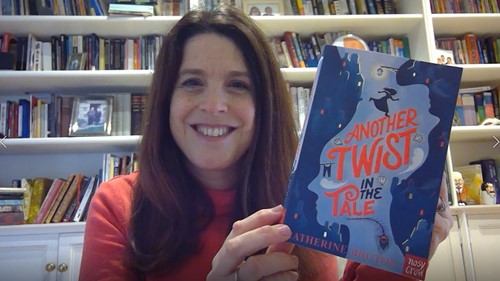 What happens in Another Twist in the Tale?

Another Twist in the Tale is a rip-roaring sequel to Charles Dickens' Oliver Twist set in Victorian London and featuring Oliver's long lost twin sister!
Why did you want to revisit this particular Dickens tale? What do you remember of Oliver Twist from your childhood?

Well, I vividly remember that I DIDN'T get a part in the school production of 'Oliver!' when I was 11 (which I'm still cross about, to be honest!) But mainly I remember watching the 1968 Lionel Bart film version of 'Oliver!' every Christmas, curled up in front of the electric fire, eating hot buttered teacakes, then acting it out with my brother afterwards - I was nearly always the Artful Dodger!
What gave you the idea for a twin for Oliver Twist? And to make his sibling a girl - especially as girls' opportunities were so limited at that time?

As well as writing children's books, I am an English teacher and I run a creative writing club at school. One term, we did a project telling the stories of 'unheard voices' from history and literature, inspired by Carol Ann Duffy's 'The World's Wife': minor characters, characters on the margins, characters who never even get a mention and whose voices demanded to be heard.
My students wove incredible tales of Count Dracula's mum, Hermione Granger's baby brother, Shakespeare's sister, King Kong's girlfriend. They created sequels and prequels and spin-offs, scribbling their yarns in the margins of history and literature, bringing to life characters who had been hidden or silenced or just written off. And that's where I started writing Another Twist in the Tale - on a rainy Tuesday lunchtime in Q15!
I've always loved the tale of the orphan who asked for more but I've always thought that things would have turned out quite differently if Oliver had been a girl. That probably goes back to those winter holiday afternoons acting it out with my brother, because whenever I got to play Oliver I made sure he was much more kickass! I think I was quite a bossy big sister (sorry, Tim!)

We don't see much of Oliver in your story, why is that?

Well, the twins are separated at birth and grow up unaware of each other's existence. The story is set a few years after the close of Dickens' tale when Twill finds herself cast adrift on the streets of London. Here she encounters a young man by the name of Mr Jack Dawkins who introduces her to the Sassy Sisterhood of Saffron Hill, an all-girl band of pickpockets and kickass little lady lawbreakers.
But something is rotten on the streets of London: Child Snatchers are abroad and children keep disappearing, so Twill and Dodger team up to try and solve the mystery - which also seems to involve Oliver's guardian, a mysterious hooded gentleman called Mr Barrabas, and a terrifying shadowy figure known simply as 'Mother Earth'.
It seems the only person who can unravel the tangled web and come to the rescue is Oliver Twist - but Oliver is nowhere to be found. If only there were another Twist in this tale to save the day!
Were there any other members of Dickens's cast that you were particularly keen to re-introduce in your story?

Oh, the chance to tell a story that included the Artful Dodger and Fagin was just too delicious to resist - though I had to figure out a way to save one from transportation and the other from the gallows, but both were more than up to the task!
There are other characters too, whom I can't possibly reveal without giving away too much of the mystery! But I also relished the chance to invent a host of fantastic new Dickensian heroes and villains - including Baggage Jones, Mrs Spank and her Spoon, the monstrous Madame Manzoni and, of course, Miss Twill Twist herself.
There is a fabulous amount of detail about the lives of poorer children in Victorian times - where did you go to find out about them?

Well, while I was writing Another Twist in the Tale I was teaching Hard Times to my wonderful GCSE class (to whom the book is dedicated!) Like Oliver Twist and so many of Dicken's novels, Hard Times explores issues of child poverty which were so ubiquitous in Victorian England and which we researched as part of our studies.
I also drew on my old History A-Level notes about the Poor Law Amendment Act - which Dickens was so enraged about that it inspired him to write this novel - as well as my university notes from attending lectures with Professor John Carey.
I was determined to get my historical and literary facts right so I consulted various academics and institutions, including Philip Thorne, editor of the utterly invaluable Penguin Classic edition (whose wonderfully detailed appendices I fell a little in love with!); The Dickens' Museum in London; Elizabeth Velluet and Dr Tony William (The Dickens Fellowship) and others.
You also give a very atmospheric portrayal of Victorian London - do you know the city well?
The story starts in Camberwell and Peckham, an area where I lived for many years. Later it shifts to Saffron Hill and the slums around Grays Inn Road, and I used a wonderful book called Walking Dickens' London by Lee Jackson which is full of wonderful atmospheric details and which I consulted avidly.
But the best thing of all was going with the amazing Ben Nolan on a walking tour 'Twists and Turns: The Places that Inspired Oliver Twist' (www.benscitytours.com). Ben took me in the footsteps of young Oliver and brought Dickensian London so vividly to life, as well as helping me figure out how to save Fagin from the gallows! Thank you, Ben!
Other than a great adventure, what would you like today's children to take from Another Twist in the Tale?

Dickens so often used his stories to open readers' eyes to injustice. I will never forget when my A Level teacher Mrs Barratt burst into tears reading the passage where little Jo dies in 'Bleak House'. That's when I learned that beyond Dickens' cast of incredible characters and page-turning adventures are stories written to expose the reality of life in Victorian London - the horrors of the workhouses, the starving street children exploited by criminal gangs or forced to work in 'sweatshops'.
Dickens' ability to make readers them stop and think has inspired many of the contemporary novels I've written and even though Another Twist in the Tale is set in Victorian London, I drew on my experiences working with street children and in an orphanage in South Africa. Because of course child poverty and exploitation and modern slavery still exists around the world, and even on our own doorstep. I hope it might make young readers think about some of those issues, as well as inspiring them to check out some of Dickens' stories for themselves.
How different was it writing this story from your debut, No Ballet Shoes in Syria?

They were such different novels to write but with both I experienced the same anxiety that I was telling a story that wasn't mine. The responsibility of telling Aya's story, ensuring that I was accurately and faithfully conveying what is the reality for so many refugee children across the world today, was a responsibility I took very seriously.
And presuming to write a sequel to the inimitable Mr Dickens was similarly daunting, but also the most incredible fun! I like to think that Charles Dickens would have enjoyed my tribute to his famous tale because it has a been a huge privilege - and the most brilliant adventure - to follow in his footsteps and to provide one last twist in the tale!
Where do you do most of your writing, and what are you working on now?

I teach English and Drama three days a week at King Edward's School so I am constantly juggling life as teacher, writer and Mum (frequently dropping all the balls!) I write on Thursdays and Fridays, usually in the kitchen, fuelled by endless cups of tea, but also in any snatched moments I can find in my fairly hectic existence.
I do a lot of daydreaming whilst out running and have been known to wander round the supermarket talking to myself, acting out characters or bits of dialogue that are going round in my head!
Right now I am finishing edits on my next novel, 'The Monster's Child' - a sequel to Frankenstein which is a mixture of ET, The Greatest Showman, Stranger Things and Mary Shelley and which I am super excited about!
Has the pandemic inspired any ideas for great stories - or does it get in the way?

Initially it was hard to be creative because the demands and stresses of teaching escalated and just took over my life and my headspace for a while. But I needed to write for my own well-being so I made the time. Interestingly I wrote about things as far removed from Lockdown as possible - I wonder if the stories of the pandemic will come later when I have more distance from them. What do they say - 'Write about Summer in Winter'?
What do you love to do most when you're not writing?

Reading and spending time with my wonderful family whom I love to bits!

NO BALLET SHOES IN SYRIA
NOSY CROW BOOKS
JUNE 2019

NO BALLET SHOES IN SYRIA is a profound and engaging story about a girl from Syria, Aya, who has escaped the war with her family and is now seeking asylum with her mother and young brother in the north of England.
Aya loves to dance and is invited to join a dance class and then to apply for a dance scholarship. As the family's story progresses, the reader is gradually made aware of the hardships and dangers they have suffered, and the reason why Aya's father isn't with them.
NO BALLET SHOES IN SYRIA would make a strong book group read for children aged 9-12 years to explore and discuss the stories behind the label of 'refugee'. We asked author CATHERINE BRUTON to tell us more about why she wanted to write it.

Q: How did you come to be an author, and do you do other work?
A: I think I always loved telling stories, and I was lucky enough to have really inspirational teachers at both primary and secondary school who gave lots of scope for creativity.
I became a prolific diary writer in my teens and then at some point I started using the diary to write creative pieces. I started writing my first novel (thankfully unpublished - it was dreadful!) when I was working in the middle of nowhere in Africa.
Once I'd started writing fiction, I couldn't stop! Nowadays, I work part-time as an English teacher at King Edward's School in Bath and the opportunity to work with amazing and inspiring young people and colleagues, and to spend my life discussing great texts, all feeds into my writing.

Q: You do explain it in the Afterwords, but for those who don't have the book, can you tell us what inspired this book about a young Syrian asylum seeker, Aya, in Manchester? What was the writing experience like for you, compared with other books you have written?
A: I actually found this book incredibly challenging, and I think it was partly because for a long time I was struggling with one of the biggest questions a writer has to face: was this really my story to tell?
The answer is not straightforward: really No Ballet Shoes in Syria is the story of the 11.5 million refugee children around the globe today who are looking for somewhere to belong, and I really hope that one day we will hear the stories of child migrants told by those children themselves. But right now - as one father from Aleppo said to me - those children have no voice. And I suppose that's what I wanted to give them. I wanted to write a story which would give children like Aya a voice.
Once I had made that decision, I knew I had to do it with integrity and authenticity and that meant being really rigorous about research. It was a difficult story to tell at times but ultimately I loved writing it.

Q: How did you research both the experiences some asylum seekers face in their journey, and what happens in their country of arrival?
A: I contacted local refugee resettlement projects who helped me with research, and I spoke to members of the Syrian community who had come to Britain, as well as reading many many first hand accounts and transcripts of interviews with young people like Aya.
My first teaching experiences were with refugees from Angola and Rwanda, and I have also worked with young people fleeing the former Yugoslavia and the Congo. I think that all those things fed into the story I tried to write.

Q: Aya and her family face many challenges during their dangerous journey to the UK - why did you want to include details of her journey from Syria and the many dangers they faced? And why have you recounted these as flashbacks?
A: Processing the traumas of the past, reconciling them with the present and looking the future is one of the hardest things for young people like Aya, and interestingly this posed a real challenge for me when I started writing the novel.
I couldn't seem to capture Aya's voice - sometimes she was there, clear as a bell; at other times she seemed to slip out of my grasp. And I think that's because she is changed by the experiences she has undergone.
So I decided to tell the story of Aya's life before and after the war in Aleppo - escaping in a container, in refugee camps, crossing the Med in a storm, the last time she saw her father - in a series of flashbacks interspersed within the narrative of her life as an asylum seeker and a young dancer in the UK.
At first the two voices are quite distinct - but as dance becomes a medium for Aya to work through complex memories of the past, to start letting go of guilt and allowing herself to look to the future - the two voices come together. By the end of the novel they are almost indistinguishable. Not quite, but almost.

Q: Is this why you wrote the story from Aya's perspective?
A: It felt important to try and give voice to her experience, and I wanted her to be the main protagonist in order to lend her agency as a character, to ensure that she was the heroine of the story, not somebody to be pitied or rescued by 'white saviour figures'. Although it was a really difficult decision because I haven't been through what Aya goes through, that felt important. I hope I got it right!

Q: How difficult was it to write Aya's story, without making it bleak, given what she has experienced?
A: There is a lot of hope in the story in 'the kindness of strangers' which the book also celebrates. Some people are hostile or unhelpful to Aya and her family, but so many others aid them and support them, showing acts of kindness, large and small.
Aya is also a remarkably resilient, brave and loving girl who looks after her mum and brother, supports her friends and never gives up on her own dream. I hope, therefore, that the novel stands as a celebration of the resilience of the human spirit and of people's capacity for kindness.

Q: Why did you decide to make Aya a ballet dancer? Have you studied ballet or did you need to research this to make it authentic?
A: I simply adored ballet as a young girl! I wasn't a very good dancer, but when I read books like 'Ballet Shoes' and Lorna Hill's 'Sadlers Wells' series I could imagine that I was transported to the stage of Covent Garden or a prestigious ballet school.
Those stories of following your dream, of the transformative power of art, are part of my DNA! But I also wanted Aya to be defined by something other than being a refugee - to give her a dream to aspire to, a means of both escaping trauma but also processing what she's been through. I hope this book might be to young readers what Noel Streatfield and Lorna Hill were to me, but I also hope the book will get them thinking too!

Q: You also have some wonderful supporting characters in the story, do you have a favourite?
A: Yes, Dotty is my favourite! Aya meets Dotty at Miss Helena's ballet school. The daughter of a famous Prima Ballerina, and reluctant dancer herself, Dotty is scatty and funny and forgetful with a giant heart and a motor-mouth! I love her!

Q: What would you like your readers to take away from this story?
A: I hope it encourages young readers to look beyond labels like 'refugee' and 'asylum seeker' and see the child behind - a person with hopes and dreams just like they have. I also hope that if a child like Aya were to read it, they would see it as an empowering depiction, to see a story in which they were presented not just as a victim but as a heroine.

Q: Do you do school events? Can you tell us a little about how you plan to approach this book in your events, and perhaps how teachers can approach it in class?
A: I do! I love visiting schools and I use the book as a springboard for creative writing around the idea of 'five objects to tell your story'. When Miss Helena helps Aya choreograph her audition dance, Aya is asked to bring in five objects that represent her journey. We use the same idea to tell stories of our own.
The pupils I have worked with have produced amazing pieces of writing! Nosy Crow have also developed a great resource pack to accompany the book (https://nosycrow.com/activity-sheets/no-ballet-shoes-in-syria-discussion-notes/) And you can find a link to the story starter idea here (http://justimagine.co.uk/resource/a-story-in-five-objects/).

Q: When and where are your favourite places and times to write? What are you writing now?
A: Because I juggle teaching, family and writing I have become good at writing pretty much any time, anywhere! I am currently working on a 'spin-off' of Dickens, about Oliver Twist's twin sister. It's called 'Another Twist in the Tale' and I am having great fun writing it!

Q: Are there other areas in today's world that you would also like to develop into a story?
A: That is such a good question and one which I am currently pondering! Watch this space!

Q: What are your favourite escapes from writing?
A: Ooh, I think writing is my escape from everything else! I never want to escape writing!
Author's Titles