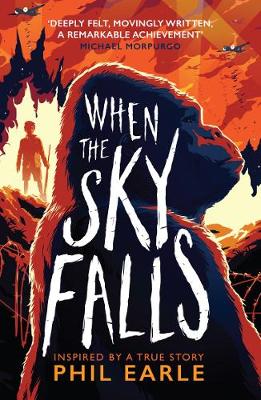 By Author / Illustrator
Phil Earle
Genre
Historical Fiction
Publisher
Andersen Press Ltd
ISBN
9781783449651
Format
Paperback / softback
Expected
03-06-2021
Synopsis
1941. War is raging. And one angry boy has been sent to the city, where bombers rule the skies. There, Joseph will live with Mrs F, a gruff woman with no fondness for children. Her only loves are the rundown zoo she owns and its mighty silverback gorilla, Adonis. As the weeks pass, bonds deepen and secrets are revealed, but if the bombers set Adonis rampaging free, will either of them be able to end the life of the one thing they truly love? Inspired by a true story.
Reviews
Bryony
When the Sky Falls is a thrilling World War II story set against the backdrop of the Blitz. Joseph is sent into the city in 1941 to live with Mrs F, a stranger who does not like children and who is struggling to survive the hardships of war.
Mrs F owns a zoo in London with a few remaining animals and she offers Joseph a chance to explore the derelict site with her and he slowly begins to share in the challenges of finding enough food to feed the animals that remain, including Adonis the silverback gorilla. During his first bomb raid, Joseph learns Mrs F's secret.
Full of interesting characters and a brilliant plot, this is an interesting story. Shying away from the typical evacuee-in-the-countryside plot lines, the reader is able to experience the Blitz through Joseph's eyes as well as gain more of an understanding of being a child during the war. Joseph's school experience in London is heartbreaking and he struggles with undiagnosed dyslexia but soon finds a friend to help him read aloud during the monthly exams. Joseph learns more than just words during his time with Mrs F.
Brilliantly written and fast-paced, this is a superb book. Suitable for upper key stage two and key stage three. The end note shares the true story that inspired the book which would make for a great classroom study or project. Highly recommended.
Suggested Reading Age 9+