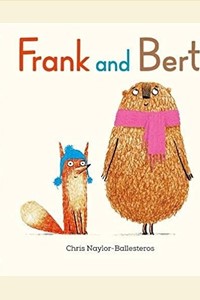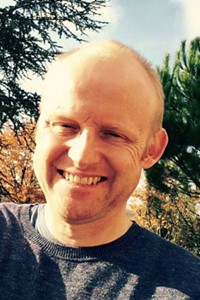 About Author
Chris Naylor-Ballesteros's new picture book, Frank and Bert, takes a warm and funny look at friendship. 
Chris is originally from Bradford and studied illustration and graphic design at Bradford College of Art. In 2000 he moved to France where, amongst other things, he was an English teacher before working in newspaper layout and design.
When his children were small he realised he loved the picture books he read to them, sometimes even more than his children did – the Picture Book Bug had truly bitten.
Chris has since written and illustrated several books including The Suitcase and Out of Nowhere, and is currently thinking about the next one, probably with a cuppa in hand at home near Limoges. He likes listening to and making music, wandering around the countryside, a bit of running and riding a bike. His favourite season is autumn and his favourite colour is green.
Interview
Frank and Bert (Nosy Crow Books)
February 2022
Chris Naylor-Ballesteros, award-winning author of The Suitcase, takes a warm and funny look at friendship in Frank and Bert, his new picture book about a fox and a bear with a fondness for playing hide & seek. Like most toddlers, Bert isn't very good at hiding - but sometimes, Frank realises, friendship is more important than winning...
Download an extract from Frank and Bert
In this Q&A, Chris Naylor-Ballesteros tells us more about how he creates his picture books:
1.  Can you tell us about your new picture book, Frank and Bert?
It's a story about two animals who are best friends and how they manage to still be friends even though they're very different and sometimes want different things. They really love each other but can also get on each others' nerves a bit.

2. The story features a game of hide and seek - was it inspired by watching your children's games?
Sure - I think I was inspired by that classic hiding ploy of very small children - the 'standing behind the curtains and I can't see you so you can't see me' tactic, even though we can see their feet sticking out at the bottom. Then we all pretend we can't actually see them, which is nuts, and they get really excited because they've hidden so well.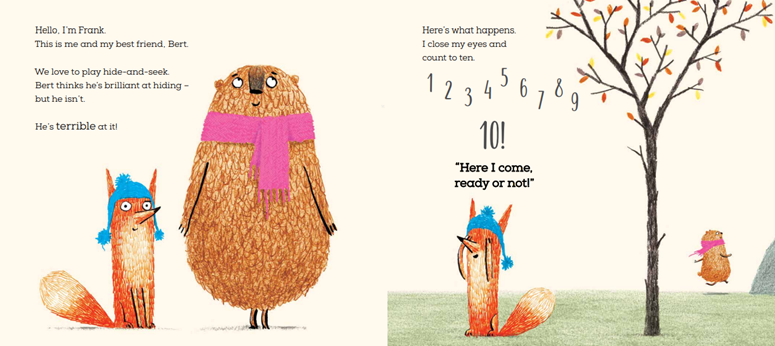 3. Do any of your own picture books stand out for you?
Well 'The Suitcase' was very well received and has been translated into lots of languages. That was really quite amazing. And the story worked well and sort of fell into place quite quickly pretty much on its own. Most stories that become books take AGES to knock into shape - developing from an interesting set-up and finding the right structure then sanding off the rough edges and filling in the plot holes and slipping in the contrived bits that need to happen but shouldn't be noticed.
Frank and Bert went through about five different endings before we settled on the one in the book. But how quickly a story falls into place doesn't always relate to how well the story works. Some quick ones aren't always that good and some that take a lot of development turn out really well.

4. How do you tend to start your picture books, and what was the starting point for Frank and Bert?
I don't have a fixed way of starting. Some things develop out of unplanned sketching or thoughts or a phrase. Others come out of specifically trying to 'invent' a particular sort of story.
Frank and Bert came out of a random ink sketch of a big animal that was hiding behind a thin twig but was captioned underneath as a master of camouflage, even though it was stood there as plain as day. I thought it was funny to have an animal that employed the 'hiding behind the curtains' trick and didn't know how bad it was at hiding.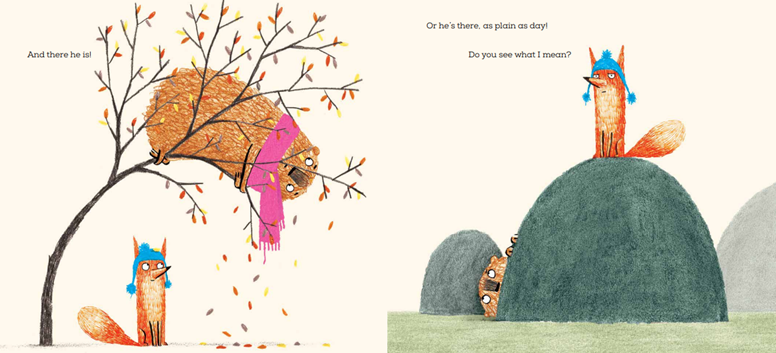 5. The focus on the friendship between Frank and Bert is lovely, how did that develop? What makes friendship such a strong theme for you in your work?
I don't honestly know but it's true there's a few of my books on that theme. I never consciously intend to write about friendships but often end up doing so anyway.
I'm lucky to have a really good group of long-standing friends, even though I've lived far away from them for a long time. We've looked after each other and looked out for each other through all sorts over the years and I love them all. They're a fabulous bunch. And unfortunately this is really sad but one of this bunch, my best friend Steve, died last summer. He was such a fantastic person. And he'd helped me with Frank and Bert. I'd send him different versions of certain pages and ask him which was best or funniest. The book is dedicated to him.

6. Why did you decide to make Frank and Bert a fox and a bear, and how did you decide what they would each look like?
Well I allow myself to fall back a bit on stereotypes and cliché when it comes to animals. Frank the fox is the clever, slightly know-it-all one and Bert the bear is the big daft one. I think it just helps to get the ball rolling. It just sets things up quickly and nicely, we all know more-or-less where we are from page one, even if we might upend things a bit, later on. I had a rough guide for their personalities - Frank knows and Bert feels.
Their shapes were always really simple geometric forms. Fox is a long oblong with ears and Bear is a big round pear - really simple, identifiable silhouettes.

7. Do you doodle or illustrate as you write, or save the images for the end?
A bit of both. Your brain works a different way if you're doodling and sometimes you go back and look at a thing you've scribbled and it makes you go off in a different direction or unwittingly solves a problem. Usually pictures and words come along at the same time.

8. How do you create your images, and why do you tend to work with quite a narrow colour palette in your picture books?
I illustrate as much as I can on paper with pencils, dip pens and watercolour usually (though Frank and Bert is entirely pencil). But I do a lot of composition digitally, so I'll do the characters and the backgrounds separately then you can easily move things around later if the layout or text changes.
I have to admit that colour is not my forté. I know what's right when I see it but can't always predict it in advance. So digital is also good for trying loads of colours. I sometimes try things on the computer to see what works then go back to paper and try to recreate it naturally.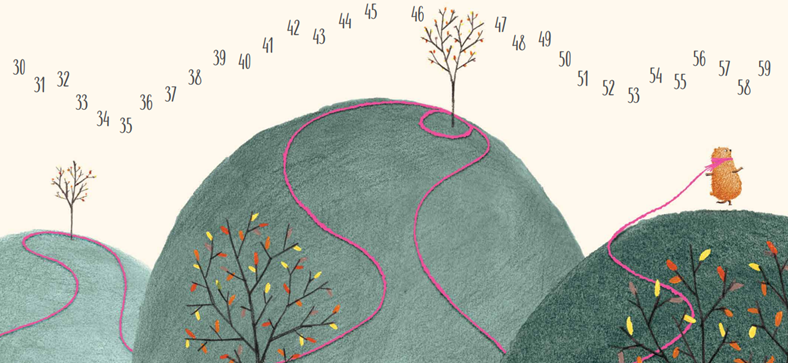 9. Where do you prefer to work on your picture books and will you do more with Frank and Bert?
I work at home, I have a little studio/office. I think it'd be good to have some place else to be able to get out and feel like you've 'gone to work' sometimes and have a change of scenery.
As for Frank and Bert - yes, work is underway for a sequel already - I'm very excited about it.

10. What are your top three tips for young people who want to create their own picture book?
Wow, imposter syndrome is very strong answering questions like this. I feel like I'm just muddling though sometimes. But here goes…
1)  Try to keep things simple and do-able. When you're thinking about stories, find a situation or character/s that you feel you can write about and can draw so that it doesn't end up feeling impossible and frustrating.
2)  Definitely copy writers and illustrators and artists that you like but know for sure that it'll won't ever quite look or sound like them and that it doesn't matter. It'll look and sound like you.
3)  Don't worry if it doesn't turn out how you thought it would. It hardly ever does. If you're very lucky it might turn out better than you expected but it could easily turn out worse (ok, even a lot worse). After a bit just have another try and see how the next one goes. I just watched the Apollo 13 film and the NASA chief said "Failure is NOT an option!" but we're trying to make picture books, not rescuing astronauts stranded in space. Failure is DEFINITELY an option, and it's ok.

11. What do you enjoy doing when you're not working?
Knees permitting, I like running. I like cycling too but running gets me all empty-headed and relaxed. I like wandering about in the countryside and going for a walk with my family and our dog. I like playing drums, I've played since I was a kid and still have a kit and a band. I like cooking if I have a recipe, otherwise it can be a disaster.
Author's Titles