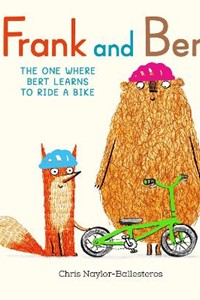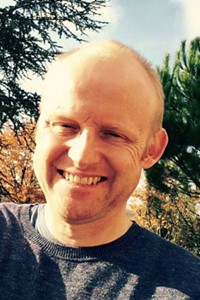 About Author
Chris Naylor-Ballesteros's new picture book series, Frank and Bert, takes a warm and funny look at friendship.
Chris, originally from Bradford, studied illustration at Bradford College of Art before moving to France where he now lives. When his children were small he realised he loved the picture books he read to them, sometimes even more than his children did – the Picture Book Bug had truly bitten and he has since written and illustrated several books including The Suitcase and Out of Nowhere, and is currently thinking about the next one, probably with a cuppa in hand at home near Limoges.
He likes listening to and making music, wandering around the countryside, a bit of running and riding a bike. His favourite season is autumn and his favourite colour is green.
Interview
Frank and Bert: The One Where Bert Learns to Ride a Bike (Nosy Crow Books)
February 2023
Chris Naylor-Ballesteros takes a warm and funny look at friendship in Frank and Bert, his new picture book series about two friends. Bert isn't very good at hiding, or riding his bike, while Frank is, but through each challenge their friendship grows.

                                                   Frank and Bert                                             Frank and Bert: The One Where Bert Learns to Ride a Bike
Chris Naylor-Ballesteros tells us more about his Frank and Bert picture books, what inspires his stories and why he chooses to illustrate his characters as animals in this Video and Q&A:
Q&A with Chris Naylor-Ballesteros
1.   What brought you into creating picture books?
I only really got into picture books when I started reading them to my own children. This was in my mid-thirties so I was a late-starter. Just before moving to France in 2000 I'd studied illustration for only a year at Bradford Art College, which was a brilliant experience. Then in France I worked in graphic design for newspapers and a magazine and a tiny bit of editorial illustration.
Picture books were a revelation - the perfect mixture of illustration, typography, graphic design and storytelling. I decided to make a book for my kids and then it went on from there.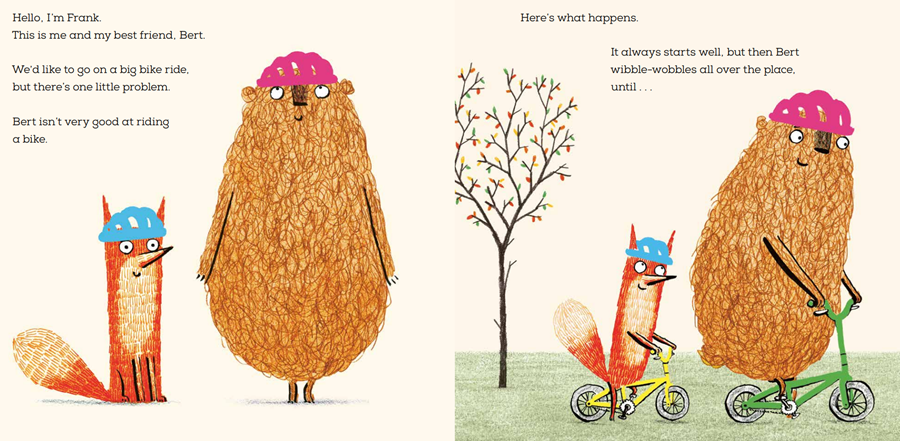 Spread from Frank and Bert: The One Where Bert Learns to Ride a Bike

2.   Do any other picture book creators or illustrators inspire you? 
Yes lots - too many sometimes. Quentin Blake and William Steig from childhood. The last bunch of books I got were by Shaun Tan, Carson Ellis, Sydney Smith, Beatrice Alemagna, Rozenn Brécard, Mark Janssen, Chris Haughton and Nadia Shireen. All different and all fabulous.

3.   Your Frank and Bert picture books are very different from your earlier picture book, The Suitcase.   What, for you, are the key elements of a great picture book?
I think the most important thing, even before writing text, is a story that unfurls on its own without the reader getting the feeling that the author has to give it a nudge along the way. It's really hard to do (and sometimes doesn't happen), but if you think you have that, then the rest of the book is a series of solvable problems about words, pacing, illustration style and composition.

4.   Do you decide on your characters, before exploring what will happen in the story, or do you start with a plot?
It's all fairly random and I don't have a set way of working. Occasionally a story idea pops up and I think about what sort of characters best suit it. Sometimes I've picked specific animals because I needed a certain sort of relationship to set the story up.

5.   What inspired Frank and Bert, and their second adventure together, The One Where Bert Learns to Ride a Bike?
The initial inspiration was a little ink sketch of a big animal stood behind a tiny tree. It had a made-up text underneath explaining how this animal was a master of camouflage and blended invisibly into its surroundings, even though it was stood there plain as day.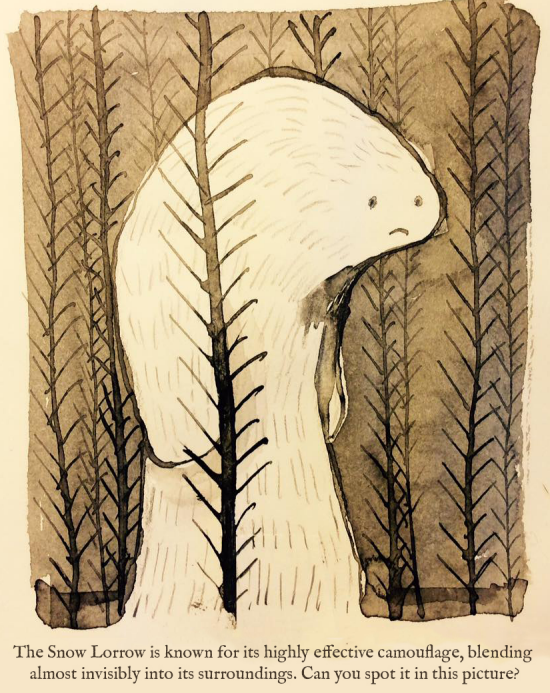 It reminded me of when children play hide and seek and then stand behind the curtains - legs and feet sticking out at the bottom - and everyone pretends they can't see them. I developed that into a story of a pair of friends who play hide and seek, even though one of them is terrible at it: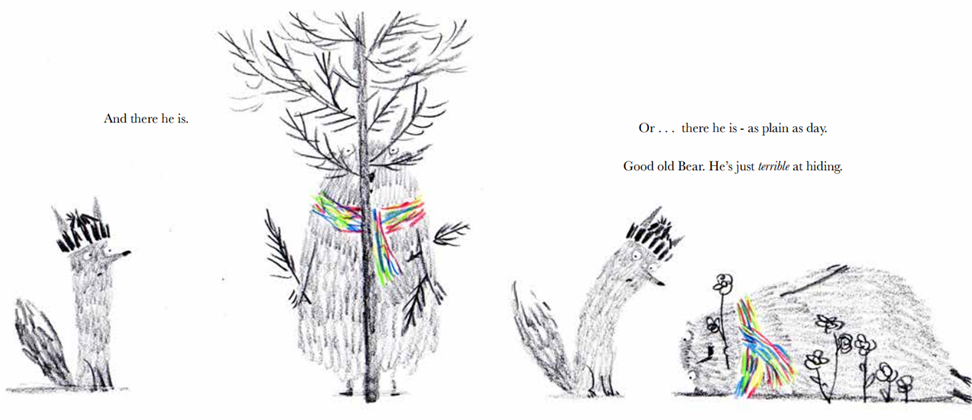 Early sketches from Frank and Bert
It was my editor Lou Bolongaro at Nosy Crow who saw the potential for more Frank and Bert stories. Just towards the end of making the first book, she suggested it might be worth thinking of one or two more ideas for what they might get up to next and what sort of themes might come up. Each book has to feature a really relatable activity like hide and seek or riding a bike, and a really familiar problem that children's friendships face, like winning and losing or trust and feeling let down.

6.   Why did you decide that Frank and Bert would be animals rather than children, and how did you decide what they would look like? 
Animals can act like young children and be relatable to them but don't have the rules and constraints that real children have. They can do more or less what they want, they can play out in the woods on their own and get into all sorts of scrapes. They live lives that can be very exaggerated versions of children's lives but the predicaments they get into still feel familiar.
Frank and Bert are made to look very different. Frank is all pointy and straight lines, Bert is curvy and rounded. They're both made of really simple shapes, easy to copy and draw.

                                                                                                                                                    Early sketches showing how Frank and Bert evolved
7.   What comes first for you - text or images?
Well with Frank and Bert it was an image, as mentioned above. It's never text because I don't really write anything until a story is fully figured out in my head. Physically writing a story is a lot easier than thinking about it and making it work.

8.   We've seen Frank and Bert playing hide and seek and now riding a bike - do you have more adventures planned for them? 
Oh yes! I'm currently working on book three and there will be at least four books. In the next instalment Frank and Bert want to go on a picnic but, as ever, something goes wrong. Frank can't resist sneaking a look in Bert's big biscuit tin while he's snoozing and he's sorely tempted by the contents. It all gets a bit out of hand.

9.   What does your studio look like?
It's a room at one end of our house and is getting a bit small due to ever-growing piles of folders and paper from finished books and then all the books I buy for myself that are on a cramped bookcase. There's a big window onto our garden so I have lots of light and I have a computer desk and a drawing/painting desk and a plant that is shedding leaves even though I water it just right.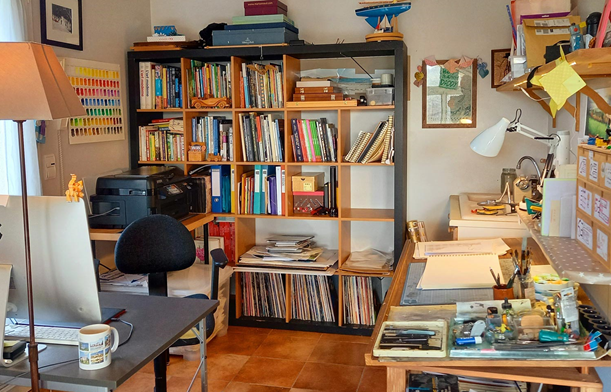 10.   What kinds of things do you enjoy doing in your days away from your studio?
I like music, I've played drums for years but I'm between bands at the minute. I like hoofing around the countryside around our home, cycling or walking with our dog but I like going into town too to see actual life and activity happening! 
Author's Titles