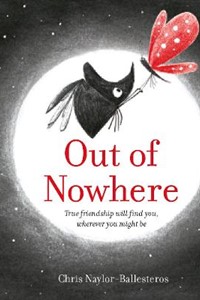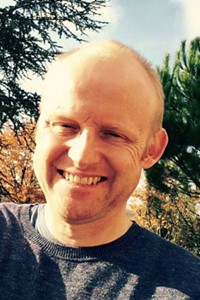 About Author
Chris Naylor-Ballesteros's early career was as a drummer in a band before he trained in illustration and graphic design. He now lives in Limoges, France, with his family and worked in the design department of a French newspaper before writing his first children's picture book, I'm Going to Eat this Ant. He has never eaten an ant and no ants were harmed in the making of this book.
Interview
Out Of Nowhere, Nosy Crow Books, January 2021


Well known for his picture book The Suitcase, Chris Naylor-Ballesteros is back with another gorgeous picture book looking at friendship, loyalty and persistence. When a small beetle makes a best friend, and then loses that friend, he's determined they will be reunited.

We asked Chris Naylor-Ballesteros to tell us more about creating his picture books and his latest book, OUT OF NOWHERE:



1. Can you tell us a little about Out of Nowhere? Why did you want to explore friendship with this picture book?

I'd had an idea about two friends who got separated - one was lost or taken away and the other goes on a quest to find them. But that wouldn't have been a very interesting picture book story so I kept it in mind for a long time until I thought, well, maybe one of the friends hasn't disappeared but has just changed and the other one hasn't realised. So the quest still happens but it's a misguided quest.

In the real world at that time my daughter had changed schools and was missing her old group of friends and feeling a bit sad and lonely, and trying to get back in touch with an old friend from long before. I didn't realise it at the time but that's what 'Out Of Nowhere' was really about.



2. It's not the first book about bugs you've written - what draws you to stories with mini-beasts rather than, say, cuddly bears, or rabbits?

I really don't know! I like bugs, but not any more than I like all other sorts of animals. It's only after finishing this one I realised I'd written and illustrated three books about bugs. They are good for picture books though - they look so different from mammals and their worlds are far removed from ours and on a totally different scale, so it gives lot of room for all sorts of peculiar goings-on. Maybe we also have less preconceived ideas about how imaginary insects might act.


3. How did you decide which bugs to feature in this story?

Sometimes it's a bit random but other times it has to have certain characteristics. My first book was about an anteater and an ant, so even just their names alone tell you what the story's going to be about. For Out Of Nowhere I needed an animal that was well-known for changing from one form to another (so a caterpillar/butterfly) and then for its friend, I wanted something that looked kind of tough but was really a bit of a softie - a horned beetle seemed to fit the bill!


4. And how did you go about drawing them?

That comes out of lots of sketching until you get the right look for the character you're trying to portray. Usually it's pages and pages but often it doesn't take too long to start to know where you're going with the look of the animal. Then you refine them, like work out how big the eyes are, where exactly they go, how long the legs are, does the beetle have a spiky horn or a round one etc... Really tiny changes can make a big difference to how we feel about them as characters.



5. Where do you write your picture books, and at what stage to you start to illustrate them?

I usually spend a lot of time just thinking first - this happens all the time, lying in bed, out walking, making dinner... This is often the hardest part for me - getting a story to work in my head first. Out Of Nowhere was on my mind for over a year! Once a story works, actually putting words to it doesn't take long because I write quite simply and keep things short and easy to read. This means the story has to be quite effective and simple so that it can work well with as few words as possible. Then, if it's going to become a book, there's a lot of editing to do to get the words just right.

I sometimes doodle if I'm really stuck and a story is going nowhere. It can help to go in unexpected directions. My book The Suitcase came from a doodle because I was trying to finish another story that wasn't working.


6. The setting in this book is sparse but dramatic - is it based on somewhere you know?

Not consciously but we live near lots of fields and woodland and I often walk around in it, clambering over rotten trees and seeing bugs and mushrooms and things. So all that is in mind without realising it. The big overhanging rock (or something like it) was a necessity to set up the story. The cocoon had to be right next to Beetle but hidden from him. I hope it's a bit like in pantomime where you're shouting "he's behind you!" but to no avail - I wanted the reader or listener to feel frustrated and helpless in not being able to tell Beetle what was really going on!


7. Can you tell us how you choose your colour palettes, as you tend to keep to quite limited colour choices in your books. What effect does this give to your work?

To be honest, and its utmost secrecy, colour is not my strong point! I know I can draw quite well but I'm not very intuitive with colour - I work a lot by 'trial and error' and tend to know what works only when I can actually see it. With Out Of Nowhere, I sent a very rough pencil-sketched version of the story to Nosy Crow and they really liked that style so we decided to develop that, keeping it sketchy and mostly black and white, with just a dash of red for the caterpillar/butterfly, so that she really stood out in the landscape.



8. Where do you prefer to work?
In my little studio at home for illustrating. For thinking and writing it's good to get out and go for a walk or into town for a coffee if it's possible.


9. What for you are the main ingredients of a great picture book? Do you have a favourite from any of those you've created?

I think the best picture books have one essential ingredient. It's those where the story feels like it really happened and it tells itself without feeling that someone invented it. I sometimes imagine good stories are like a rolled-up rug. You give it a little push and it just unfurls itself right to the end with no visible effort. If they need a little nudge somewhere in the middle to keep going, then the spell is broken. That's why I find this part the hardest, trying to write an 'effortless' story that just unrolls in front of you.

Out of my books I think The Suitcase is a favorite. Nothing feels like it couldn't have happened, and it all fits together without needing a 'nudge'.


10. Do you work in other areas of illustration? If you weren't a writer / illustrator, what would you be?

At the moment I only work in picture book illustration and on my own books but I'd be really interested in collaborating and illustrating for other writers on something. My only other dream job would be to be a musician but I tried that through my twenties and it didn't work out!

With hindsight I only wish I'd started writing and illustrating seriously when I was younger but life took its course and it was only when I had children and started getting books for them that I really got hooked by them and thought about making one.


11. What are your favourite escapes from your desk?

I still play music for fun. I like walking and a bit of running. We just got a dog a few months ago and she's making sure I get away from my desk often enough!


MAY 2019

THE SUITCASE is a powerful and deceptively simple picture book about kindness and friendship, especially towards strangers. It would work well to help introduce the subjects of refugees and migration to young children, or to prompt discussions among older children aged 7+. 
When a stranger arrives among them, and declares that his suitcase holds a teacup, a table and chair, his home and the beautiful mountains where he used to live, the creatures don't believe him; they want proof.
So, while the exhausted stranger sleeps, they break open his suitcase and discover that he was actually telling the truth. Having broken his suitcase - and his trust - how can they put things right?
1. The Suitcase is your third published picture book, following Stick Insect and I'm Going to Eat this Ant. Do you feel these are all very different books, or are there particular themes that you like to explore?
The previous books were much more light-hearted and comical in tone but visually they're all in the same family. I did intend them to be a kind of trilogy but it didn't turn out that way.
In terms of preferred themes I think so long as there's a viable story in something, then that's what takes precedence. I have lots of ideas - I have to because nine out of ten of them aren't good enough and come to nothing. So when an idea feels like it has the potential to carry a good story you have to pursue it.
2. The Suitcase explores friendship and kindness to strangers, which will have a lot of resonance for classrooms exploring how we treat people and especially refugees. Was there one thing that inspired you to write a picture book about this subject?
The first book was about food and eating and the second about companionship and love so it seemed logical to try to write a third one based on another fundamental, universal need so I chose the idea of shelter or home.
I was trying to find a funny or surreal story idea like the first two on that theme but without much success. At the time there were lots of news reports of migration and refuge and of walls and border patrols and fear-mongering. In trying to write a humorous story about the notion of home, these themes were unavoidable and the story took that direction and became something with a bit more weight and emotion to it. I'm glad it did.
3. The text for this story is simple - 'A strange animal arrived one day looking dusty, tired, sad and frightened. He was pulling a big suitcase.' How hard was it to pare back the text and to cover everything you wanted to say in so few words?
The original text I wrote was quite short too. I try to avoid embellishment or description and just communicate the essentials of the story in a fairly factual way without writing with a young age group in mind.
The story did originally have more characters in the gang that confronts the stranger. My editor at Nosy Crow, Louise Bolongaro, suggested there were maybe too many and that the various reactions we needed to convey could probably be covered by three animals. She was totally right so it was the chop for a couple of creatures!
Louise also suggested developing the gang's discussion a bit more and gave me another double-page to let them argue about opening the case.
4. What made you decide that the suitcase would in fact be full of memories?
I knew that it had to contain something slightly unexpected and that it had to prove that what the stranger had claimed was essentially true, even if it wasn't exactly how he'd described it.
I imagined that he'd taken the photo with him on purpose but the cup was perhaps the nearest random object he could grab before having to leave, so that he'd have something, anything tangible from his previous life.
5. The three animals who greet the stranger are recognisable - how did they develop and why did you decide to make the stranger also strange-looking?
There was a lot of discussion about this. I originally thought that they might all look like strange, hybrid creatures that you could sort-of recognise but not quite, to suggest that in the end we're all a bit odd and different. I did a lot of sketching for this but visually this idea seemed to draw too much attention to itself and obstruct the story a bit.
The stranger needed to be quite clearly from elsewhere, something that the group hadn't encountered before, so he's a completely different colour and shape and not immediately identifiable as a particular species. But we did wonder a lot about how physically different or not he should be and how identifiable the group animals should be. I'm not sure there was a definite right answer but we had to go with what felt the best.
6. How do you create your images and how did you go about developing the colour palatte you have used in this picture book?
I use dip pens with ink and then watercolour. I do a lot of the colour digitally so that tons of variations can be tried really quickly. The final style and colours developed through working with Louise and Nia Roberts, the book designer at Nosy Crow.
With colour I tend to be a bit trial-and-error until I think it looks right, so Nia was a massive help in steering me in the right direction. She also suggested making the 'memory' pages sepia toned which was a great idea.
 7. Are there any author / illustrators who have inspired how your work as a picture book creator?
I really love Quentin Blake of course, he's one of those maddening illustrators who inspires you to pick up a pencil and get on with it because what he does looks so effortless and easy. And guess what - it's not!
I like Jon Klassen, Sydney Smith, Pascal Blanchet, Britta Teckentrup, Carson Ellis and loads of others but I'm not the biggest expert on illustration. I only saw and bought a John Burningham book after he passed away recently and thought to myself how could I not have known about him? Such beautiful and distinctive work. I'm sure there are hundreds more that I'll discover 30 years after everybody else!
 8. Where do you like to work, and what are you working on now?
I often do 'thinking work' when I can't sleep or I'm out walking, trying to solve story problems like jigsaws. I do artwork at home in a little studio/office at the end of our house.
I'm about to start on the next book for Nosy Crow which is called 'Beetle & Butterfly'. It's about friendship and how people change and move on. It might look a bit different from the ink/watercolour style but we'll see how it goes. I'm very excited about this project and to be working with the Nosy Crow team again.
9. You are based in France, but do you visit schools in the UK?
Yes, I've done school visits in the UK for all my books and will be doing so for The Suitcase. They do tend to be concentrated within a single week's stay so it's usually a pretty full-on dash around. I've done schools, library visits and bookshops - including a couple of window displays for Ant and Stick Insect. The Suitcase will be my first book to be published in French so I'm hoping to do a few things over here too when it comes out.
10. What are your favourite escapes from work?
We live in a fairly rural area not far from Limoges so I like just walking around or running and cycling a bit. I think I have Seasonal Affective Disorder but in reverse - too much sun and blue sky drives me a bit nuts so when I see dark clouds and a bit of rain it perks me up and I'm usually putting my boots on and going out for a walk in it.
APRIL 2017

An anteater and an ant (or 'dinner') aren't an obvious partnership for a picture book but, in the hands of CHRIS NAYLOR-BALLESTEROS, a grumpy anteater and a recalcitrant ant make a perfect pairing.
1. I'M GOING TO EAT THIS ANT (BLOOMSBURY PUBLISHING) is Naylor-Ballesteros's first picture book and the fun, loosely-drawn graphics are a perfect complement to the text that sees the ant sauteed, smoked and seared - until the anteater takes its eye off the ball and comeuppance follows.
We asked Chris Naylor-Ballesteros to tell us more about his debut picture book:

2. You're a graphic designer by trade; what made you decide to move into picture books?
When we had children I started getting books for them and realised how much I loved the picture books. I had started a very dull graphic design job and decided to make my own picture book during my lunch hours. Although that book wasn't published, the publishers who saw it said they liked it and while it was disheartening that it wasn't published, I learned from the mistakes I had made and decided to start working on another one, which became I'm Going To Eat This Ant.

3. What decided you on the pairing of an anteater and an ant for your picture book?
 I wanted to have just two characters who had a troublesome relationship and when I went through all the possible combinations, an anteater and an ant just seemed like an obvious pairing. I thought of the set-up and the ending and it all came together quite quickly.

4. During the story, the anteater dreams of the different ways he could eat an ant. Were you careful how you portrayed the ant being sauteed / simmered / squished etc?
here are lots of children's picture books now that are quite mischievous. I enjoyed Jon Klassen's I Want My Hat Back, in which the rabbit quite clearly comes a cropper at the end, but it's also fun. It made me realise you could get away with quite a lot in a picture book, as long as it's dealt with in the right way.
In I'm Going To Eat This Ant, there were certain pages that I worried about where the ant gets 'sliced like salami' and so on. It could be horrible for an animal, but the ant has this quiet steadfastness; he looks more annoyed than anything else, so he's not reacting to the awful things that are happening to him and we know the ant will have the last laugh.
Maybe his fate will help discourage a few small children from stamping on ants in the playground or pulling the legs off spiders....?

5. There is a lot of alliteration in the text - the ant is imagined 'splattered with a spatula' or 'simmering in soup and scooped in a spoon' etc. Do you enjoy playing with language like this?
While I was writing the text I realised the alliteration was happening by accident. I started writing the culinary combinations and realised that many of them started with an 's'. There were too many not to be noticed so I decided they should all begin with 's'.
It ended up helping with the last page when the anteater suddenly has a lisp because his tongue is stuck to the tree. That happened by mistake but it worked well.

6.How did you decide on the best 'look' for your anteater character, and the ant?
While the text for the story came together quite quickly, what I struggled with was the illustration. As a graphic designer I had always worked with a client in mind so I just had to make sure I got the job done and delivered what they wanted.
Suddenly I was confronted with trying to establish my own style for my picture book and the problem was finding it. I looked at a lot of other books for inspiration before realising that I had to stop thinking about what other people were doing. After that, I found a style that I liked.
The anteater was quite easy to draw; they are really just a lump of fur with a tongue coming out. The ant was harder and I spent a long time trying to get him right. It came down to the position of his eye; too high and he looked too aggressive, too low and he was too babyish. Once it was in the right place, I got the right tone for the face.

7. What media do you use to create your images?
Everything is done by hand, I do the line work by hand and then copy it onto a separate piece of paper to do the watercolour work. I paint a lot of the images in greys so that I can do the colour work on the computer to make sure the colours work well together. It would just take too long to change all the colours by hand.
As we worked through the spreads, many of the colours were changed as we decided to have a principle colour for each spread.
8. Where do you do your work and what are you working on now?
I have a little studio office in the house where I can leave everything out on the desk and it won't matter because it's not the dining room table!
I've created a companion piece to I'm Going To Eat This Ant, called I Love You, Stick Insect, which has more about romance and less about food... That will be published in January 2018.

9. Yes there is a lot of cooking going on in this story - are you a culinary person?
I remember a TV chef once saying that if you could read, you can cook, and that definitely applies to me. If there's a recipe then I can cook, but don't let me try creating my own combinations...

10. So what do you do to relax?
I'd still love to be able to say that I love cooking and I'm a master chef, but that wouldn't be true... I do love music but these days I'm more likely to be playing the guitar than drums - it's a little quieter!
Author's Titles