Frank and Bert: The One Where Bert Learns to Ride a Bike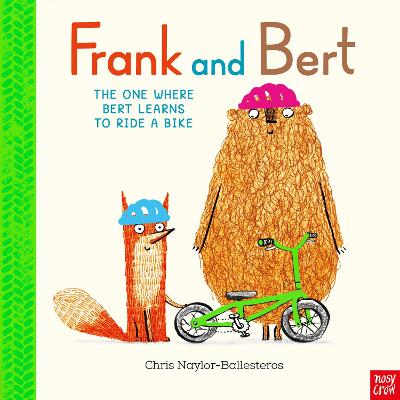 By Author / Illustrator
Chris Naylor-Ballesteros
Genre
Friends and family
Age range(s)
3+
Publisher
Nosy Crow Ltd
ISBN
9781839948503
Format
Paperback / softback
Published
12-01-2023
Synopsis
The hilarious fox and bear double act from bestseller Chris Naylor-Ballesteros is back for a second adventure.
Bert is CERTAIN he can ride his bike as well as Frank, but he is very wobbly! And even when they BOTH try riding Frank's bike . . . it still goes very wrong! Will the best friends make it all the way down from the big hill? Of course! All they need is a little bit of confidence and trust in each other!   This warm and entertaining story about friendship is guaranteed to get children giggling!  See also: Frank and Bert
Every Nosy Crow paperback picture book comes with a free 'Stories Aloud' audio recording - just scan the QR code and listen along!
Like to know more? Here's a Q&A with Chris Naylor-Ballesteros
Reviews
Joanna
If you have a child who is at the stage of learning to ride a bike, then this book is perfect for you. It helps children understand that learning to ride a bike takes time, that they will wobble and it is normal and okay to occasionally fall off. It also teaches them that, even though it might be hard, if they keep trying, eventually they will get it, and whoosh off they go.
Frank and Bert: The One Where Bert Learns to Ride a Bike tells the story of two best friends who are going out on a bike ride together. The only problem is that Bert isn't very confident on his bike and often wobbles and falls off. Frank decides to try and help Bert become a more confident bike rider, he promises he will hold on from behind and won't let go… but he lets go and Bert loses trust in Frank. Frank then puts a seat on the back of his bike and takes Bert for a bike ride, which is lovely until Frank's legs turn to jelly from the extra weight and he can't cycle them home. Can Bert step up to the challenge and help his best friend? 
Every parent will be able to relate to this story. Every parent has promised to hold on to the back of the bike, only to let go when their child looks confident. Every parent has watched as their child has a tantrum and stomped off when they fall off and can't ride the bike. What this book does is makes it a dialogue to have with your child, "Do you remember in Frank and Bert when Bert fell off his bike and stomped home…?" This book helps children to normalize the challenges of riding a bike and understand that they WILL get it, it just sometimes takes a little more time.
The characters and illustrations in this book are delightful. With clear facial expressions to show the emotions of the characters, all children will be able to follow the narrative. I particularly enjoyed the little humorous elements such as Bert splashing through a puddle and covering a rabbit in water and also the final page where Frank is so busy looking behind him to check on Bert, that he falls into the pond himself. A really lovely story that we have really enjoyed reading as a family.
Picture book / Reviewed by Joanna Hewish
Suggested Reading Age 3+
Lauren
Frank and Bert, The One Where Bert Learns to Ride a Bike is the second book in the Frank and Bert series. The stories are tales of friendship between Frank the Fox and Bert the Bear and in this book, the tale of perseverance when learning to ride a bike. This doesn't always come easy but with a few bumps along the way (literally!) and his best friend by his side, Bert will hopefully learn!
I really enjoyed the illustrations in the book with funny features scattered throughout which you need to keep an eye out for. The book length was good and slightly longer than most picture books which I enjoyed. The story is feel-good and warming, with a lovely theme of friendship throughout.
I will be using this in the classroom to discuss the themes of friendship, perseverance, learning new things and frustration. I look forward to seeing what comes next in the Frank and Bert series.
Picture book / Reviewed by Lauren Maidman, teacher
Suggested Reading Age 3+
Other titles