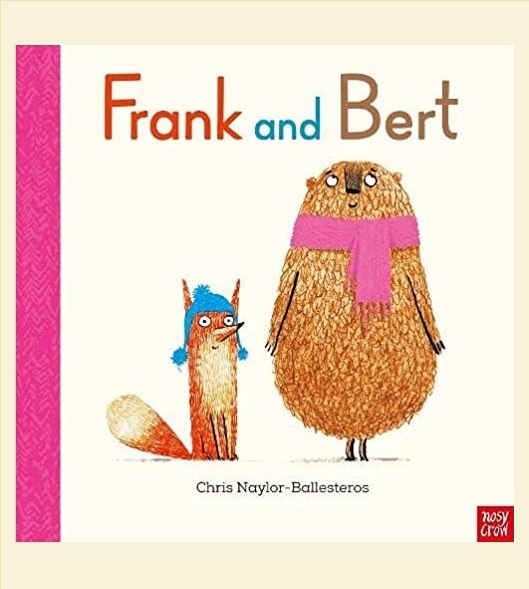 By Author / Illustrator
Chris Naylor-Ballesteros
Genre
Friends and family
Age range(s)
3+
Publisher
Nosy Crow Ltd
ISBN
9781788008419
Format
Paperback / softback
Published
03-02-2022
Synopsis
A hilarious new picture book from author of The Suitcase, Chris Naylor-Ballesteros - with neon ink throughout!   Frank and Bert are the best of friends and they LOVE to play hide and seek. But Bert the bear isn't quite as good at hiding as he thinks he is...and Frank ALWAYS wins! Every. Single. Time.  But when it's Bert's turn to hide, and Frank has to decide between winning again OR making his friend happy, Frank learns that friendship is always the true winner.  This interactive and entertaining story about friendship is guaranteed to get children giggling! See also: Frank and Bert: The One Where Bert Learns to Ride a Bike.
Like to know more? Here's a Q&A with Chris Naylor-Ballesteros
Reviews
Samantha
Frank and Bert is a tale of true friendship; the bright illustrations in this book perfectly capture the warm and gentle tone in a story about what is more important, winning or doing something positive for your friend.
Frank and Bert are playing hide and seek! But Bert is not so good at hiding! Ever the good friend, Frank gives Bert the ultimate hiding opportunity - counting to 100 "which takes a long time". This provided a fun and purposeful opportunity for our Reception children to practise counting to 100! But even then, Bert's hiding skills leave something to be desired. Frank, however, has a heart of gold.
With a humorous little twist at the end that works really well, this is a good book for looking at issues around other peoples feelings and what it means to be a friend. Less a story about numbers and counting and more a story about what makes a good friend and how you can find joy in other people's happiness. The boys particularly enjoyed the fact that both of the main characters were boys, and we as adults liked the way that boys knitting, wearing pink scarves and boys loving their friends was normalised.
The language was simple enough for our Reception children to join in with the story, the opportunities for counting practise and the heartfelt message about the value of friendship has meant this is a great addition to our school library.
Picture book / Reviewed by Samantha Hughes, teacher
Suggested Reading Age 3+
Other titles