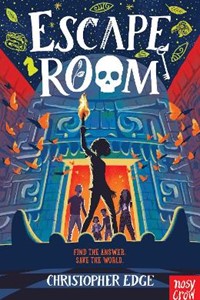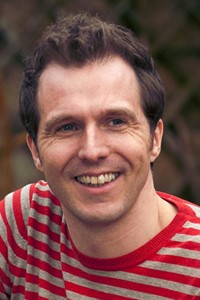 About Author
Escape Room, Christopher Edge's latest novel, follows a group of children through a series of escape rooms as they desperately search for the answer to save the world - and themselves.
Christopher grew up in Manchester where he spent most of his childhood in the local library dreaming up stories, but now lives in Gloucestershire where he spends most of his time in the local library dreaming up stories.
Before becoming a writer, he worked as an English teacher, editor and publisher – any job that let him keep a book close to hand. When not writing, he also works as a freelance publisher and education consultant and has written publications about encouraging children to read.
You can find him on Twitter as @edgechristopher 
Interview
Escape Room (Nosy Crow Books)
February 2022
Christopher Edge's Escape Room explores some serious questions about how children can help shape the future of the world while taking the reader on an incredible 'escape room' adventure that keeps you guessing around every twist and corner.
Here, Christopher Edge tells us more about Escape Room, reads from the book and discusses some of the themes he covers in this book and his earlier titles:
Q&A with Christopher Edge
1.  How did you start exploring big questions around science in your children's books
The Many Worlds of Albie Bright was probably the first novel I wrote that was inspired by two big ideas in science - quantum physics and parallel worlds - but I tried to use these cutting-edge theories to tell a very human story about family, grief and how far someone would go to find the person that they loved.
From there I've explored questions about extra-terrestrial intelligence in The Jamie Drake Equation and Space Oddity, the nature of reality in The Infinite Lives of Maisie Day and theories of time and relativity in The Longest Night of Charlie Noon, but always in the service of telling stories about what it means to be human. Science and stories both help us understand the world around us and I think that's why I find it a gift as a storyteller.

2.  Can you tell us about your new book, Escape Room? What sparked the idea for this story?
With Escape Room I wanted to write a story about the problems we face in the world today, but it was important to me that this story was a story of hope. From global warming to plastic pollution, young people are the ones who are raising their voices loudest about these problems and they're also the ones who are showing the bravery and imagination we need to solve them. This gave me the idea for The Escape - an escape game where five young players have to work together to find the Answer to save the world.

3.  Have you been through many escape rooms yourself? How did you do?
As part of the research for the book, I played several escape games, from searching for a lost archaeological artefact in a locked museum to trying to solve a mystery trapped on a nuclear submarine! What I love about escape games is the way they completely immerse you in another reality. When you're playing an escape game, you're part of the story and the decisions you make can mean the difference between success and failure, whilst the actions of the other people on your team can either help or hinder the escape!
I wanted to give the readers of Escape Room the same immersive experience, taking them on a fast-paced, puzzle-solving adventure into a host of different realities. However, I think Ami and her friends are a lot better at solving puzzles and finding answers than I was when I played an escape game!

4.  What other research did you need to do for this book, and how did you decide on the challenges for your own escape rooms in this story?
As well as visiting escape rooms, I also did a LOT of reading. Every room inside The Escape draws on real-life inspirations, from an unbeatable chess-playing automaton invented in the late 19th century to the Red Queen of Palenque, whose Mayan tomb was discovered by an archaeologist in 1994, and each one of these settings is inspired by the ideas that lie at the heart of the novel too.
The challenges that Ami and her teammates face keep building as the story progresses, from a library of dust to some close encounters of the prehistoric kind, with the stakes getting higher and higher, too. Every chapter ends on a cliff-hanger and this came out of my desire to write a story that is a real page-turner - one that readers won't be able to put down until they reach the end.
The best escape games give players a trail of clues to solve and I wanted the puzzles and mysteries that Ami find inside The Escape to give the reader clues about the story too, putting them right alongside Ami as they try to find the Answer and save the world.

5.  How did your main character, Ami, develop?
All my stories begin with a character and when I had the idea for Escape Room it was always going to be Ami's story. As it's written in the first-person, the reader experiences The Escape through Ami's eyes and, at the start of the story, she's someone who's eager and excited to play the game. She's a character who has a natural curiosity and this is a constant throughout the story.
However, Ami's journey through the rooms of The Escape is a journey of discovery, too, as she learns more about herself through the challenges she face - about how brave she can be and the qualities she possesses - ones that can help her to find the Answer and hopefully save the world. I hope she's a character who readers will see reflections of themselves in.

6.  The children in your story are set the challenge of finding the answer to save the world. Are you confident the next generation will be able to change the future for humanity?
I'm constantly inspired by the young readers I meet and I know that they possess the imagination and creativity we need to build a brighter future and a better world. As Ami discovers, we all have within us the potential to make a difference and change the world.

7.  Looking forward, what are your favourite developing areas of science?
As we're currently living through a pandemic, I think my favourite developing area of science is all the brilliant work that scientists have done developing vaccines! It's also been interesting to see how discoveries in this one area of medicine are now informing others, such as the development of vaccines for malaria and other conditions. Science is something that helps gives me hope for the future.

8.  What are you writing currently?
I'm a little superstitious about sharing too much about the story I'm working until I get to the end, but I can reveal there's a pinch or two of scientific inspiration sprinkled into the plot!

9.  How do you plan and write your books?
When I get the spark of an idea for a story, I usually have a clear picture in my mind of the opening scene and also the climax of the story too. These two moments trace the emotional arc of the story and I then have to discover the scenes that connect these, planning the twists and turns of the story in a notebook before I start to write.
That's not to say things can't change as I write the first draft, scribbling this in longhand in a notebook, and I often find characters saying or doing things that were never in the plan! And when I get to the end of this first draft, I then begin the process of typing this up on my laptop, and of course, between the page and the screen, I find myself making lots of changes so by the time I've typed my very last line, this is really a second draft and this is the one I then send to my editor.

10.  Do you ever get stuck with your writing? What keeps you going?
Sometimes but I usually find that going for a walk or just doing something entirely different can unlock the thing that I'm stuck on, as my mind whirrs away in the background.
And to keep me going I'm afraid to say I rely mainly on Haribo Tangfastics!

11.  What do you enjoy doing when you're away from your desk?
As well as going for walks, I enjoy hunting in bookshops and, in lockdown, I started to finally learn how to play the guitar. I'm up to five chords so far!

12.  What are your top three children's book recommendations?
This list changes all the time, but today I'll say Thunder and Lightnings by Jan Mark, The Amazing Maurice and His Educated Rodents by Terry Pratchett and, for a more recent pick, The Chime Seekers by Ross Montgomery.
Author's Titles