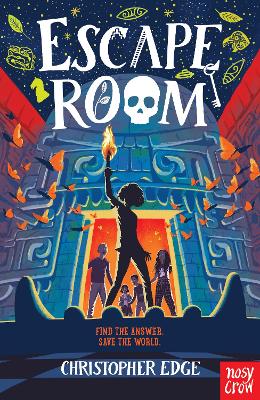 By Author / Illustrator
Christopher Edge
Genre
Science Fiction
Age range(s)
9+
Publisher
Nosy Crow Ltd
ISBN
9781788007962
Format
Paperback / softback
Published
03-02-2022
Synopsis
The latest mind-blowing novel from award-winning author Christopher Edge, Escape Room is a thrilling adventure that challenges readers to think about what they've done to save the world today.When 12-year-old Ami arrives at The Escape, she thinks it's just a game - the ultimate escape room with puzzles and challenges to beat before time runs out. Meeting her teammates, Adjoa, Ibrahim, Oscar and Min, Ami learns from the Host that they have been chosen to save the world and they must work together to find the Answer. But as he locks them inside the first room, they quickly realise this is no ordinary game.
From a cavernous library of dust to an ancient Mayan tomb, a deserted shopping mall stalked by extinct animals to the command module of a spaceship heading to Mars, the perils of The Escape seem endless. Can Ami and her friends find the Answer before it's too late?  With cover illustration by David Dean.
Check out these other brilliant books from Christopher Edge:  The Many Worlds of Albie Bright, The Jamie Drake Equation, The Infinite Lives of Maisie Day,  The Longest Night of Charlie Noon
Reviews
Tracy
If you are someone who enjoys problem solving and computer games, you will love Escape Room. If you enjoy reading science fiction, you will love this book. If you enjoy adventure stories, you will love this book. If you are someone who enjoys stories with a strong female character, you will love this book. If you are a slightly older person (like me) who enjoys reading fantastic and well written children's books, you will love this book. If you are someone who enjoys visiting escape rooms, you will love this book …. but you might also be a bit wary on your next escape room visit!
For her birthday, Ami's father has organised a visit to the most amazing, hi-tech escape room -- ever! Here she is teamed up with a small group of children who also seem to share her love of problem solving challenges. Their ultimate goal is to save the world before their time runs out. This, though, is no ordinary escape room and the challenges that this small, intrepid team are faced with prove to be both mentally demanding, physically challenging and perilous. The importance of teamwork in this escape room cannot be underestimated. The challenges that Ami and her team have to overcome become more and more dangerous with every 'door' that they open, every step, every twist and every turn they take: do not be mistaken, the peril is real.
If you have ever read any of Christopher Edge's books, you will know that he really enjoys grappling with important issues. This makes his stories not only exciting but thought provoking and highly original. In Escape Room he succeeds in challenging his reader's thinking with his questions on the nature of human existence. This story fizzes with adventure and danger resulting in the rapid turning of pages. A truly exciting read.
208 pages / Reviewed by Tracy Parvin, teaching consultant
Suggested Reading Age 9+
Susan
When Ami arrives at the Escape, she thinks her dad has arranged a treat for her - the ultimate escape room challenge. Along with team mates Adjoa, Ibrahim, Oscar and Min, Ami learns that their challenge is to save the world, working together to find the Answer. However, from the first challenge, it becomes clear that this is no ordinary Escape Room challenge. Facing a series of perilous scenarios, Ami and her team must work together to find the Answer before it is too late.
Escape Room is one of those books which grabs you from page one and is impossible to put down. Beautifully plotted, the story has one of the best endings I have read in a long time which makes discussing the plot in detail very difficult without giving the game away!
The game starts as they expect with puzzles to solve and clues to decipher; however, things soon take a darker turn and the children find themselves playing a very different game from the one they expected - one with serious consequences. The children make their way through a series of locations, facing a new challenge in each. The settings (the Bibliothèque Universelle, described as a 'vast cathedral of books', sounds like my dream come true) are vividly described, creating the perfect backdrop to the action - and there is plenty of action.
Christopher Edge does a marvellous job of building tension, forcing the reader to question everything as they journey alongside Ami and the team. But there is more to this book than a pacey, intriguing adventure. As with his other books, Christopher Edge challenges the reader to think about… well, I can't really tell you that without spoiling the plot - so you'll have to read it to find out!
A fantastic read aloud, Escape Room would also make an excellent core text to inspire children's own writing, drama and debate work. It's time to play for real…
194 pages / Reviewed by Susan Wilsher, teacher
Suggested Reading Age 9+
Louisa
Ami's reward for working hard is an evening at The Escape. It's meant to be the ultimate locked-room adventure, perfect for someone like her who likes solving puzzles. But, as the Host locks Ami and four team mates in the first room, it becomes clear that this is far from an ordinary game.
From Christopher Edge's earlier books, I expected an inventive underlying premise with a scientific spin and I wasn't disappointed. The narrative structure, though, is much more familiar, making it accessible to a wider range of children. In a modern-day Odyssey, the characters negotiate a series of terrifying adventures and last-second escapes as they try to reach the exit.
I'm going to try recommending Escape Room as a next step for lovers of the Beast Quest books who are ready to deepen their thinking. Some of the underpinning themes are almost philosophical. The book begins with a quotation from G K Chesterton: 'The object of all human life is play'. It's never completely clear what's a game and what's for real. This could open up discussion about how the lines between how simulation and reality can be blurred. In a world where children's lives are increasingly lived online and, as teachers, we need to address this, this seems useful as well as interesting.
The ending sets up another debate. A dystopian penultimate scene on an idyllic beach ruined with plastic waste leads to an unexpectedly hopeful finale, leaving the reader with a clear message: the future of our world and our species lies with our children. Rallying cry or cop out? I couldn't decide.
208 pages / Reviewed by Louisa Farrow, teacher
Suggested Reading Age 9+
Other titles