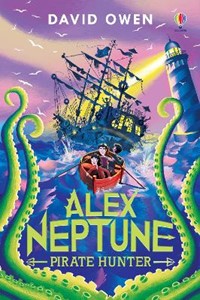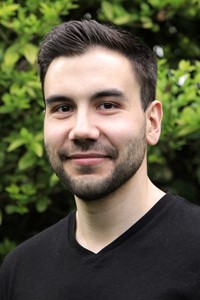 About Author
Having worked as a freelance games journalist and taught on a BA Creative Writing course for three years, David Owen's debut novel, Panther, was longlisted for the Carnegie Medal, and was followed by three further highly acclaimed YA novels. Alex Neptune is his first series for younger readers, born of his love for nail-biting heists, fantastical monsters and heartfelt friendships.
Interview
Alex Neptune, Pirate Hunter: Book 2  (Usborne)
March 2023
Look out for myths, monsters and an ordinary seaside town, with a hidden past.... We asked David Owen to tell us more about his Alex Neptune books, Dragon Thief and Pirate Hunter! 
"First and foremost, I want the Alex Neptune books to be fun and exciting adventures - but by highlighting some of the threats facing the ocean, and telling a story of children fighting to make a difference, I hope it will empower others to do the same." David Owen.
Read a Chapter from Alex Neptune, Dragon Thief
Read a Chapter from Alex Neptune, Pirate Hunter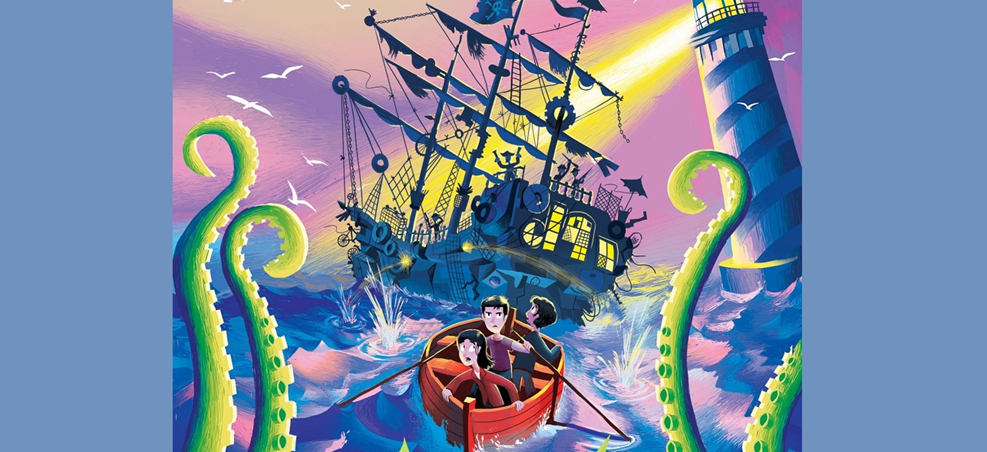 Q&A with David Owen
1.  Can you tell us a little about yourself?  How did you start writing for children?
I studied creative writing at university and went on to study an MA in writing for children, though I'm not sure at what point I decided I wanted to write specifically for children! I had maintained a lot of joy in reading children's fiction even though I had technically outgrown it, and it felt like a good fit for my sillier/weirder/most adventurous ideas. My dissertation was the beginning of a children's book that I then completed and tried to get published. Then the YA boom came along and I got pretty swept up in that, which led to writing my YA books that were the first I had published. Between those I was still writing MG books that never quite got over the line to being published. Until Alex Neptune...

2.  What are your Alex Neptune books about, and the latest Alex Neptune: Pirate Hunter?
The Alex Neptune books are set in Haven Bay, an old seaside town where myths, legends and stories about the sea have been passed along for generations. The most famous of these legends is that of the Water Dragon, a magical sea monster who used to live in the waters of the bay. It bonded with the local and people and gave them some of its magic abilities such as controlling the ocean and talking to sea animals. Until something happened that turned the dragon against them and the powers were lost.
Personally, Alex Neptune doesn't believe in the story at all. Until he and his two best friends, Zoey and Anil, discover that the Water Dragon is very real and is being held captive in the abandoned aquarium by a nefarious poacher. It's up to them to bust it out before the poacher can use the dragon's powers for evil.
Pirate Hunter continues the story with Alex being chased by pirates who sail a ship cobbled together from junk and litter. This sets he and his friends on an epic treasure hunt to find a powerful ancient artefact before the pirates get their hands on it first.

3.  What sparked the idea for local myths about a powerful dragon and a boy with special powers?
The specific idea came from a real event in Japan. An aquarium went out of business and the owners abandoned it, leaving all the animals - dolphins, stingrays, turtles and more - with nobody to care for them. The local children started sneaking in at night to feed the animals until the authorities arrived to rescue them. It made me wonder what would have happened if they'd found some kind of sea monster hidden away in the aquarium instead. From there, it just followed that magic and special powers would be involved.
The local myths sprung from that idea. Any seaside town in the UK has its own strange local folklore and mysteries. That seemed like a great way to flesh out the world and the history of my story.

4.  Who are Alex Neptune's friends, why do they work well together?
Alex's best friends are Zoey Wu and Anil Chatterjee. They work well together because they have different approaches to difficult situations and have complementary skill sets. Alex is quite unassuming and lacking in confidence, while both Zoey and Anil are incredibly confident in themselves. Zoey's confidence makes her want to barrel head first into any situation, while Anil is more cautious without being scared, so they temper each other a little. Alex is deeply knowledgeable about the animals of the sea, Zoey is a genius (in her mind, anyway) inventor and engineer, and Anil knows all the local history and stories. Their combined knowledge, as well as their close friendship, makes them able to withstand whatever the story throws at them.

5.  Which character do you feel closest to? Who is your favourite supporting character?
I feel closest to Alex, because his lack of confidence and reluctance to be in the spotlight very much comes from me. And that's why Zoey is my favourite supporting character - because her self-confidence is something I aspire to. Rather than making her arrogant, it allows her to see the best in her friends and encourage them to believe in themselves more. Plus, her reckless confidence and sharp sense of humour makes her huge fun to write!

6.  Why have you included a strong environmental theme in these stories?  What can we learn from Alex Neptune's adventures about supporting the environment?
I think these days it's difficult to write a story about the sea without including some kind of environmental theme. We're deep in a climate crisis and sea life is suffering tremendously due to pollution, littering, over-fishing, rising temperatures and more. There won't be much left to write about if something isn't done to protect the ocean and the consequences will be felt all over the world. I hope that by showing all these amazing sea animals it will inspire people to learn more about them and want to protect them. First and foremost, I want the Alex Neptune books to be fun and exciting adventures - but by highlighting some of the threats facing the ocean, and telling a story of children fighting to make a difference, I hope it will empower others to do the same.

7.  How did you choose the animals that work alongside the children, and why did you want them to be part of the story? Any favourites?
I absolutely played favourites when it came to picking the animal companions. I knew I wanted an octopus because they're cool as heck and their huge range of abilities would give me so many options within the story. Otters are just obscenely cute, and I've always had a soft spot for seagulls - they're big characters whether you like them or not! Again, I mainly wanted them in the story because they're entertaining in their own right, but they also offered an opportunity to tap into the environmental themes mentioned above. They offer something for Alex and friends to fight for.
Kraken is definitely my favourite! She's such a feisty character, useful in both a fight and when trying to sneak around. It feels like there's no limit to what I can have her do.

8.  Are the books set in a place you know? How did you go about creating the setting?
Haven Bay is fictional but it's based on British seaside towns I've visited throughout my life. There's a strong influence from Tenby in Wales, where we'd have our family holidays when I was young. There's also a healthy dose of Looe in Cornwall and Brighton where I now live. So it's a bit of a greatest hits package combined with a loving stereotype or two.

9.  If you could have a drop of Alex's special powers, what would you want to be able to do with it?
Summoning a crab army is incredibly tempting, but my real answer is incredibly boring - I'd use my special power to make the ocean around me a bit warmer when I go for a swim! Even in summer I'm a total wimp about first wading into the sea because it's just so cold. If I could cushion myself in warm water, it would be a game-changer.

10.  What do you have planned next for Alex and his friends? How many Alex Neptune books do you plan to write?
The third book in the series is titled Alex Neptune: Monster Avenger. I won't say too much about it, but the story revolves around Alex and friends actually having to go inside the Water Dragon to save the day. My elevator pitch for it is 'Die Hard inside Godzilla'. I've been having a lot of fun with it!
After that, there are going to be two more Alex Neptune books in 2024. Those will bring the story to an end.

More about David....

i.   What is your biggest passion in life?
Am I allowed to say my cats? I'm completely obsessed with them. They're called Piggy and Barb and I'd do anything for them. They're the first cats I've had that are mine rather than family pets and I feel hugely proud and privileged to be giving them good lives.
ii.   If you could change one thing in the world to help our environment, what would it be?
This is a difficult question to answer because many things need to happen to prevent climate disaster - and they need to happen now. So with that in mind I would change people's attitudes towards the natural environment and them recognise the changes they need to make in their individual lives to help. Without that attitude change, asking or demanding people to make sacrifices isn't going to work.
iii.   If you were given a free ticket to anywhere in the world, where would you want to go?
Ideally I'd choose somewhere I can reach by rail so I'm not having to take a flight! But if that wasn't a concern, I'd love to visit the Maldives so I could see the ocean wildlife there (the beautiful beaches wouldn't hurt either!)

Author's Titles