Alex Neptune, Dragon Thief: Book 1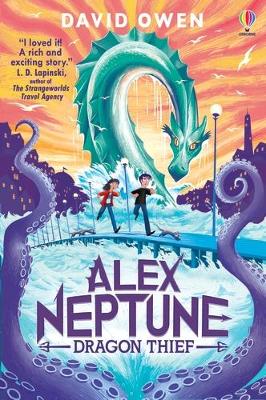 By Author / Illustrator
David Owen
Genre
Magical Realism
Age range(s)
9+
Publisher
Usborne Publishing Ltd
ISBN
9781474999236
Format
Paperback / softback
Published
04-08-2022
Synopsis
Meet Alex Neptune, the boy with the power of the ocean in his hands - a brand-new hero for fans of Percy Jackson and Dragon Realm!   For as long as Alex Neptune can remember, the ocean has been trying to kill him. So he's not too happy when a bunch of sea creatures drag him to the abandoned aquarium on the hill, where an imprisoned water dragon needs his help. But how can he say no to a magical myth?  Recruiting his tech-genius best friend Zoey, legend-lover Anil, a sharp-shooting octopus, four acrobatic otters and a thieving seagull, Alex plots a heist to break the dragon out.  And suddenly discovers the power of the ocean at his fingertips...
See also:  Alex Neptune, Pirate Hunter: Book 2
Reviews
Donna
Wow! Well what can I say... a gripping read from start to finish! Alex Neptune - Dragon Thief showcases the ocean in all its glory. Alex Neptune has been scared of the ocean for as long as he could remember. So it's understandable that, when he is drawn to a fluorescent glow above an abandoned aquarium, he is full of fear. Once inside, it becomes apparent that an imprisoned, magical water dragon needs his help. Alex, his best friend Zoey, Anil and his new found ocean friends set about rescuing the water dragon and saving the ocean forever.
It is a gripping, exciting story which ignites the imagination with sprinklings of humour added in. The underlying eco-friendly themes run throughout the story and make you think about the way in which the marine environment is ever-changing. The book would be perfect to explore themes such as marine life, plastic pollution, littering and caring for our marine life.
I absolutely loved this story and couldn't put it down! I am sure children in any Year 5 and Year 6 classroom would feel the same. The twists and turns throughout the plot keep you guessing what is going to happen next and nothing about the story is predictable. I cannot wait to read the next book in the series!
256 pages / Reviewed by Donna Chadwick, teacher
Suggested Reading Age 9+
Nathan
Alex Neptune, Dragon Thief is another brilliant book by David Owen. An excellent, pacey adventure story full of characters, a great plot and a myth passed down through generations of water creatures and dragons. The story is also filled with humour that will keep any class laughing and engaged.
Alex Neptune lives in a seaside town with his friends Zoey and Anil. All of his life he has believed the ocean is dangerous and is out to kill him. However, he is soon made to overcome this fear when he is dragged to an abandoned aquarium by a sea creature to help a stranded water dragon. Can Alex and his friends save the water dragon? Could the long-told myth be true? And has Alex discovered the magic of the ocean? He will need all the help he can get as the plot twists and turns against evil.
There is so much to celebrate in this book from sprinkles of humour to the funny, quirky characters and plot. The teaching links and hooks are endless too. This would be a perfect book to explore the eco-friendly themes of marine, coastal management, reducing litter and caring for our oceans. It also carries a strong environmental message which is delivered excellently throughout the adventure.
I loved this story and can't recommend it enough. The adventure, humour and magic will hook all readers and I am sure would be a well-read and loved book in any classroom. The story is perfect for children 9+ (Years 5 and 6). Will there be another one? I hope so. Thank you, David!
256 pages / Reviewed by Nathan Cox, teacher
Suggested Reading Age 9+
Other titles