Alex Neptune, Pirate Hunter: Book 2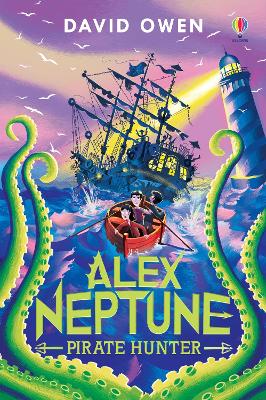 By Author / Illustrator
David Owen
Genre
Adventure
Age range(s)
9+
Publisher
Usborne Publishing Ltd
ISBN
9781474999274
Format
Paperback / softback
Published
25-03-2023
Synopsis
Join Alex Neptune, the boy with the power of the ocean in his hands, on his second adventure - perfect for fans of Percy Jackson and Dragon Realm!  Alex Neptune is struggling to get to grips with his new oceanic powers...so the last thing he needs is Haven Bay being attacked by pirates in a ship made of rubbish. The marauders are hunting for the missing egg of the elusive water dragon - and Alex is determined to reach it first to stop them stealing its power. Along with friends Zoey and Anil - plus a clumsy seal, a lock-picking hermit crab and some seriously menacing otters - Alex sets out on a treasure hunt to a secret shipwreck where they must face three monstrous challenges.
Indiana Jones meets Pirates of the Caribbean in this ultimate treasure-hunting, puzzle-solving ocean adventure!   Praise for Alex Neptune, Dragon Thief: "I loved it! A rich and exciting story." LD Lapinski, author of The Strangeworlds Travel Agency.  "A wonderfully pacy adventure full of imagination and jeopardy." Jasbinder Bilan, author of Asha & the Spirit Bird. 
Find out more from author David Owen
Reviews
Nathan
After reading the first Alex Neptune book, Dragon Thief, I couldn't wait to read the next in the series from David Owen and I was far from disappointed, definitely worth the wait!
Alex Neptune, Pirate Hunter by David Owen is an exciting, pacey adventure story full of great characters, humour and friendship. This is the second adventure for Alex and this time he is armed with his new-found magical power of the ocean at his fingertips. His friends Anil and Zoey join him on his adventures alongside several amusing animals.
In this adventure, Haven Bay is attacked by a ship made of rubbish. Alex is warned by a character from the sea to run. But, when news strikes that the newcomers are searching for the mysterious last remaining water dragon egg, Alex can't run and must reach the egg before they do, whatever the challenge or danger.
The story is full of solving puzzles, searching for treasures and ultimately avoiding danger. Throughout the book, the friendship and support between the main characters is clear, celebrating different skills and attributes. Just like the first book, the story has several important environmental messages.
I would highly recommend Alex Neptune, Pirate Hunter, as well as the whole series, for children aged 8+ (Years 4 upwards). I have confidence that this series is going to be a firm favourite on a lot of classroom bookshelves. My class love the first two books and were very excited when I told them there was a third on the way!
272 pages / Reviewed by Nathan Cox, teacher
Suggested Reading Age 9+
Donna
Alex Neptune, Pirate Hunter is a great sequel in the Alex Neptune series, which explores Alex's new-found powers to control the ocean. The story is full of twists and turns as Alex tries to counteract pollution and pirates to find a missing dragon egg to help clean the oceans. There is an underlying theme of friendship and belief between the main character Alex and his best friends Anil and Zoe, showing that when they put their minds to it and believe in each other, then they can overcome anything.
This story is a highly entertaining read and the children in my class did not want to stop reading it because of its addictive nature. As well as it being an entertaining read, I enjoyed the strong environmental message this book sends about the importance of protecting our oceans, sea life and environment and how dangerous things could be for us all if we don't do something about it now!
I loved how the diverse set of characters work together showing that anything can be accomplished - even defeating pirates, cleaning the oceans and building new eco-friendly boats. A great read and I would recommend it to children aged 9+.
272 / Reviewed by Donna Chadwick, teacher
Suggested Reading Age 9+
Elen
Alex Neptune, Pirate Hunter is the second book in the Alex Neptune series by David Owen.  This is a pacey adventure with great characters, and a plot that will keep you guessing. There are also lots of laughs to be had through the story. 
When Haven Bay is attacked by pirates hunting for the missing egg of the elusive water dragon, Alex and his friends Zoey and Anil must try to stop them stealing its power by finding the egg first - so this adventure is very much a treasure hunt! But if they are to beat the pirates to it, Alex must also get to grips with his new ocean powers.  
As well as being a highly entertaining read - and a great class read - Alex Neptune, Pirate Hunter has a strong environmental message and could also be used to explore themes of marine management, caring for our oceans, and reducing our consumption to help protect the oceans. 
This is bound to be a great hit with children, especially those who like me loved book one, Alex Neptune: Dragon Thief!
272 pages / Reviewed by Elen Green
Suggested Reading Age 9+
Other titles