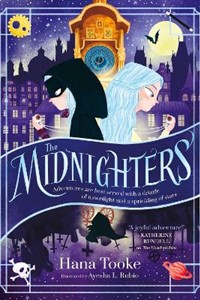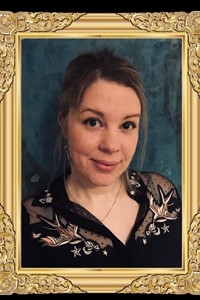 About Author
Hana Tooke's new novel, The Midnighters, follows a group of children as they explore and discover new skills, at midnight.
Hana was born in Alkmaar, Netherlands, in 1985 and moved to England in the late 1990s. She now lives in Bath with a big human, a little human, and an even littler cat.  Hana is constantly inspired by and in awe of the curious, determined, and imaginative children and young people she works with. She hopes to grow up to be just like them one day.
Her first novel, The Unadoptables - an historical adventure set in 19th century Amsterdam - was published in 2020 (Penguin Random House).
Read a chapter from The Midnighters
Interview
The Midnighters  (Puffin)
July 2022
Hana Tooke's atmospheric mystery adventure, The Midnighters, takes us to the twisted streets and hidden corners of Prague in the 19th Century, where we meet two girls with special talents, and discover an unsolved mystery.... 
Hana tells us a little about The Midnighters in this short video. We also ask Hana what inspired The Midnighters, why she wanted to explore difference through her characters, and how she develops her plot and settings in the Q&A.
Q&A with Hana Tooke
1.   How did you find your way into writing children's books?
As a child I was obsessed with musicals. I learned the musical script of Oliver Twist off by heart at the age of three and drove my family bonkers singing the same songs over and over. I was never one to sit and read books - I wanted the dancing and singing too.
I started writing my own songs at age 11 and followed my passion for music throughout my education. Then, I had a child of my own, with a monstrously insatiable appetite for stories. He demanded I make up bedtime stories each night. Hearing him giggle at the nonsense I came up with encouraged me to start writing some of those stories down and I haven't looked back since.

2.   What was your starting point or inspiration for writing The Midnighters?
My main character actually appeared as a side character in my first novel, The Unadoptables, and she would not leave my mind. I was intrigued by everything about her - the eyeball necklace she wore, her strange skills, and the air of mystery that shrouded her. I could feel in my very bones she had a story to share with me, so I listened.

3.   Who are the Midnighters and what happens in the story?
The Midnighters are a group of children with unusual talents, who meet under the full-ish moon - at midnight, of course - to find adventure and wonder, whilst also solving a very peculiar murder.
In the story, we follow Ema Vašková, who has many strange talents that she considers a curse. When she meets a mysterious girl called Silvie one night, Ema's world changes - through a series of midnight adventures, Silvie encourages Ema to embrace these talents. Then, just as Ema's confidence starts to grow, Silvie goes missing. In her quest to find her friend, Ema discovers a secret society called The Midnight Guild, where she has to use her talents to not only rescue Silvie, but solve a murder too.

4.   Can you tell us about the setting for The Midnighters and how you got to know Prague?
The Midnighters is set in 19th century Prague, which was then in a country known as the Kingdom of Bohemia. It is a truly magical, enigmatic, breath-taking city full of history and atmosphere. History and atmosphere are two of my favourite things.
I've visited Prague a couple of times, and each time I have explored the city's sights and museums until my feet were blistered and bleeding. I was never sure why I was so drawn to Prague, and then I did a DNA test recently and found out I have a substantial amount of ancestry from that region. Spooky!

5.   Do you have any favourite places in Prague that you use for this book?
Landmarks like Charles Bridge and Old Town Square are stunning and feature a lot in the book, but it's the little winding alleys and hidden wonders that I love most about the Prague. One evening, my partner and I were walking through Petrin park when we found a restaurant hidden in some ancient stone crypts. It was magical. We also learned that Prague raised its ground level in the 18th century to avoid flooding, and there are so many tunnels and covered streets hidden beneath the city.

6.   The story is about finding one's identity and accepting difference, something that your lead character Ema needs to learn. Why did you want to give her this journey?
Growing up is one of the trickiest things I think we all go through. It gets exponentially trickier if you feel different from everyone around you. I experienced a lot of rejection as a child, and it took me well into adulthood to see past this and learn how to feel comfortable in my own skin - in fact, I'm still learning how to do this. I never set out to write Ema's journey in this way, but it came out naturally. I realised I was trying to give her a means to see her worth, in a way that I wish I could have seen mine when I was her age.

7.   Do you base your characters on people you know?
Not consciously, no. Looking back, I can see how all my main characters are based on elements of me as a child, but I never set out to do that - it just happened. What I'm learning is that to write compelling characters, you need to make them real. This requires paying close attention to how you and those you know behave (both our good and bad behaviour), while still leaving room for these characters to become their own entities, with their own unique strengths and weaknesses.

8.    Do you plot your stories carefully or wait to see where the characters will lead you?
I always start with the 'skeleton' of a story - perhaps a handful of things that I know will happen, but with no idea how my characters will get from one plot point to another. It's important for me to leave that space for them to surprise me, rather than trying to force them to act in the way I might expect them too. I love the playfulness of that approach.

9.   Why did you want to set up science versus superstition in this story? Which end of the spectrum are you on?
I'm very scientifically minded - I love to know how things work, in great detail. But I've also always been drawn to the idea of that which can't be explained. As a child I was desperate to find empirical proof that Ouija boards really worked, as a teen my bedroom overlooked a graveyard, and then a few years later I lived in a funeral director's yard - so I've always been drawn to the idea of ghosts, even though I've never really believed in them.
As this book was set in the late 19th century, I was also intrigued by the fact that some scientists from that era were open to the idea of spiritualism. In fact, Arthur Conan Doyle (author of Sherlock Holmes, and a medical doctor) wrote several books on the subject. With Ema, I wanted to explore how someone in those times might come to believe so strongly in supernatural phenomena, despite the lack of empirical proof.

10. If you found yourself watching the Midnighters, which show would you want to experience?
All of it. I'd ignore the rules and sneak into each spectacle, and hope that I wasn't caught!

11. Are you planning more adventures for Ema and the Midnighters? 
I do have more ideas as far as Ema and Silvie are concerned, so watch this space - but at the moment I'm writing something completely new. I can't tell you exactly what it is, as I'm still dreaming the story-world up, but I can tell you it's set in a crumbling manor house that is divided in two by a giant wall. There are hidden rooms, a 100-year-old murder mystery to solve, a chapel filled with crows, and several very famous historical figures brought back to life in the form of scarecrows.

12. What kinds of things do you enjoy doing when you're not at your desk?
Music is still my biggest love, although now I mainly sing for my cat - who sometimes sings/wails along with me. I also love woodworking. My father was a carpenter and I'm starting to relearn all the things he taught me as a child, so that I can start making/restoring furniture.
Author's Titles