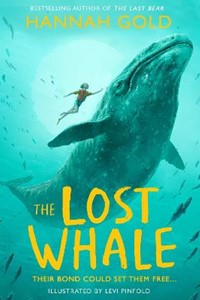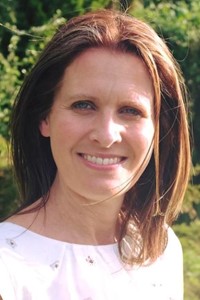 About Author
Hannah Gold's latest novel, The Lost Whale, includes strong ecological themes and the bond between a boy and a distinctive whale.
Hannah worked in the film and magazine industries before taking time out to pursue her dream of writing. 
She lives in Lincolnshire with her tortoise, her cat and her husband.
Interview
The Lost Whale (HarperCollins Children's Books)
April 2022
Hannah Gold's debut, The Last Bear, brought her much critical attention and her readers have been keen to see her new book, The Lost Whale, which again is illustrated by Levi Penfold. Here, Hannah Gold tells us about The Lost Whale, researching the book and encouraging us to change our habits in support of the environment.
Q&A with Hannah Gold 
What brought you into writing for children, and what was your career before that?
Being a children's author was something I had always wanted to do, but like many people with dreams, I kept mine on the backburner for a long time. It wasn't until I grew tired of sitting around and making excuses, that I decided to go for it. And because I am the kind of person who commits 100% when I have a vision, I gave it my everything. What I didn't want to become was someone who looked back on my life and had regrets about the dreams I was too scared to go for.
Before finding an agent and publisher, I did a variety of different things - from being a gym coach (albeit a not particularly fit one!), to working on a magazine, running online courses, being a copywriter and even a brief stint in film and television. All of this was great experience for me in terms of gaining confidence in myself as a person and my abilities. Confidence is not always an innate thing but is, I believe, something which can be learned.

What are the highlights of being an author following the success of your debut, The Last Bear?
Even though The Last Bear came out in lockdown - when all the bookshops were closed - I have been incredibly lucky with how well everything has gone for me. From sales, to trade reviews to how many children just seem to have taken April and Bear's story to their hearts. There have been so many amazing highlights but I think winning the Blue Peter Book Award 2022 and actually appearing on live television and bursting through a paper doorway of my book has to beat them all.

Can you tell us a little about your new book, The Lost Whale?
It's the story of 11-year-old Rio, who is sent to live with a grandmother he barely knows in California, while his mum is in hospital back home. Feeling lonely and fearful, he really doesn't want to be there. That is, until he starts to form this incredible bond with one of the gentle giants of the ocean - a grey whale called White Beak. But when the whale goes missing, Rio must set out on a desperate quest to try to find her.
I refer to this book as my love letter to the ocean as it captures everything I have always loved about the sea - the magic, the lure, the power and most of all, it's ability to heal us.

One of the areas you cover in the story are the effects of parental depression on a child; why did you want to explore this, and where did you go to research depression?
From a structural point of view, there had to be a reason why Rio would fly off to America all by himself, but from an emotional point of view, the reason why I chose mental health as one of the major themes of The Lost Whale is because it's something very close to my heart.
In the Author's Note of the book, I explain how many years ago a close family member of mine had a breakdown. Even with lots of support around me, it was a shocking and disturbing event and one which affected me for a long time. When thinking about this book, I was drawn to exploring this and tried to imagine what would happen if there was a young boy, caring for his mother, who had no support around him. I also wanted to explore how nature can have such a calming and healing effect on our mental health, something which I think the pandemic taught us.

The Lost Whale explores the environmental impact that humans have on the oceans, like your debut The Last Bear. Why do you focus on environmental issues in your stories, and why did you want to feature a whale in this story?
To be honest, I don't deliberately set out to write stories about the environment. When I first sat down to write The Last Bear, my sole intention had been to capture this incredible bond between a child and an animal. But it was only when I started researching about polar bear habitat that I realised I could not write about polar bears without talking about the melting ice caps.
It's the same with The Lost Whale. The grey whale has twice been hunted right to the brink of extinction and even though numbers have thankfully recovered and hunting is banned in most parts of the world, they still face an uphill battle to survive with all the other myriad of ways humans seem intent on destroying the ocean. Something about whales have always fascinated me, perhaps since I first saw one in my early twenties. I just was very keen to tell their story.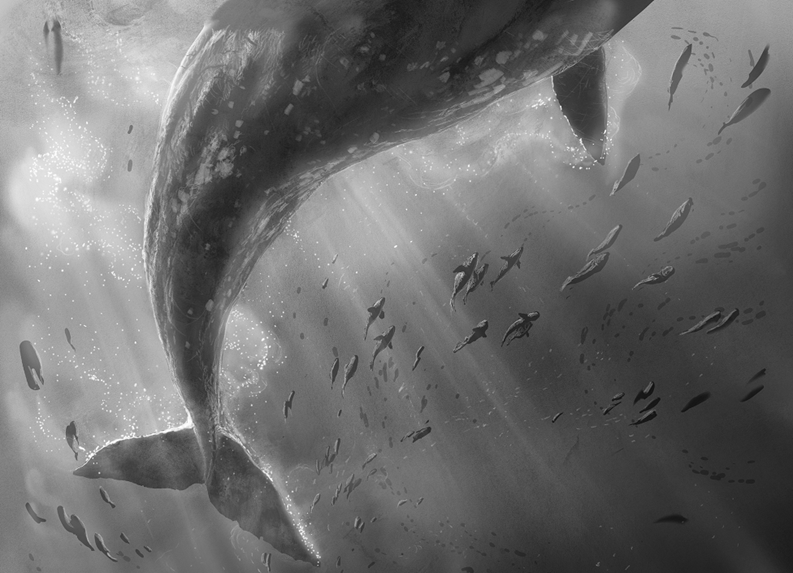 How much research do you do before you start to write your books?
I'm not one of those authors who approaches research from a particularly scientific point of view, but what I do like to do is immerse myself in the setting of the book. So, for The Last Bear, that meant reading lots about Bear Island, watching documentaries on the Arctic and traveling to Norway to experience the midnight sun first-hand.
For The Lost Whale, I actually went to the marine protected lagoons in Mexico where the grey whales travel each winter to breed and calve. For me, this kind of physical and sensory immersion is essential in getting to the heart of the book and making these new worlds feel as alive and as real as possible.

What surprised you most when you were researching whales for this book - and what are your top three Whale Facts?
I chose to write about grey whales as they are much lesser known but no less interesting!
Fact one - which I have already mentioned - is that the grey whale has twice been hunted right to the brink of extinction. But as a sign of their forgiveness, the grey whale is still incredibly curious about humans despite everything we have done to them. They will often swim right up to the boat and even allow you to pet them. This is why they are also known as "the friendly whale".
Fact two - the grey whale has the longest migration route of any mammal on earth and does a 12,000 round trip from Alaska to Mexico, and back again, every single year.
Fact three - the grey whale can live anything between 40-70 years old.

Like The Last Bear, The Lost Whale is illustrated by Levi Penfold. What do you think of his illustrations - any stand-out moments?
Firstly, I am just so grateful to have someone of Levi's talent actually bring my words to life. I receive a lot of amazing feedback from my readers about the illustrations and they really do elevate the book to magical heights. Knowing how amazing he was, I was eagerly anticipating the illustrations for The Lost Whale - and wow - they didn't disappoint!
I particularly love the turquoises and blues on the front cover. From the inside illustrations, I actually think he has surpassed his own high standards! My favourites are obviously the one of Rio and White Beak in the water together but also the one of the dolphins bow-surfing next to the boat. When I saw that one, I actually gasped! The dolphins were so life-like. It really did fill me with joy and wonder to see them all.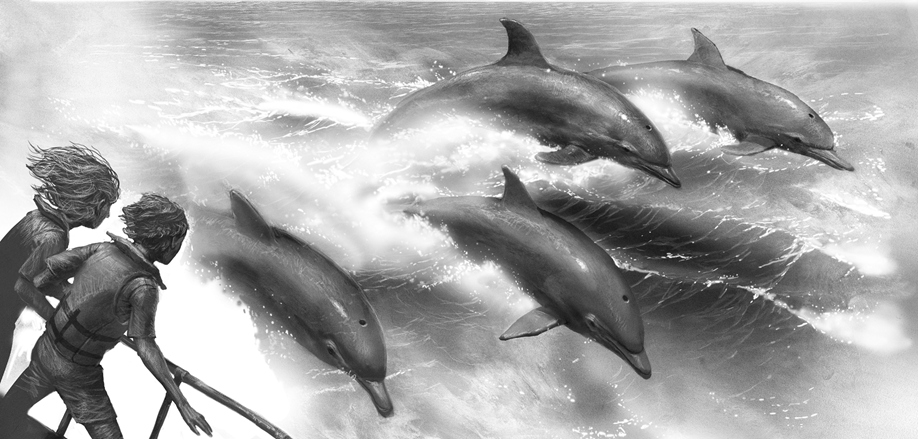 Other than a wonderfully satisfying story, what would you like your readers to take from The Lost Whale?
Firstly, I hope it raises awareness of ocean conservation, in particular the plight of the whales. And that if we all work together by taking part on group conservation causes (as per the Happywhale database in the book) then we can make a difference.
Secondly, I hope it encourages any young reader, who may themselves be suffering from mental health issues or have someone close to them going through a difficult time, that whilst being in nature can't cure everything - it certainly can lift the worries off your shoulders for a little while.

What is the one big change you would like us to all make, in support of the environment?
Similar to the message in The Last Bear, it's just something very simple. Imagine if every single one of us did one thing. This doesn't need to be something huge- like single-handedly rescuing a polar bear or going off on a dangerous expedition to find a missing whale. Small, thoughtful, considerate day to day actions are just as impactful. So, it could be cutting down on your meat consumption, buying less stuff, using ocean-friendly suntan lotion, using less plastic etc. Keep making those small changes and you'll make a big difference.

Where and when do you do your best writing?
I always try to do my writing in the morning, otherwise I'll just talk myself out of it. My new favourite spot is on the sofa in our conservatory where there's lots of plants and natural sunlight. I like my writing zone to be gentle and soft. Sometimes my cat will sit beside me to keep me company and then get annoyed when I am not giving her enough fuss!

What are you writing currently - and can we expect a similar environmental thread in your next novel?
My next book is currently A Top Secret! All I can say is that yes, there will be similar environmental themes so watch this space!

What do you read or watch to relax?
As part of being a children's author, one of the lovely parts of my job is getting the opportunity to read lots of other children's books! But sometimes I find myself in the mood for something a bit more grown up, and in that case, I tend to turn to soppy romances, or dark thrillers.

What are your favourite things to do when you're away from your desk?
I'd like to say I do lots of exciting, brave and adventurous things. But mostly you can find me curled up on the sofa reading, exercising in the local park or sitting in a coffee shop in town. When I have more free time, one of my favourite things to do is go away for the weekend and visit the seaside.
Author's Titles