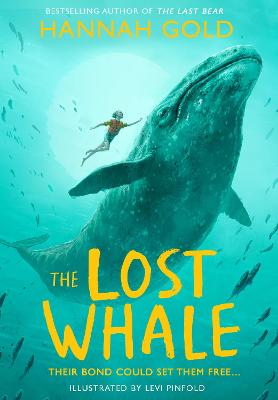 By Author / Illustrator
Hannah Gold, Levi Pinfold
Genre
Environment
Age range(s)
9+
Publisher
HarperCollins Publishers
ISBN
9780008412944
Format
Hardback
Published
31-03-2022
Synopsis
The Lost Whale is the enchanting second novel from the author of The Last Bear, the bestselling debut hardback of 2021.
What if you could communicate with a whale?  Rio has been sent to live with a grandmother he barely knows in California, while his mum is in hospital back home. Alone and adrift, the only thing that makes him smile is joining his new friend Marina on her dad's whale watching trips. That is until an incredible encounter with White Beak, a gentle giant of the sea changes everything. But when White Beak goes missing, Rio must set out on a desperate quest to find his whale and somehow save his mum.
Dive into this incredible story about the connection between a boy and a whale and the bond that sets them both free.  Perfect for readers of 8+, beautifully illustrated throughout by Levi Pinfold - winner of the Kate Greenaway Medal and illustrator of Harry Potter 20th anniversary edition covers.
Video and Q&A with author Hannah Gold
Reviews
Jo
In Hannah Gold's latest masterpiece, we meet Rio - a boy adrift in life. His mother, we infer, is struggling with her mental health and Rio is desperately trying to manage being her carer but the reality is, he's simply treading water. Rio finds himself, reluctantly, in California, miles away from London and worlds away from home. His grandma offers her love and understanding but Rio feels no connection, only resentment. The only calm that Rio can find is in the ocean and it is here that he experiences a sense of peace and connection.
It is also here that Rio meets, Marina, the girl who is to become a steadfast friend. Marina is a whale watcher and she guides Rio into an understanding of the power of the sea and the beauty and majesty of its giant inhabitants, whales. Through the ocean and with Marina's friendship, Rio discovers a sense of purpose and belonging. He also gains strength from the bond with his absent mother that the Pacific provides as he discovers that his mother had a similar fascination for whales as a young girl and that one particular whale, White Beak was her favourite. White Beak becomes the focus of Rio's attention and when the whale disappears from the tracker, Rio makes it his mission to locate White Beak and, in doing so, to rescue his mum from the depths that she has found herself in.
As Rio's stay in California extends, he grows to learn more. More about his mother, more about the ocean and more about himself. This journey of discovery is reflected by the reader who will find out about the fragile lives of the ocean's mighty inhabitants and who will learn to empathise with a boy and his mother who are torn apart by mental illness.
Yet again, Hannah Gold has created the perfect blend of captivating narrative and poignant environmental themes. Rio is horrified to learn of the devastating impact of man's actions upon the ocean's community and long after he book is finished, readers will be hearing its echoing messages.
320 pages / Reviewed by Jo Clarke, teacher
Suggested Reading Age 9+
Donna
Rio's mum has sent him to stay with his grandma in California. But for Rio, who has spent his life being the one to help his mum, this trip feels all wrong. He can't feel her, and he's lost himself. When his grandma gives him a box of 'keepsakes' of his mum's, he finds the sketch pad filled with page after page of drawings of whales. One, White Beak, catches his eye. And so begins a glorious tale of one boy, one whale and his absolute need to save her.
Along the way Rio meets Marina and her dad, who help Rio to find his way again. He discovers that he has a rare and exceptional talent - Rio has the ocean's ear. And together the three of them track and monitor whale migration in their part of the Pacific Ocean. When Rio realises that one special whale has fallen off the radar, he makes it his personal goal to find her. Because, somehow, if he can save White Beak, then his mum will be saved too. But an ocean the size of the Pacific is too vast to track alone, and their time is running out to find her. Will they find their whale? And will his mum ever get better?
In The Lost Whale, Hannah Gold weaves her magic once again, her ability to completely encapsulate a character that pulls on our heartstrings makes each word a joy. Her passion for getting to the heart of the story is paralleled with her passion for the ecological issues that are affecting our wildlife, too.
This would be a wonderful book to use in class to introduce a wide variety of topics for discussion about: mental wellbeing; the role and pressure on child carers; difficulties faced by single parent families, and the weight of responsibility that some children take on. It also looks at huge range of emotions felt by Rio, how they impact on him physically and mentally and how he learns to deal with the issues that he has struggled with for so long. Mental wellbeing plays an integral role throughout this book. 
With regards to the ecological issues raised, this book opens a vast ocean of discussion about climate change, impact of rising sea temperatures on the plant and animal life that rely on it, as well as ways to start to get involved - however small - to start to raise awareness and to track changes and impact on our environment.  
Another fantastic example to share with children, and adults, to not only show such excellence in writing but to provoke much needed discussion and action needed to save our world.
320 pages / Reviewed by Donna Burkert, teacher
Suggested Reading Age 9+
Other titles