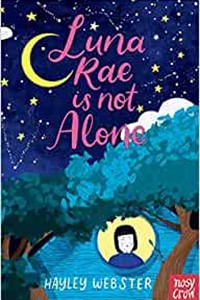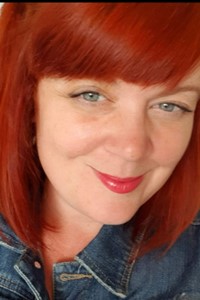 Biography
Hayley Webster is a primary school teacher and writer of the Teacup House Series for emerging readers (Usborne).
Luna Rae Is Not Alone is her first middle grade book.
Interview

FEBRUARY 2021
LUNA RAE IS NOT ALONE, NOSY CROW BOOKS


In her beautifully crafted debut, author Hayley Webster explores friendships, change and complex family relationships through the story of Luna Rae, following her family's move to a new home.

In this Q&A, Hayley Webster tells us what brought her into writing for children, and how her debut developed.



1. Do you write full time or have another job?

I wrote full time for a while, and it didn't suit me at all. I'm a teacher, and I'd never want to give it up to write full time. For me writing is very solitary, which I like as I enjoy my own time and creating in that way, but teaching is the opposite of that. You're always busy and engaging with young people and helping them learn and discover things about the world and themselves. I'd never want to give that up!



2. What brought you into writing for children? What's been your favourite moment as a children's writer?

I came into writing in general because I read so much as a child. I knew that's what I wanted to do. I can't remember NOT wanting to. I love writing for people of all ages.

My favourite moment as a children's author was the first World Book Day after my first book for emerging readers Meet The Twitches came out. Having families send photos of their children dressed up as characters I'd invented, was amazing!.


3. Can you tell us what your new book, Luna Rae Is Not Alone, is about?


I'm terrible at stuff like this. I'll really try! A girl moves to a new town and new house and tries to hide the fact her family life isn't the greatest, while at the same time trying to make new friends and settle at a new school. There's a tree house in it. I love tree houses.


4. Did you experience any great changes to you life, like Luna?

When I was five we moved from the countryside, where we lived in a mobile home, into a brand new build home on a new estate, so that was directly taken from my own life. We had the show home down our street too, and me and some of the other children used to go and play in the garden. It had an amazing climbing frame, but the tree house was my own addition.

I decided to give Luna these challenges because I think a lot of children worry quietly, inside, about change and newness, I certainly did, and I wanted to explore what that feels and looks like when you're ten.


5. Luna's family moves into a house that has just been built. Did you need to research this? Are you an 'old house' or 'new house' kind of person?

Funnily enough I prefer old houses, but this is entirely because I lived in a new build house from the age of five until I left home. I like old things. I like second hand stuff, and things that are a bit tarnished over time. Some of the best places I've lived have been really old, including a house that was over 300 years old with the original beam in place. I've always rented. I live in a place that was built in the 1950s now.



6. During the story, Luna discovers a rather special treehouse where she can escape to. What would your perfect treehouse include?


I did go to town on imagining the treehouse, basically an adult house but in small size, up a tree. For me, I'd be happy with less tech, and just some soft cushions and blankets, a sofa, some books and stationery. A nice view. The thing about a tree house for me is that it's high up, and a bit like the shed they had in the Secret Seven books. A place you go to be away from things, have your own space, and comfort.


7. Luna decides to enter a school baking competition with quite an elaborate cake. Are you a baker, and would you be able to make the cake Luna wants to?


I love baking. I'm a pretty good baker and there's not many things I won't try. I love baking with my daughter, and she can bake lovely things without my help these days but I'm not sure if I could make the fish tank cake. I shall give it a go and let you know how I get on.



8. What is your favourite moment in the book?

I'm not sure I can say without giving away too much of the plot. I love the last scene.


9. Apart from a great story, what would you like young readers to take from Luna Rae is Not Alone?

That it's not a child's job to sort out all the problems for the adults, and not to hide stuff that's going on at home if it's difficult. I wish I'd known that when I was a child. I took making my parents look good to the outside world very seriously, and I didn't realise I could ask other adults in my life for help. Mostly I'd like them to see that even when you feel you are alone, you're not alone.



10. Where do you prefer to write and what are you writing currently?

I am not a write-at-a-desk person. I've tried that, and I just sit there. I'm a write on my lap, or on my bed, or on the carpet person. Before the pandemic I liked to write in cafes, too.

I have another middle grade book coming out with Nosy Crow next year. I'm working on a few different things at the moment, for children and adults.



11. What do you do if you get stuck while you're writing?

I switch projects. I'm not really someone who gets stuck, and that's purely because I have a few things on the go at once. If I reach a tricky bit in one thing, I work on the other things for a while.



12. What are your favourite escapes from your desk, and what are you looking forward to doing most once the pandemic is over?

I love music, so I like playing guitar (I've been learning the bass during this year) and singing. I used to go and see a lot of live music before the pandemic so I'm really looking forward to that again. I've missed it.

I have a lot of hobbies, probably from spending a lot of time alone when I was a child, which has proven useful this past year. Mostly I'm looking forward to spending time with friends again, going out places. I live in a city, and it will be amazing to make the most of that again.
Author's Titles