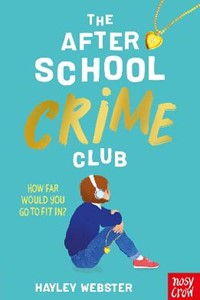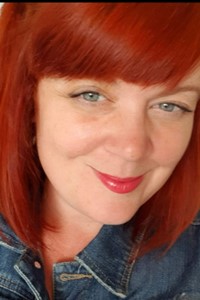 About Author
Hayley Webster writes stories about how people try to make sense of the world around them, when it so often doesn't make sense. Her first ever job was in a fish and chip shop, and since then she's worked in magazines and as a teacher in secondary and primary schools, and now she writes and edits books. Being a mum to her daughter is her absolute favourite thing. She believes it's never a bad time to be kind, laugh ridiculously, or be yourself.
Interview
The After School Crime Club  (Nosy Crow)
August 2023
Willow likes films, and being alone, especially since her grandmother has died... so she isn't happy when her mother signs her up for an after-school club. Once she meets the other children at the club, however, Willow is keen to be accepted into the group. First, though, she must prove her worth, with some increasingly difficult dares....
Read a Chapter from The After School Crime Club
Review:  "Moral dilemmas and inner turmoils are woven through a page-turning plot with twists which remind us that no-one should believe everything that they see and hear and that our true selves are the only ones that matter."
" I wanted to explore how we decide what's right and wrong for ourselves, and how when you're young there are pressures from lots of different places, so listening to your own voice can become a really hard - and brave - thing to do."   Hayley Webster
Q&A with Hayley Webster
Author Hayley Webster tells ReadingZone how Oliver Twist, her childhood love of films and her Nana helped inspire her new book, The After School Crime Club.
1.   Can you tell us a little about yourself, what makes you laugh, what do you loath?
The things that make me laugh most are those in the moment interactions with people where you just say things on the spur of the moment that spark from each other. Word play, or surreal things, and just that feeling of camaraderie that happens when you're with people who laugh the way you do. My daughter and I laugh about things so often, especially when driving somewhere, but I couldn't tell you what those things were about, they leap out from just the moment. A bird flying past, a funny shaped tree, a song on the radio.
I loathe pranks really, people being tricked, getting a laugh at someone else's expense. I think if someone isn't in on the joke, it's not a joke. I know people love pranks, but for me they are too much like laughing at someone, or making someone feel uneasy, and I don't like feeling like that, and I wouldn't want to make someone else feel like that either.

2.   What brought you into writing for children, and what kinds of books do you enjoy writing?
I knew I wanted to write since I was really young. I do write for adults too, but writing for the age I was when I was so into books that a book was never out of my hand came as a natural thing. I remember thinking, I'm going to write books I would have wanted to read when I grow up.
I particularly love writing books that show a part of childhood that people don't always know about or don't talk about. Young people have all sorts of different experiences at home, some good, some not good, and in the stories I write, I like to open up the doors of the homes children live in and show how people in certain situations are not alone. I love being able to show people being themselves and thriving when believing in themselves. I love writing stories that show all the little things that make a person who they are.

3.   How much has being a teacher influenced the kinds of stories you write?
I'm not sure how much it has influenced the kind of stories I write, but I have loved teaching and met all sorts of young people over the years. I think the main influence is understanding all children are different, and all children have home lives very different from each other. Also, the stories adults think children should be reading aren't very often the same ones children want to read!

4.   What is your new book, The After School Crime Club, about?  What helped inspire the idea of a 'Crime Club'?
It's about a girl called Willow, whose Nanna has recently died, and whose mum wants her to get better grades at school. Willow is happy being average, but also doesn't really know how to make friends, so when her mum signs her up for an after school SATs booster club at the local book shop, she's not keen. She makes friends there, but some of them seem to want her to take part in dares that Willow knows go against her own beliefs about what is right. The book follows Willow as she works out what to do.
There wasn't a particular event that inspired the book. I was thinking about Oliver Twist and how Fagin got the kids to steal, and it made me wonder about a group of children who are good at stealing, and what might happen if they involved a child who really wasn't keen on it at all.
It was a leap from me loving detective fiction and thinking about a group of children who loved solving crime, then what about if I flip it and it's the children involved. It's a fine line too, because I wanted to explore how we decide what's right and wrong for ourselves, and how when you're young there are pressures from lots of different places, so listening to your own voice can become a really hard - and brave - thing to do.

5.   Who are the children at the heart of the story, and how did this group develop?
The main child is Willow, the story is told in her voice. But there are also the children at the club. Tay, Marie, Dan, Pav and Nish are the main ones. Marie is the one who gets Willow involved with the dares, but she tells Willow Tay is in charge, and Willow really admires Tay - who looks and acts totally like she doesn't care about what other people think. The group starts off quite separate and secretive, but as the book moves on, and the characters are able to be more honest, all sorts of secrets, lies and misunderstandings become revealed.

6.   Through the story you explore how far a child, Willow, will go to 'prove' herself in order to make friends. What is her journey through the novel?
Willow's journey is partly wrapped up in the grief of her grandmother dying. Willow got on so well with Nanna, and felt easily understood, that she has never tried to find other people in the world she might get on with. She keeps herself to herself. As the book goes on, Willow becomes more able to reach out to other people. She starts to understand that there might be other people like her, and that when they are the right people, you don't have to do things that make you feel bad, or uncomfortable, or feel off or wrong.

7.   There's a lovely message in the story about the assumptions we make about people who we don't know. Why did you want to explore this in The After School Crime Club?
I really feel like we can't know what is going on in someone's life, or brain, just by looking at them. We are taught early on to think well of people who look a certain way, or doubt people who look a certain way, and in my experience that's not how it is at all. It's important to me to look beyond the surface of things, and it was for me at school too. I lived with my dad, not my mum, when I started secondary school, and I didn't look like the other girls, I did well at school, and was well behaved, but inside I was worried a lot, and felt different.

8.   We hear about lots of old movies through Willow and her Nana's love of film. Does this stem from your own love of films - and Singing in the Rain?
I absolutely love old musicals and old movies. And this part of the book was definitely based on my relationship with my mum's mum, who I called Nana (with just one n, not two like Willow's). We watched all the old movies together growing up, and Singin' in the Rain was one of her favourites. Her and my Gramps had a teddy in their living room that when you pressed its foot, it sang a bit from Singin' in the Rain and did a dance.
She died six years ago, and I knew I wanted to write a book about a grandmother and child who were just effortlessly close, as that's how I felt with her. As a child, I just felt good around her, and as an adult, I could call her and talk about anything, and know she wouldn't judge me, and always loved me. So yes, I love the old musicals and movies and the ones mentioned in the book are some of my favourites.
It's funny because so much of Willow and Nanna's relationship is based on how I felt about Nana, but when it came to write the acknowledgements in the book I forgot to put her name. I think it's because she is so much in the book, that it was almost too obvious. My favourite musical film of all time is Mary Poppins. I think I've watched it over 100 times.

9.   Where and when are you most likely to be found writing? What are you writing currently?
I've tried all sorts of different ways of writing, but the best for me is in the early hours of the day when the world is asleep. I get my best and most writing done between 4am and 8am. I don't know why that is but it's true! I like writing at my laptop on my lap or on my bed. I've tried having a desk and it's not how I work. I like spreading all my notes and visual ideas out in front of me. I often draw a picture to help me write each chapter. I'm writing another middle grade book narrated by the main character at the moment, but I can't really say much about it yet!

10.   What does a favourite 'day off' look like for you?
I love walking in the woods, and anywhere nature filled. So a lovely walk in the woods, then maybe some baking - I love baking, I find it really relaxing, so my daughter and I would bake some cakes. Then we'd play some board games. I LOVE board games, and finding new ones. We'd play some games, and eat the cakes. I do a lot of drawing, and crafty things, so maybe some of that with the radio on, or a movie. And maybe find somewhere by the sea to go for a walk, watch the ocean and go and have fish and chips for tea.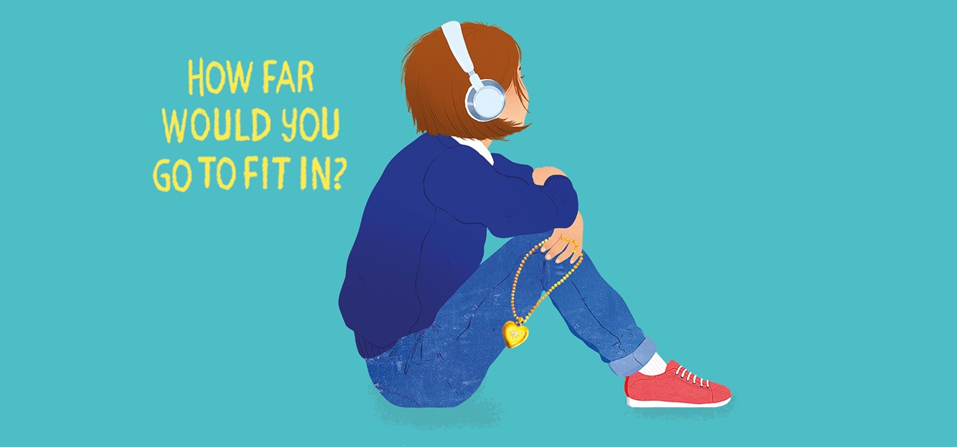 Author's Titles