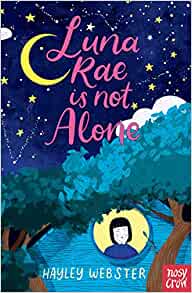 By Author / Illustrator
Hayley Webster
Genre
Friends and family
Age range(s)
9+
Publisher
Nosy Crow Ltd
ISBN
9781788006040
Format
Paperback / softback
Published
04-02-2021
Synopsis
The thing about a new house is everything's new. That sounds really obvious, I know, but if you think about it, one of the things about where you live is that you build up all this stuff there ... You get used to old things. New things take getting used to.
Luna Rae has moved to a new house and a new school. It's hard fitting in - especially when there's so much to worry about at home. She's SURE that the way to solve everything is by winning the school baking competition with her mum ... but there's a problem. Luna's mum has disappeared.
A wise, warm and uplifting story about families and friendship, from a beautiful new voice in children's fiction.
Reviews
Donna
Luna Rae knows that something is different. It's not just their new house on the new estate, or the sofa still wrapped in its cellophane wrapper. It's not just the new school, or the girl on her table who is mean. It's not just her dad acting strangely and leaving her to look after her little sister while he mopes about. It's that something is not being said and she knows it's because she is a child that nobody will tell her about it. And in the space where nobody says anything and everyone pretends everything is lovely and fine, that is where Luna Rae's imagination has been known to 'catastrophise', or so her old teacher, Mrs Younger, used to say. A school baking event - which she and her mum would absolutely love - and a new friend with a secret clubhouse, is sure to make everything right, isn't it?

Hayley Webster's first foray into middle grade literature is an absolute delight! The reader is thrown into Luna Rae's world and the inner thoughts that completely shape her; we feel the worry, the need to pretend, the fear, the excitement of new friendships and the honesty. We are taken on her journey in a most captivating way. The story has a simple truth and a rawness of emotion about it that is so beautifully endearing, I didn't want to put it down!

Links to: friendship, families, change, bullying, truth, separation, child-carers.

192 pages / Reviewed by Donna Burkert, teacher
Suggested Reading Age 9+
Donna
Luna Rae knows that something is different. It's not just their new house on the new estate, or the sofa still wrapped in its cellophane wrapper. It's not just the new school, or the girl on her table who is mean. It's not just her dad acting strangely and leaving her to look after her little sister while he mopes about. It's that something is not being said and she knows it's because she is a child that nobody will tell her about it. And in the space where nobody says anything and everyone pretends everything is lovely and fine, that is where Luna Rae's imagination has been known to 'catastrophise', or so her old teacher, Mrs Younger, used to say. A school baking event - which she and her mum would absolutely love - and a new friend with a secret clubhouse, is sure to make everything right, isn't it?

Hayley Webster's first foray into middle grade literature is an absolute delight! The reader is thrown into Luna Rae's world and the inner thoughts that completely shape her; we feel the worry, the need to pretend, the fear, the excitement of new friendships and the honesty. We are taken on her journey in a most captivating way. The story has a simple truth and a rawness of emotion about it that is so beautifully endearing, I didn't want to put it down!

Links to: friendship, families, change, bullying, truth, separation, child-carers.

192 pages / Ages 9+ / Reviewed by Donna Burkert, teacher
Suggested Reading Age 9+
Other titles