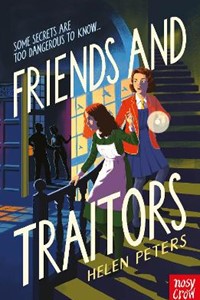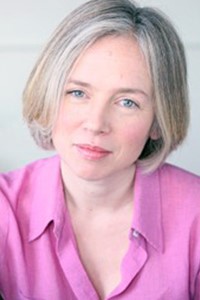 About Author
Helen Peters revisits the past in her new book, Friends and Traitors, set in Britain during WWII. Helen grew up on an old-fashioned farm in Sussex, surrounded by family, animals and mud. She spent most of her childhood reading stories and putting on plays in a tumbledown shed that she and her friends turned into a theatre.  After university, she became an English and Drama teacher. Helen lives with her husband and two children in Brighton.
Interview
Friends and Traitors (Nosy Crow Books)
July 2023
Look out for treachery, spies and danger in this exciting new mystery from author Helen Peters, Friends and Traitors!  Find out what happens when two girls, one a rich schoolgirl, the other a servant, discover a wartime plot that could change the course of World War II! 
Review:  "A gripping mystery unfolds as two unlikely allies discover the secrets of Stanbrook House and find a way of making their voices heard and foiling the plot they have uncovered."
Read a Chapter from Friends and Traitors
Friends and Traitors explores life for evacuee children during the war as well as questions about class and inequality at the time; Britain in the 1940s.  Author Helen Peters introduces Friends And Traitors, telling us more about the story and also how her own job in a boarding school helped to inspired the book. She also reads from a short extract from Friends and Traitors:
Q&A with Helen Peters
1.   Can you tell us about yourself as a writer, the kinds of books you like to write and where you go for inspiration for your stories?
Many of my childhood memories are connected with the books I read and how they made me feel, so I try to write stories that my childhood self would have loved reading. I love writing page-turning adventure stories, whether they're set 200 years ago or right now. I like writing stories in which the child characters are right at the centre of the action, and I like mixing different genres, themes and storylines. So Friends and Traitors is a boarding school story, an upstairs-downstairs story, a World War II story, a mystery and an adventure!
The first spark of an idea for a new story often comes from a place. Sometimes it's a place I've lived in; the farm where I grew up inspired The Secret Hen House Theatre and its sequels, and also the Jasmine Green series. Or it can be a place I've visited; Evie's Ghost is inspired by two National Trust houses, Osterley Park and Chastleton House. Friends and Traitors is inspired partly by the boarding school where I lived and worked for ten years, and partly by country houses I've visited.

2.   Why do you enjoy writing books set in the past, like your earlier books Anna at War and Evie's Ghost?
I've always been fascinated by social history; I really love finding out how people in different times lived their daily lives, and I especially enjoy reading first-hand accounts in letters and diaries. I love visiting old houses too, especially if the servants' quarters are on show as well as the grand rooms.
I had the idea for Evie's Ghost, as I've mentioned, when I visited Osterley Park in Middlesex and discovered that the incredibly rich owners in the eighteenth century had just one child, a daughter called Sarah-Anne, who eloped, aged 17, with a man her parents disapproved of.  I imagined a modern teenager going to stay in an apartment at this huge grand house, and finding a way back to the past to befriend Sarah-Anne as she was planning her elopement.
For Anna at War, it was re-reading Anne Frank's diary and I was struck again by her extraordinary intelligence, honesty, optimism and courage. I began to wonder if I could write a story about a German Jewish girl at that time with some of Anne's qualities. I started researching Kindertransport and the story developed from there.

"I had one set of grandparents who came from poor families and one set who came from wealthy families, so I've always been interested in social class and how it affects people's life chances."

3.   What is your new book, Friends and Traitors, about? What inspired this WWII story of deception and treachery?
Friends and Traitors begins in May 1940, when two very different 14-year-old girls come to live at Stanbrook House, the grand country seat of Lord Evesham. Sidney arrives with her boarding school, evacuated from the Sussex coast as a German invasion is expected at any minute. On the same day, Nancy arrives to begin work as a housemaid, and takes an instant dislike to the rich schoolgirls. Both girls separately see and hear strange things that make them suspicious, but it's only when they join forces that they're able to uncover a treacherous plot that could threaten the entire country, and concoct a daring and dangerous plan to foil it.
The initial idea for Friends and Traitors came when I read a book about how English country houses were used in World War II. Many of them housed evacuated boarding schools, and as I was living and working in a boarding school at the time, which was evacuated to a hotel in the Lake District in the summer of 1940, the idea of writing about an evacuated boarding school really appealed to me. Then there had to be an exciting plot. Perhaps I was influenced by one of my favourite books, The Remains of the Day, because I started thinking about aristocratic Nazi sympathisers, of which there were plenty at the time.
I liked the idea of alternating the point of view between Nancy and Sidney, to show how different life was depending on whether you were born into a poor family or a wealthy family. I had one set of grandparents who came from poor families and one set who came from wealthy families, so I've always been interested in social class and how it affects people's life chances.

4.   There are echoes of Secret Seven and Agatha Christie in this novel - are these the kinds of stories you enjoyed reading as a child and teenager?
I devoured Enid Blyton's stories as a child; I loved her mysteries, adventures and boarding school stories. I loved romances as a teenager: I adored Jane Austen's novels, and I also read a lot of historical romances by authors like Georgette Heyer and Philippa Carr, as well as historical adventure stories like Cue for Treason by Geoffrey Trease.  I'm not sure how I missed Agatha Christie but for some reason I didn't read her until I was an adult. I think it's because I was easily scared and I didn't like the idea of murder stories!

5.   You've mentioned finding examples of traitorous activity by aristocrats during WWII - where did you go to research these, and what did you find out? Did any specific people or examples make their way into this story?
I read two books that were really helpful: Hitler's British Traitors by Tim Tate, and The Traitors by Josh Ireland. I also read the Mitford sisters' collected letters, edited by Charlotte Mosley. The letters in which Unity and Diana Mitford talked adoringly about Hitler were quite horrifying. I was fascinated to learn about the female racing drivers of the 1930s who supported fascism, and some of their phrases in praise of Hitler did make their way into the mouths of my Nazi-sympathising characters.

6.   Is the house where this book is set, Stanbrook, based on a place you know or have visited?
Stanbrook is a combination of several National Trust places I've visited, with extra bits added from my imagination. I needed to create a house that was big enough to house an entire school as well as the aristocrats who owned it, and old enough to have legends about ghosts and secret passages handed down through several generations.
The shape of the house - three sides of a square surrounding a courtyard - felt simple to describe and to picture in my head. As part of my preparation, I drew plans of every floor of Stanbrook House, from the basement to the attics, so that I could describe the movements of my characters accurately and check that my descriptions were consistent and made sense.

"Friends and Traitors is partly about the need to stand up to bullies, which I think is hugely important in both personal and political life."

7.   Why do you feel it's important that children see the past in your stories? What would you like contemporary children to take from this story - apart from a gripping read!
All my life, I've found that having some knowledge of history has helped me put things in perspective by being able to take a long view of things. I've always worried about the state of the world, and I find it oddly comforting to know that the world has always had problems, but there have also always been people who have tried to make things better. So I hope readers will take some comfort from this too.
And I do think we need to be constantly aware of the dangers of fascist ideologies. Friends and Traitors is partly about the need to stand up to bullies, which I think is hugely important in both personal and political life.

8.   Is it also important for you to highlight the differences for children in the past (as well as the similarities) - for example, around class and gender that children at that time would have experienced? How have you done so in this story?
Yes, I really enjoy exploring the differences in children's lives at different times in history. I wrote Evie's Ghost as a timeslip story to highlight the differences between teenagers' lives now and in 1814. In Friends and Traitors, I alternated the point of view between Sidney and Nancy to show the different attitudes, perspectives and experiences of a girl from a wealthy family and a girl from a working-class family in 1940.

9.   Do you plan to revisit Stanbrook and the lives of Sidney and Nancy? What are you writing currently?
I don't have any plans to revisit Stanbrook and the lives of Sidney and Nancy, but I'll keep an open mind! I'm currently writing the third in the trilogy that began with The Secret Hen House Theatre. The first and second books, The Secret Hen House Theatre and The Farm Beneath the Water, are coming out in lovely new editions next January, with beautiful covers illustrated by David Dean, who illustrated the wonderful cover for Friends and Traitors. The final book in the trilogy will be published in February. I'm really enjoying being back in the world of Clayhill Farm, with Hannah and her family and friends.

10. What kinds of things do you enjoy doing to relax, when you're not at your desk?
My favourite things to do are going for long walks, swimming, and reading good books. Writing in the morning, walking or swimming in the afternoon, and reading in the evening - that's my idea of a perfect day.
Author's Titles