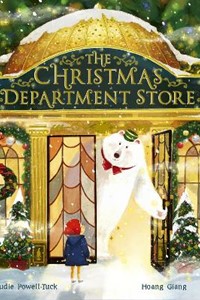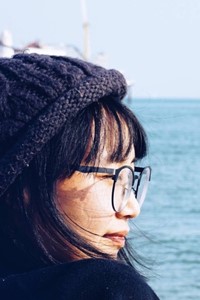 About Author
Giang has been working as a children's book illustrator for more than 10 years. She works in a studio with her partner and three cats. She also loves comics and graphic novels, and dreams of one day finding the time to make her own comic book.
Interview
The Christmas Department Store (Little Tiger Press)
November 2022
The Christmas Department Store by Maudie Powell-Tuck, illustrated Hoang Giang, is a gorgeous picture book to share in the run-up to Christmas and is now available in paperback. The story, about the power of magic at Christmas, is a reminder that the joy of Christmas lies in being with our friends and family, rather than in the presents we receive. We asked illustrator Hoang Giang to tell us more about illustrating this magical picture book.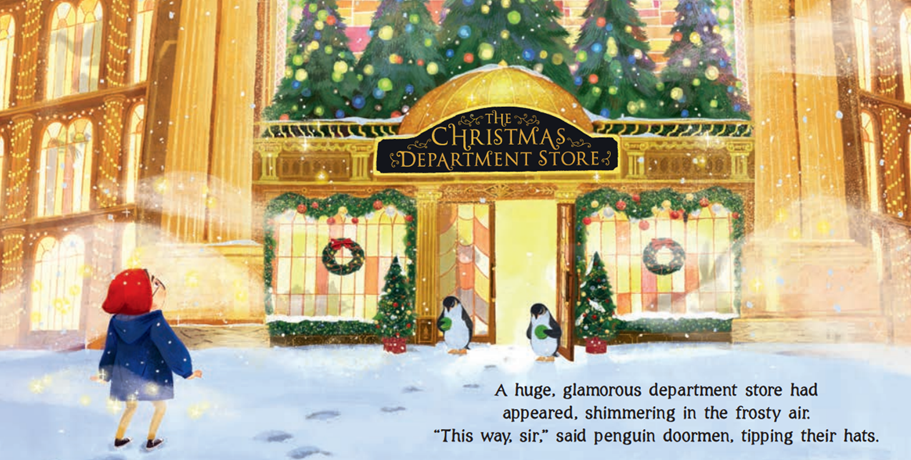 Extract from The Christmas Department Store
Reviews:  "If you are looking for a Christmas story with magic, family values and an unexpected ending then this is the one for you. The illustrations are clear, simple and filled with emotion; a pure delight."
Q&A with Hoang Giang
1. Why did you want to illustrate this book - why did it stand out for you?
I received the offer from Little Tiger for The Christmas Department Store with the brief to bring out the magical, twinkling atmosphere of the Store on the page.
On my first reading, I was touched by the story of Benji, whose family cannot afford the Christmas celebration they would like. I was also inspired by the animals and the customers and helpers. They were very lively and cute and quirky in my imagination, so I immediately wanted to illustrate the book!

2. What inspired the illustrations for your Christmas Department Store?
The lighting! Recently I have been inspired by city lights at night, especially those lovely stores in London. I spent a year studying in Cambridge, UK and I cannot forget how overwhelmed I was by the lights of the London streets and stores at Christmas. Absolutely stunning! Little Tiger wanted me to focus on the magical twinkle sparkle vibe of the Store so I was really excited to do it.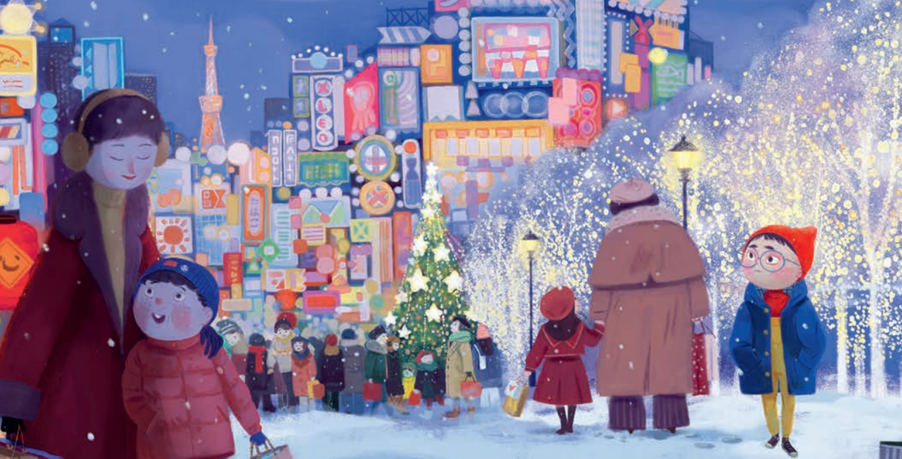 3. How did you decide what your main characters would look like? Do you tend to do lots of doodling before you start?
At first, both Little Tiger and I were not sure who the main character should be. He was a boy for sure, but we hadn't decided on his ethnicity and appearance. I was asked to make three Benjis in three ethnicities and 3 families accordingly.
In the end, we chose Asian Benji because we found he had a better connection between the story and the character. Maybe because I'm Asian myself, I found it was quite natural and comfortable studying Benji and his family. I spent quite a lot of time doodling before starting the book, so I could get to know my characters and understand the quirky items in the Store.

3. What about the animal helpers at the department store? Any favourites?
They are all cute! But if I must choose one, I definitely pick the polar bear, maybe because they have the most 'screen time' in the book. I love how fluffy and clumsy and tender they are. I also love the way their gender is not defined in the book. The polar bear is cute either way!


4. How do you create your illustrations and where did you learn your techniques?
I usually sketch in pencil first and do the colouring on my iPad and computer. I don't have any specific technique. It's all about the brushes with the textures I like. I also studied and researched the lighting from reference photos and tried to imitate them in my illustrations.

5. If you could visit The Christmas Department Store, which area would you want to see? What would you like to bring home?
Okay, please don't judge me. I would definitely go to the department of imaginary gifts. I think I would meet BTS [a South Korean boy band] there! Can I bring them home? Please don't judge me too much!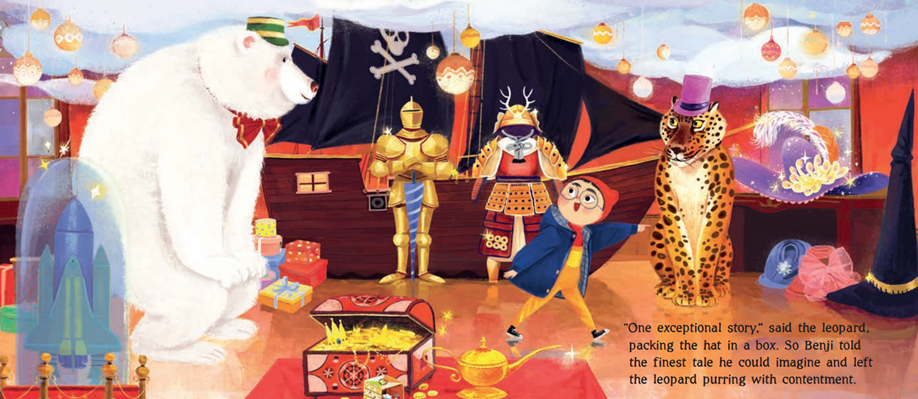 7. What are you most looking forward to this Christmas?
I come from Vietnam where we don't really celebrate Christmas as a National Holiday. Our country is also battling with Covid so the only thing I wish is that we will be safe and sound, not only Vietnam, but also the world.

8. What do you enjoy doing to relax when you're not in your studio?
I like travelling. There are many places I dream of visiting, like the Nordic countries, as well as Prague, Chiangmai and other places in the Instagram reels that I've seen. I love to be close to nature. I love the pure silence with no light pollution in nature so that I can see the light of the universe reflect on our surroundings and hear the wind through the trees and the animals. All this soothes me and brings a lot of joy to my heart.
Find out how to draw your own Polar Bear in this video by Hoang Giang:
Author's Titles