The Christmas Department Store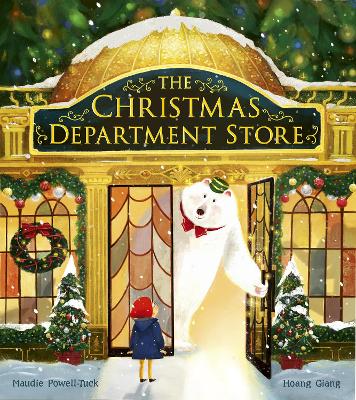 By Author / Illustrator
Maudie Powell-Tuck, Hoang Giang
Genre
Friends and family
Age range(s)
3+
Publisher
Little Tiger Press Group
ISBN
9781801040112
Format
Hardback
Published
14-10-2021
Synopsis
Christmas for Benji has lost its magic. This year, his family can't afford a tree, or even a turkey. But then he stumbles upon the most extraordinary department store, where polar bears talk and the presents are out of this world.  A heart-warming story of love, laughter and family.
Read a Q&A with illustrator Hoang Giang and find out how to draw the Polar Bear from The Christmas Department Store
Reviews
Emma
The Christmas Department Store is the kind of book that you read on the run-up to Christmas. It is beautifully illustrated with lots of gold, green and red; warm colours that are often associated with the festive period.
The story unfolds with Benji who believes that Christmas has lost its magic, his family can't afford the luxuries of gifts, a tree, or a turkey, but all of this changes when he comes across a department store where the animals talk and the presents are wonderous. Inside, the department store is filled with wonder and delight and all of Benji's hopes for a magical Christmas are restored.
This is a perfect classroom story to share with children aged 4+ as the moral behind the story is that you don't have to have a lot of money or have the most presents to have a special time at Christmas. I'd definitely share this with my Year 3 class as well, as too often children can get wrapped up with Christmas lists and stating they 'want' a gift rather than they would 'like' a gift. The book shares the true meaning of Christmas, that is, time spent with your family.
Picture book / Ages 4+ / Reviewed by Emma Nelson, teacher
Suggested Reading Age 5+
Amanda
The Christmas Department Store is a wonderful heart-warming story of love, laughter and family. The authors have taken the wonderfully traditional features of the festive season and given them a delightful twist.
Benji is a child with the purest heart and a face filled with emotion. As a reader you are willing him to find the perfect gifts for his family and are taken on a magical journey to get there. This book will promote fantastic discussions around the difference between want and need, prioritizing others and making the best of what you have.
If you are looking for a Christmas story with magic, family values and an unexpected ending then this is the one for you. The illustrations are clear, simple and filled with emotion; a pure delight.
Picture book / Reviewed by Amanda Shipton, teacher
Suggested Reading Age 3+
Other titles